US Betting Sites
Dustin Johnson (+1800) Dominates Northern Trust Field by 11 Shots for Win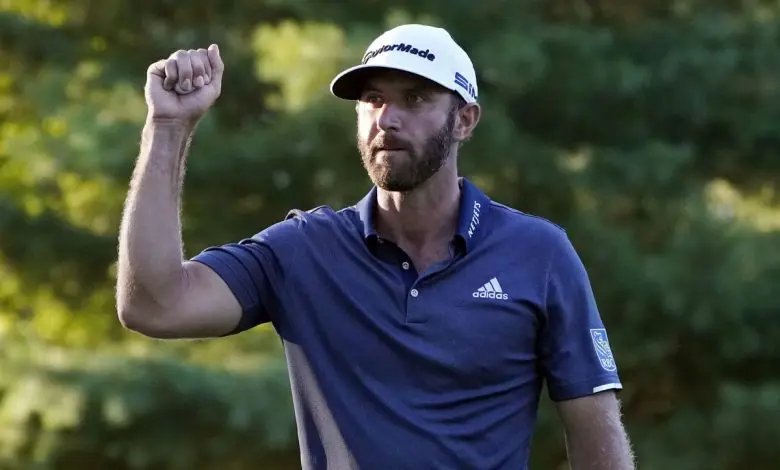 The current PGA Tour season has been a whacky one for Dustin Johnson. At one point on Sunday, the CBS telecast showed a graphic of his 2020 season, which looked a valley of peaks and plateaus we would only find in some of the world's most glamorous parks. 
Don't be confused – that's just Johnson rolls. In fact, this is the largest winning margin in a PGA event since Phil Mickelson won by 13 strokes at the TPC Sugarloaf in 2006. 
Johnson capped off a dominant 30-under weekend that saw him shoot an 8-under 63 on Sunday. All of this came amidst a ton of dark clouds, thunder, and lightning that rattled the tournament over the last two days. 
"The best I've ever seen him look," said Claude Harmon III, Johnson's swing coach, standing off the 18th green, partially blocked by the video board that flashed the scores of the astounding feat.
If you thought Harmon was impressed, Johnson had some thoughts of his own.
"I knew I was playing well, and I knew the guys were going to shoot low," Johnson said. "I was trying to get to 30 under. I've never shot 30 under in four rounds. Just something that I wanted to do."
Dustin Johnson Against the Field
Johnson's competition was minimized to another playing field for the latter part of the weekend. Harris English, who finished in the outright lead for second place at 19-under for the weekend, felt like he was doing his own thing at times. After all, 19-under is more than enough to get it done in the majority of events on the PGA Tour. 
"Kind of had my own tournament that I was playing," English said. "I mean, really, the goal starting today wasn't necessarily to win. It was to put myself in position to have a run in the FedEx Cup. That's why we're all here."
Those weren't the only words of amazement from fellow players on tour. 
"He can absolutely dismantle a golf course when he's on," said Kevin Kisner, who grew up playing junior golf in South Carolina with Johnson. "I've been watching it for 25 years. I'm pretty accustomed to it. When he's on, I just step to the side and try to add to my bank account."
Dustin Johnson Odds
Johnson had odds of around +1600 to +2000 at some respective sportsbooks for this event. If you thought that was crazy, don't worry – you're not the only one. Although, Johnson did win at the Travelers Championship about two months ago at similar odds. 
Johnson may take the week off, but it's always wise to check in on the current field for the next tournament. 
Up next for the PGA Tour is a trip to Olympia Field North Course over the weekend in Olympia Fields, Illinois. Odds have yet to be released on that event just yet, but we'll let you know as soon as they become available.