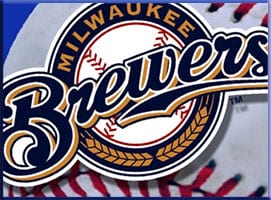 Overview
The Cleveland Indians are in Milwaukee today for the final game of a quick two game series with the Brewers. This is an inter-league game so these teams obviously don't meet up all that often and that's a good thing for the Indians because they haven't beat the Brewers in 14 years losing the last 8 meetings going back to 2001.
Head to Head Trends
Indians are 0-8 in the last 8 meetings.
Indians are 0-4 in the last 4 meetings in Milwaukee.
Milwaukee Brewers (-110)
The Milwaukee Brewers are last in the National League Central 17.5 games out of 1st place but with a win today and a Reds loss they could move into 4th so that's something. The Brewers had an absolutely horrible start to the season losing 13 of their first 15 games so that basically killed their chances of even having a shot at the post season.
If the Brewers played the first month of the season like the last month they would be doing pretty good right now. The Brewers have won 17 of their last 23 games in large part due to their offense who have been just killing the ball.
On the hill for the Brewers today is Kyle Lohse who is 5-10 with a 6.17 ERA on the season. Loshe has obviously struggled this season but especially at home where he is just 3-6 with an ERA over 8.
Milwaukee Brewers Trends
Brewers are 8-25 in their last 33 games vs. a starter with a WHIP less than 1.15.
Brewers are 1-6 in Lohses last 7 starts vs. a team with a losing record.
Cleveland Indians (+100)
The Cleveland Indians are 4th in the American League Central 12 games back of the 1st place Kansas City Royals. This hasn't exactly been the season the Indians were expecting, I think everyone figured their starters would be better then what they have been so far but that's baseball. They have also lacked powered on offense with just Santana and Moss in double digits in home runs and no one else even close.
Starting for the Indians today is rookie Cody Anderson who is 2-1 with a 0.89 ERA in 4 starts this season. Anderson has made just 4 starts in his career so I don't know too much about him but his numbers certainly look impressive.
Cleveland Indians Trends
Indians are 5-2 in their last 7 interleague games vs. a team with a losing record.
Indians are 7-3 in their last 10 after allowing 5 runs or more in their previous game.
Conclusion
I'm going to go with the Indians over the Brewers in this one. Even though I think the Indians are the most overrated in baseball I still like them over Kyle Lohse who has probably been one of the worst full time starters in all of baseball this season.
Free Pick: Cleveland Indians +100