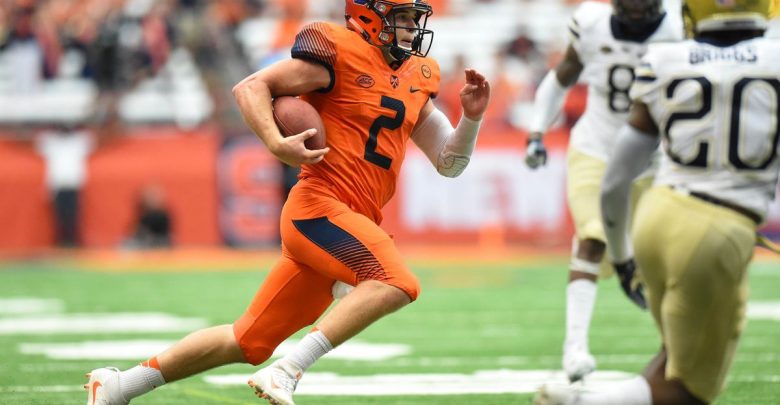 For all intents and purposes it's been a great start to the 2018 season for 4-1 Syracuse. Coach Dino Babers wants more though and it starts with avoiding the letdown from last week's close loss to Clemson when the Orange head on the road to Pitt today. The Panthers travel to Notre Dame next week which always factors in to the 'look ahead' game today but Pitt desperately needs a W after back-to-back road losses. Oddsmakers think 'Cuse is for real, making them a 3 point road favorite in the 2018 NCAAF Week 6 ACC Free Pick but with the majority of bettors on the Orange does this feel like an upset?
Star Power for This Game Lies in the Orange Backfield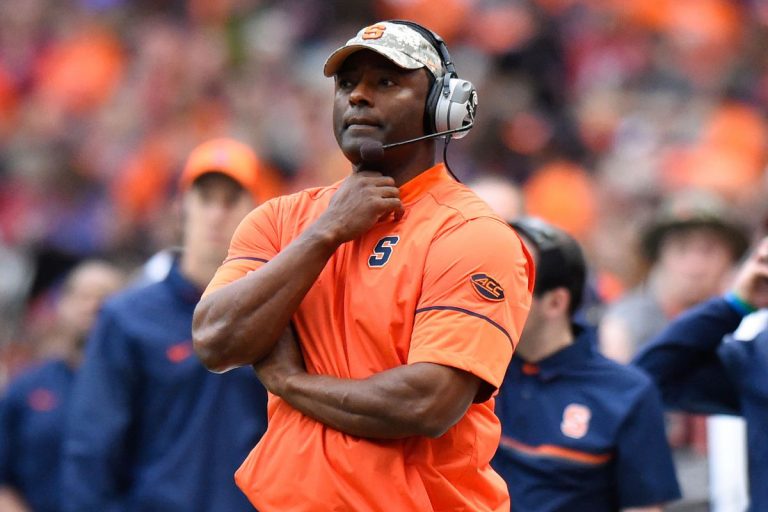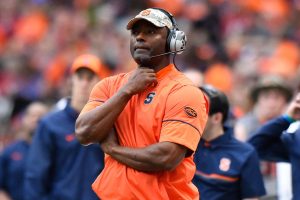 The player that Syracuse bettors are banking on coming through today is undoubtedly dual threat QB Eric Dungey. The 6'4″, 226 pound "linebacker looking" quarterback has tossed for 1013 yards this year with 9TD to 2 INT but has also ran for 365 and another 6 scores. Dungey proved he can put up numbers against elite competition last week with 250 yards as Syracuse fell 23-27 to Clemson but as +24.5 underdogs. Syracuse ran the ball 57 times for 222 yards in their 30-7 signature win over FSU in week 3. Expect a lot more out of and the Orange ground game in the NCAAF Week 6 ACC Free Pick as Pitt ranks 102nd in the nation allowing over 200 rush yards per game.
The M.O is the same for the Panthers today as their passing game is virtually nonexistent. That means if the Syracuse defense can stuff the run they should be in line for a huge road win to head into their bye week at 5-1. That's something they couldn't do last week as Clemson amassed 293 yards on 53 rushing attempts. Clemson > Pittsburgh obviously and the Orange did have an impressive showing holding FSU to 62 yards on 23 carries earlier in the year. The 'Cuse D is a perfect example of bend but don't break. Their rushing and passing yards allowed aren't all impressive (88th and 76th) but the 21.4 ppg given up is top 45 in the country.
???? Homecoming 2️⃣0️⃣1️⃣8️⃣

Always great to be home.#H2P ???? #LockTheGates pic.twitter.com/J0q2pBCos2

— Pitt Football (@Pitt_FB) October 6, 2018
Where Does Pitt Find Offense Today?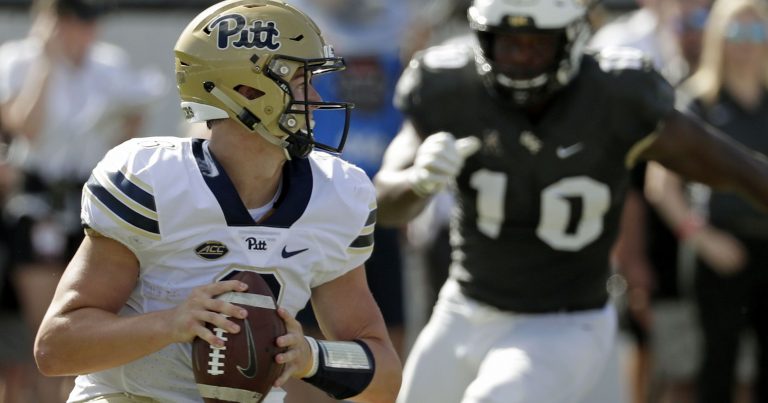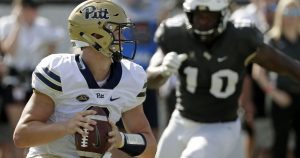 Syracuse is going to get there's, which is why the NCAAF Week 6 ACC Free Pick O/U is set at 58 points. The big question is where is the Panthers offense going to emanate from? That offense was defunct last week in a 14-45 loss at UCF although Pittsburgh was nearly a two TD underdog. QB Kenny Pickett was just 16/26 for 163 yards and he hasn't broken 200 yards in the air all season. The Panthers do have a nice backfield duo of Qadree Ollison (404 yards) and Darrin Hall (207 yards) but 'Cuse can stuff the box and make Pickett beat them. The Panthers last win 3 weeks ago came when they were still outgunned offensively by Georgia Tech 386 yards to 335.
Then there's also how the Pittsburgh defense will stop Dungey to ponder. The Panthers defensive unit gives up 430.6 ypg including 200+ through both the air and the ground. Granted UCF's Mack Milton is a Heisman contender, but he destroyed Pittsburgh last week with 328 yards and 4TD through the air and another 51 and 2TD rushing. Syracuse's Dungey has a very similar game to Milton. Plus, even UNC was able to get a 38-35 home win as underdogs over Pittsburgh last week as they ran for 173 and threw for 313.
NCAAF Week 6 ACC Free Pick Betting
Pittsburgh is giving up 40+ ppg the last two weeks. Granted they were both road games but that's a sign of a defense in disarray. Syracuse was able to get the win in this contest 27-24 a year ago to push as -3 favorites. Dungey was great in that game (365 yards, 2TD) and is a year older and better coming into today's contest. The Panthers simply don't have the offense to keep up with their defense in this one.
ACC Free Pick: Syracuse Orange -3