NHL Previews
Tampa Bay Lightning Preview 2019 – 2020
Bolts Fire Up the East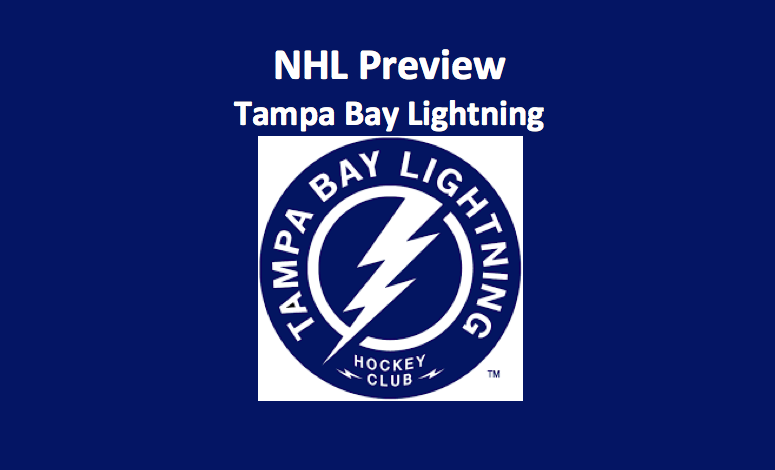 This Tampa Bay Lightning Preview 2019 – 2020 notes that Tampa Bay had one of the best seasons in NHL history last year. Our Tampa Bay Lightning Preview 2019 – 2020 finds that despite this, they were upset in the first round of the playoffs by the Columbus Blue Jackets. They finished with a 62-16-4 regular season record before being swept. The Lighting return a very good team as they made few changes over the offseason. Our 2019 – 2020 Tampa Bay Lightning season preview looks at how strongly bettors should feel about the Bolts' upcoming season. How good are they really? And if tney do get to the postseason again, can they atone for last year's early exit?
Tampa Bay Lightning Preview 2019 – 2020: Goaltending
Tampa Bay possesses one of the best, if not the best, goaltending setups in the league. Their starter for the fourth year will be Andrei Vasilevskiy. Vasilevskiy is coming off of a Vezina Trophy winning season where he took down 39 games. He had a .925 save percentage along with a 2.40 GAA. The Russian netminder has entrenched himself as a perennial candidate for goalie of the year. Our Tampa Bay Lightning Preview 2019 – 2020 finds that he has been very consistent over his tenure as a starter and also seems to be getting better each season. At just 25 years of age, Vasilevskiy should put together another very strong season.
Although the Lightning did not need much of an upgrade in net, they found a way to solidify their backup position. Last season the task fell onto Louis Domingue. While he had an all right year, they waived him to the AHL and signed Curtis McElhinney to a two-year contract. Last season, McElhinney was very good as the backup in Carolina last. He had a 20-11-2 record along with a 2.58 GAA and a .912 save percentage. When called upon in the playoffs he was great as well. In his five postseason contests, he recorded a 2.01 GAA and a .930 save percentage.
Tampa Bay Forwards
The Lightning have one of the deepest forward groups in the NHL. Nikita Kucherov is coming off the highest scoring season by any player since Mario Lemieux had 161 in 1995-1996. Kucherov had 41 goals and 87 assists for 128 points last season. He was an absolute force last year and has continued to improve in each of his six NHL seasons. While hitting 128 points is not likely again this year, Kucherov has increased his point total each year. There is a strong likelihood that he will lead both Tampa Bay and the NHL in points once again this year. Along with Kucherov, Steve Stamkos and Brayden Point both have elite skills and should be among the NHL's top scorers. Stamkos had 45 goals and 53 assists last season. Point had 41 goals and 51 assists in his third NHL season.
Tampa Bay also possesses numerous players who can provide secondary scoring. Yanni Gourde, Tyler Johnson, and Alex Killorn all had at least 40 points last year. Gourde recorded 48 points while Johnson potted 29 goals. For the past few seasons, our Tampa Bay Lightning Preview 2019 – 2020 finds that Killorn has been a steady third-line contributor for the Lightning. This season, he should finish with somewhere between 35-45 points.
The Lightning's only significant move up front during the offseason was the signing of Patrick Maroon. Maroon is coming off of winning the Stanley Cup with his hometown St. Louis Blues. While he only had 10 goals and 18 assists last season, Maroon brings a physical presence that was missing from Tampa Bay's lineup last year. He will likely see lower amounts of usage but should be a factor whenever he sees the ice.
Lightning Preview – Defense
The Lightning will be strong on the blueline as well. Victor Hedman continues to be one of the most dominant players in the league. He had 12 goals and 42 assists last season. Hedman is the complete package with skill, size, and sense. He will likely get another Norris trophy nomination at the end of the year. Along with Hedman, Ryan McDonagh had a great 2018 – 2019 season. He played over 22 minutes per game in his first full season with the Lightning and posted the highest point total of his career. McDonagh had 46 total points to go along with the second highest plus-minus rating in the league at +38. Our Tampa Bay Lightning Preview 2019 – 2020 feels that both Hedman and McDonagh can anchor their own defensive pairing and will allow Tampa Bay to get many favorable matchups.
Mikhail Sergachev will be entering his third NHL season and has seen his game round out through his short career. The 21-year-old Russain had 32 points last season and has yet to hit his ceiling. If all goes well with Sergachev, he could have a breakout year and give the Lightning another elite defenseman.
Tampa Bay Lightning Preview 2019 – 2020: Outlook
Tampa Bay may have had a disappointing end to their 2018 – 2019 season, although they look like they will have no problem getting back to the postseason and possibly going deep in the playoffs. They return a very talented nucleus at forward and defense. Our Tampa Bay Lightning Preview 2019 – 2020 notes that they have players at each position that are among the best in the league. Along with this, Vasilevskiy should be considered the best goaltender in the NHL. With very few changes from last season, the Tampa Bay Lightning look to be the top team again in 2019 – 2020.
Tampa Bay Lightning Preview 2019 – 2020: Prediction
Record:53-25-4, 110 points
Finish:1st in the Atlantic Division
NHL LINKS
Division Link
NHL 2019 Preview Link