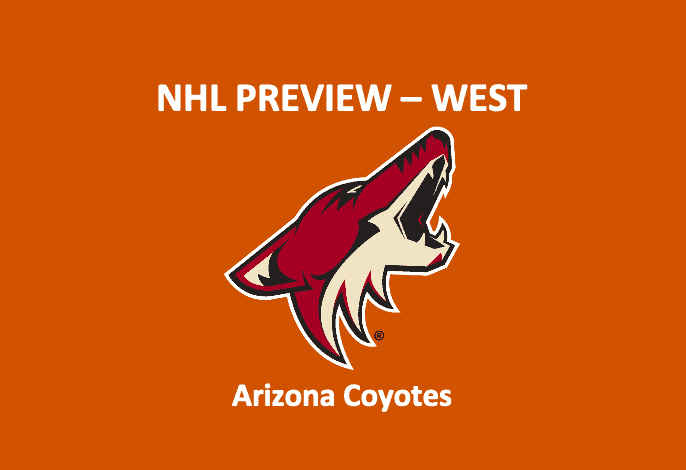 The Arizona Coyotes finished fifth in the Pacific Division last season. Their 33-29-8 racord gained them entry to the play in round following the league wide pause due to COVID. They upset the sixth seeded Nashville Predators in the qualifying round before losing to Colorado in the first round of the playoffs. Our Arizona Coyotes preview 2021 looks at how the club will fare in the altered division format this season.
Coyotes Forwards
Scoring goals was not The Coyotes forte last season. They finished with the ninth least goals averaging 2.71 per game. Over the offseason they did very little to address this issue. The only notable difference to the club's forward corps comes at the second line center position. They allowed Carl Soderberg to walk via free agency, while replacing him with Derick Brassard. Both players had similar point totals last season. Soderberg had 35 while Brassard had 32. The biggest difference between the two players was their goal youtube. Brassard had 10 goals while Soderberg netted 17.
The Coyotes are hoping that Brassard's playmaking ability will help wingers Clayton Keller and Phil Kessel increase their goal production. While Keller had 44 points last year, the second most on his team, he has had trouble playing at the level that he did during his rookie season. Two seasons ago he had 23 goals and 65 points and looked like a budding superstar. Over the last two years he has failed to top the 50 point plateau, and is looking to more of a second line potential.
Kessel and Youth Movement
Like Keller, Kessel has also seen his production fizzle out recently. The 14-year veteran posted his lowest goal total since his rookie year. Kessel managed only 14 goals and 38 assists. Carrying a 6.8 million dollar cap hit, The Coyotes rely heavily on him to generate offense. If he cannot drastically improve upon his 38 points that he had during the COVID shortened season, Arizona will likely finish near the bottom of the NHL in scoring.
While many of the Coyotes most skilled players had rough 2019-2020 seasons, two young forwards had emergent years. Nick Schmaltz was on pace to tie his career high point total if the season was finished out. During his first full season in the Desert the center posted 11 goals and 45 assists. Connor Garland broke out in 2019-2020 and was one of the biggest surprises for Arizona. In his second season Garland led the Coyotes with 22 goals while adding 17 assists. Both players will play top-six minutes for Arizona in 2021. While the Coyotes certainly have some talent up front, it failed to produce at adequate levels last season. If Kessel and Keller cannot reach their previous levels of offense, the club will struggle to score again this season.
Arizona Coyotes Preview 2021 – Defense
While Arizona's blueline is not spectacular, it is solid enough to prevent too many high quality scoring chances against. Their top six D-men project to be the exact same as last season. They are headed by Oliver Ekman-Larsson and Alex Goligoski who both played over 23 minutes per game in 2019-2020. Ekman-Larsson, while finishing with two less points than Goligoski, is the biggest offensive threat on the Coyotes' backend. Goligoski had 32 points while carrying a team leading +8 plus-minus.
Arizona will also lean on Jakob Chychrun and Jason Demers to eat minutes on the backend. Chychrun has developed into a very solid two-way defender over his four NHL seasons. During the 2019-2020 season he scored 12 goals while adding 14 assists. In terms of scoring by defensemen, his 12 goals ranked tied for 11th. Chychrun was also responsible in his own end last year finishing with a +4 plus-minus, a stark improvement from his -12 rating a year prior. Demers has been a reliable stay at home presence his entire career. He played 20:30 minutes per game last year while maintaining a +5 plus-minus.
Arizona Goaltending
The Coyotes' lack of top-end talent up front will make them rely heavily on their goaltenders. Fortunately they have one of the top tandems in the league. Darcy Kuemper and Antti Raanta started 29 and 32 games respectively last year. They both finished the year with save percentages of over .920. Raanta stopped .921 percent of the shots he faced while allowing 2.63 goals against per game. Kuemper had a .928 save percentage and a 2.22 goals against average. Kuemper started all nine of Arizona's playoff games and was solid then as well despite facing an average of almost 40 shots per 60 minutes played. He allowed 29 goals on the 334 shots he faced.
Arizona Coyotes Preview 2021: Outlook
Our Arizona Coyotes Preview 2021 expects the club to benefit from the overall weakness of their division. Keumper and Raanta should be able to keep almost any game close. The biggest issue this year is most likely to be their goal scoring ability. They will need to get more consistent production out of Phil Kessel and Clayton Keller. If this happens, they will have a very good chance to grab a playoff spot. If not, They could easily miss the postseason.
2021 Arizona Coyotes Season Preview: Projection
Record: 27-21-8, 62 points
Finish: 5th in the West Division