NHL Previews
Edmonton Oilers Preview 2019 – 2020
Expect Little Improvement from Oilers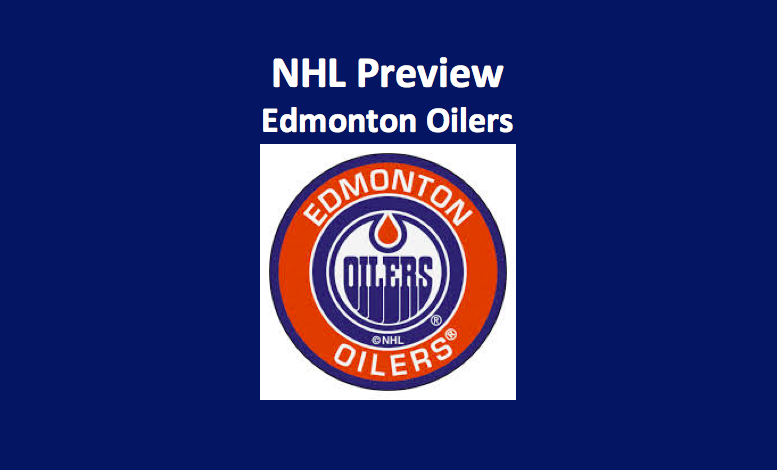 This Edmonton Oilers Preview 2019 – 2020 notes that last year the team put together another unremarkable season. Our Edmonton Oilers Preview 2019 – 2020 notes that last year's seventh-place finish in the Pacific division and their 79 points total were expected. While they were not one of the busier teams over the summer, Edmonton made a few significant moves to improve their situation. Our 2019 – 2020 Edmonton Oilers season preview looks at how their offseason moves will impact their standings during the upcoming year. Did this team do enough to really make a difference or will they simply end up out of the running once again?
Edmonton Oilers Preview 2019 – 2020: Goaltending
Over the offseason, the Oilers shook up their crease. They signed Mike Smith to a one-year deal. He will replace Cam Talbot who was dealt last season. Smith had a lackluster regular season with Calgary last year. In the 42 games he played, he finished the year with an .898 save percentage and a 2.73 GAA. Despite splitting the season with David Rittich, who had a better stat line, Smith got the nod in the playoffs. He was Calgary's best player in the postseason. Smith kept the Flames in the series despite facing around 38 shots per game. He had a .917 save percentage and a 3.20 GAA before his club got bounced from the playoffs in game five of the opening round. Smith will look to carry this performance with him into his fresh start in Edmonton.
Mikko Koskinen will likely split time fairly evenly with Smith. The Finnish keeper saw his first NHL action since 2011 when he played only four games. Koskinen saw a significant workload in his first NHL season, playing in 55 games. He finished the year with a .906 save percentage and a 2.93 GAA. Edmonton Oilers Preview 2019 – 2020 projects Koskinen to be a fairly average goaltender this year. Overall, the addition of Smith to Edmonton's roster should boost their netminding. However, they still look to be average at the position.
Edmonton Forwards
While the Oilers have some premier talent at forward, our Edmonton Oilers Preview 2019 – 2020 finds that they failed to address their depth issues over the summer. Last season, Edmonton had only three forwards with over 40 points. Superstars Connor McDavid and Leon Draisaitl each topped the hundred-point mark. McDavid finished second the NHL in points with 41 goals and 75 assists. Draisaitl had 105 points on the year and was one of only two players to score 50 goals. The third forward who contributed significantly was Ryan Nugent-Hopkins who finished the year with 69 points. The next highest scoring Oiler was Alex Chiasson who had 22 goals and 38 assists.
Edmonton's depth issues look to persist this season. The only significant move they made to attempt to address was a trade for James Neal. While Neal is a natural goal scorer, he struggled in his first and only season in Calgary. After signing a five-year, 28.75-million-dollar contract, Neal only managed 19 points. This was by far the lowest total in his career. The hard-shooting winger still possesses top-six skill, though he is far from a sure bet to return to his previous level of production.
Oilers Preview – Defense
Edmonton is arguably underrated on defense, although they don't project to be elite at the position. They have four blueliners capable of playing over 20 minutes per game. Darnell Nurse finished last season with 41 points. This led Oilers' defensemen. He played 23:49 minutes per night, which was the second most on the team. The top minutes eater was Oscar Klefbom. He saw 23:59 minutes per game when healthy. Klefbom missed a good chunk of the year to injury. He was limited to just 61 games. If healthy, Klefbom projects to be a top defender for Edmonton. Although this is far from a sure thing as he has only played a full 82-game slate once.
The Oilers' other two defensemen who are likely to play significant roles this season are Adam Larsson and Kris Kussell. They played 21:37 and 20:26 minutes per games last season. Russell had the second-highest plus-minus for the team last year at +5. Larsson, on the other hand, had the worst plus-minus on Edmonton's roster. He finished -28 on the year. This was uncharacteristic of the Swedish D-man. Out of his three seasons with Edmonton, last season was the only one he had been on the ice for more even-strength goals-against than goals-for. Our Edmonton Oilers Preview 2019 – 2020 observes that the Oilers will need Larsson to improve in this area if they want to put up better numbers.
Edmonton Oilers Preview 2019 – 2020: Outlook
On paper, The Oilers don't look significantly better than last season. They essentially swapped Mike Smith for Cam Talbot, which may help them in net. Besides this, this Edmonton Oilers Preview 2019 – 2020 finds that they failed to address the issues up front. While McDavid and Draisaitl are among the top players in the world, teams don't win in the National Hockey League without secondary scoring. Edmonton still looks like it lacks this. The Oilers look to be one of the bottom teams in the league once again. Don't expect too much from this squad.
Edmonton Oilers Preview 2019 – 2020: Prediction
Record: 34-37-11,79 points
Finish:6th in the Pacific Division
NHL LINKS
Division Link
NHL 2019 Preview Link