NHL Previews
Detroit Red Wings 2017-2018 Season Preview
How Will the Wings Fare in Their First Season At Little Ceasar's Arena?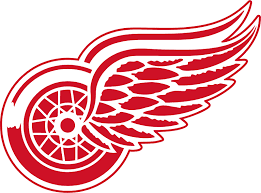 The Detroit Red Wings will play their first season in the new Little Ceasar's Arena during the 2017-2018 NHL season. In their final season playing at Joe Louis Arena, the Red Wings failed to make the playoffs for the first time in 25 years. The Detroit Red Wings 2017-2018 Season Preview will examine whether a similar team to last year's can improve and snag a playoff spot.
Forwards
Detroit's leading scorer last season was Henrik Zetterberg. A staple in the Red Wings' line since 2002, the Swede is still productive despite being past his prime. The Detroit lineup will expect more production from Zetterberg's wings, Gustav Nyquist and Tomas Tatar. Both have scored at similar rates to their previous seasons, but have the potential to be even more productive. Nyquist was Detroits second leading scorer behind Zetterberg with 48 points in 76 games played. Tatar led the team in goals with 25 while adding 21 assists. While neither had particularly down seasons compared to their previous years in the NHL, they still have a lot of potential growth.
One Wing who did have a down season was Dylan Larkin. In his second NHL season Larkin finished with a -28 rating and his point production decreased from 45 to 32. The 15th overall pick from the 2014 draft will need to be one of the team's leaders on offense if they want to fare any better than they did last season. The Red Wings will also look to Anthony Mantha, Frans Nielsen, and Andreas Athanasiou should he return to the team.
Defense
The Red Wings have an offensive threat on their blue line in Mike Green. Green was the top scoring defenseman as well as the largest minute eater on the team in the 2017-2018 season. Green finished tied for seventh in goals scored by defensemen last year. Green should be expected to have another quality offensive year as he quarterbacks Detroit's first powerplay unit.
Detroit's only notable acquisition this summer came with the signing of Trevor Daley. Daley missed 20 games as a Pittsburgh Penguin last season after needing to have knee surgery. Now healthy, he is a quality addition for the Red Wings and is expected to play large minutes as long as he can stay off the IR. He is projected to be paired up with Danny Dekeyser, who averaged 21:56 minutes in time on ice. Rounding out the blue line for Detroit's is Jonathan Ericsson and Niklas Kronwall, who will both provide physical presences as long as they are healthy.
Goaltending
It is looking likely that Jimmy Howard will fill the starter's role this year. Howard played well last year despite missing 32 games with a lower body injury. Howard was limited to 26 games because of this, but managed to post a .927 save percentage and a 2.10 GAA. The other option that Detroit will have in net is Petr Mrazek. Last season was very underwhelming for the Czech netminder. Mrazek finished the year with an abysmal .901 save percentage and 3.04 GAA, both of which were third worst league-wide among qualified goaltenders. Just a year earlier Mrazek was stellar and looked to be the team's long term starter. In the 2015-2016 season he played 54 games and compiled a .921 save percentage and 2.33 GAA. If Howard can stay healthy and Mrazek can rebound this year, the Red Wings will have a very underrated tandem in the crease. If not, the team will almost certainly have no shot at the post-season.
Detroit Red Wings 2017-2018 Season Preview: Overall Outlook
Detroit is not looking like a playoff caliber team at the moment. Their offense is lacking firepower, and they have question marks in the crease. Their forward group certainly has the potential to score, but have yet to show that they can reach their highest potentials. Jimmy Howard's health and Petr Mrazek's rough 2016-2017 season make it tough to bet on them. The Wing's defensemen are also lacking star-power and are not looking too strong. If all goes perfectly for Detroit this season, they could surprise some people, but there are too many question marks on this team to expect them to make the post-season. Look for them to miss the playoffs once again in the 2017-2018 season.
Key Takeaways
Detroit's forwards certainly have room to grow. Dylan Larkin, Gustav Nyquist, and Tomas Tatar all have untapped potential that they are yet to reach.
The team's defensive corps lost star power. While Mike Green is capable of putting up quality numbers, they do not look to have the depth on the backend to compete for a playoff spot
If Jimmy Howard can stay healthy and Petr Mrazek can rebound from his rough 2016-2017 season, the Wing's crease should be solid. Despite this there are just too many uncertainties to expect this team to have a good year.
Detroit Red Wings 2017-2018 Season Preview Projection: 36-38-8, 80 points, 8th in the Atlantic