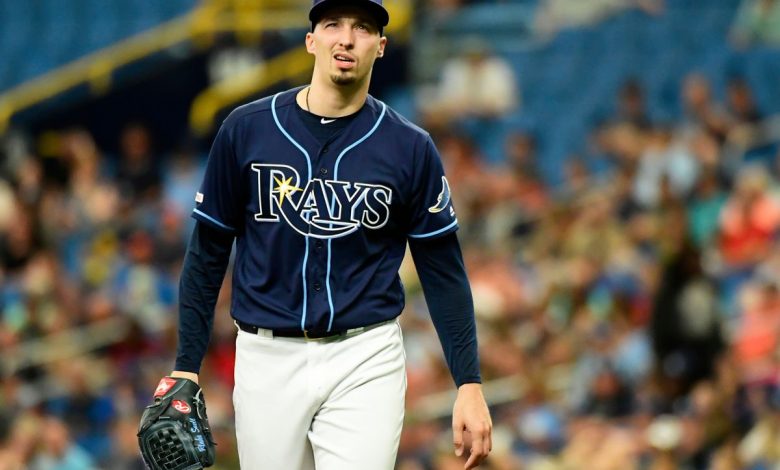 Many around Major League Baseball expected the owners' plan for the 2020 season to be met with contention from the players. It didn't take long for the players' to make their dissent heard loud and clear.
Rays ace Blake Snell is one of the players leading the charge against baseball's proposed plan, which includes an 82-game season and a 50-50 revenue split between ownership and players. Snell said that playing at the risk of contracting the coronavirus for a reduced salary is "just not worth it."
"Y'all gotta understand, man, for me to go—for me to take a pay cut is not happening, because the risk is through the roof," Snell said. "It's a shorter season, less pay."
As Major League Baseball eyes an early July start date, the latest proposal from the owners is attempting to recoup some of the financial hit from dropping half the season and the revenue lost from not having fans in attendance.
According to reports, roughly 40% of MLB's total revenue came from ticket sales and other gate-related income.
Yet the players are adamant about the fact that this proposal flies directly in the face of a March agreement between ownership and player in which the players agreed to take prorated salaries based on the number of games played.
"If I'm gonna play, I should be getting the money I signed to be getting paid," Snell said. "I should not be getting half of what I'm getting paid because the season's cut in half, on top of a 33% cut of the half that's already there — so I'm really getting, like, 25%."
Snell also told the Tampa Bay Times that he'd be willing to sit out the 2020 season.
Bauer Calls Proposal 'Laughable'
The MLB Players Association is expected to reject the owners' proposal for a 50-50 revenue split, which has never been included in the sport. That sentiment has only grown as players have begun speaking out about the plan.
Reds pitcher Trevor Bauer, who's been outspoken throughout his professional career, isn't entertaining the proposal he's calling "Laughable."
"The ask is basically take more risk by getting back sooner and take less pay than we've already agreed," Bauer said. "We've already agreed to take … 50 percent pay cut, and now they're asking us to take another pay cut."
Bauer went on to take a dig at commissioner Rob Manfred, saying, "Slightly lighthearted, but if I'm gonna have to trust my salary to Rob Manfred marketing the game to make more money for the game, I am out on that."
While it may be expected for players on teams without a chance of winning the 2020 World Series to threaten to skip the season, it's players on potential contenders who are leading the charge.
Although Bauer's Reds are expected to be on the cusp of the postseason should the proposed 14-team playoff field be approved, Snell's Rays are in a position to contend for a championship.
At this stage, Cincinnati owns the 14th-best odds of +3000 to win it all. At +1800, Tampa Bay is level with Washington with the 6th-best odds in Major League Baseball.