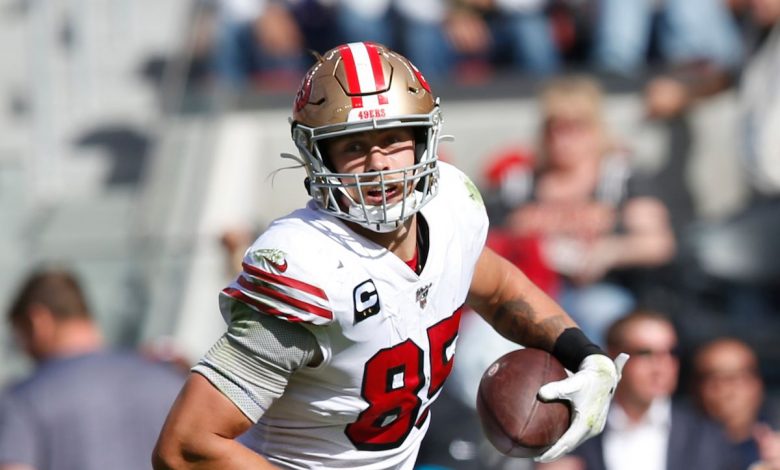 As the country remains in chaos ranging from the coronavirus pandemic to the protests around the country in response to the murder of George Floyd, sports certainly aren't the main focus of our society at this time.
Still, leagues around the country hope to get back to normalcy in what has certainly not been a normal year, and the NFL is no different. While there remain some questions about the upcoming season, there is still plenty of other news circulating around the league. Let's look at some of the biggest stories from the last week.
49ers Could Have A Kittle Problem
If not the best in the NFL, there is no denying that George Kittle is one of the premier tight ends in the league. As he enters his final year, it appears that he wants to be paid that way, too.
The San Francisco 49ers and Kittle appear to be pretty far apart on a new deal, according to Kittle's agent, Jack Bechta (as told to the NFL Network). The largest contract for a tight end in history was just signed this offseason as Austin Hooper signed a four-year deal worth $42 million.
Bechta and Kittle are hoping to shatter that contract. And it may be for good reason, too.
Kittle was a monster this past season. In 14 games, Kittle had 85 receptions for 1,053 yards and five touchdowns. With the end of the rookie contract approaching, the 49ers will look to keep Kittle in the fold long-term. To do so, though, they are going to have to pay up.
Carolina Gets Apple
Earlier this offseason, it appeared as if cornerback Eli Apple was heading to the Las Vegas Raiders. Instead, Apple will end up with the Carolina Panthers.
The two sides agreed to a one-year deal this week, making Apple a likely Week 1 starter. While the Panthers did take a couple of corners in the draft, it appears that Apple would have the inside track on the starting role.
Last season, with the New Orleans Saints, Apple played 15 games, finishing with 58 tackles and one forced fumble. Still only 24, the Panthers are hoping that Apple can excel under their new coaching staff. For Apple, he is hoping for a solid season that could allow him to cash in on a bigger deal next offseason.
Texas Not Only Will Allow Games, But Will Allow Fans
Based on an updated decision by governor Greg Abbott, Texas may not only be able to play games in their state, but they may also be able to have fans attend.
According to a revised decision, pro sports would be able to host up to 25% of their fans based off of their normal capacity. This will only apply to outdoor sporting venues, but it still is an interesting option for sports teams.
For instance, the Houston Texans have a retractable roof and can hold up to just under 72,000 people. That would mean that they could host approximately 18,000 on a game day under the governor's new decree.
The Dallas Cowboys could also take advantage of this as could the Houston Astros and Texas Rangers in Major League Baseball.
The Cowboys are already looking at holding their training camp this year in Texas, given the lax regulations, and this could present them another option that many teams in the pros would not have.
It remains to be seen whether fans are allowed, but it appears that it is at least okay with the state government if they do.