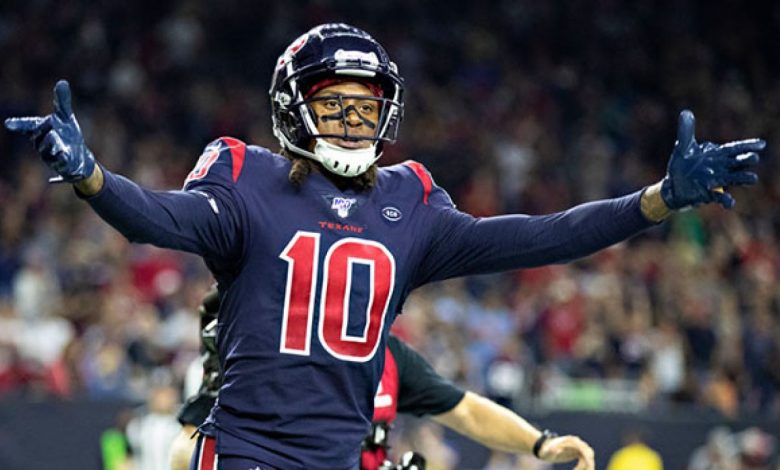 Sometimes it is a perk to be in your offseason. While all of the other major sports have come to a screeching halt, the NFL is making waves as the new league year starts and free agency gets underway.
On Monday, there was a flurry of action around the league. Let's get caught up on some of the major news stories that broke over the last few days.
Houston, Arizona Make Blockbuster Trade
In quite possibly the most shocking deal of Day 1 of the free agency period was consummated between the Houston Texans and the Arizona Cardinals. The Texans are sending perennial Pro Bowl wide receiver DeAndre Hopkins (and a fourth-round pick) to the Arizona Cardinals in exchange for another former Pro-Bowler in running back David Johnson (along with a second-round pick and a 2021 fourth-round pick).
In a move that is sure to displease Texans' fans, head coach Bill O'Brien (who also calls the shot with the roster) sent out the soon-to-be 28-year-old Hopkins to Arizona. Some rumors have surfaced that there had been friction between the two last season, but many were still in awe that Hopkins was dealt with not even a first-round pick coming back.
Last year, for Houston, Hopkins played in 15 games amassing 104 receptions for 1,165 yards and seven touchdowns.
Interestingly, this move leaves the Texans a bit thin at wide receiver with just Kenny Stills and Will Fuller as their lead receivers now. On the flip side, Arizona has now given Kyler Murray another big weapon as Hopkins will help establish a formidable trio in Hopkins, Larry Fitzgerald and Christian Kirk.
In addition to the 2nd and 4th round picks, the Texans will also welcome in running back David Johnson. Back in 2016, his second year in the NFL, Johnson showed that he had the makings of an elite running back.
That season he rushed for 1,239 yards and 16 touchdowns while also hauling in 80 receptions for an additional 879 yards and four more touchdowns.
The problem, though, is that he has not been able to stay healthy since. In fact, he has not eclipsed the 1,000-yard mark since and last season, at age 27, he rushed just 94 times for 345 yards and two touchdowns. It will be interesting to see how it pans out, but for now, it seems like Arizona got a steal of a deal in this one.
San Francisco Sends Buckner To Colts
In another big trade on Monday, the San Francisco 49ers traded away star defensive tackle DeForest Buckner to the Indianapolis Colts. In return, the 49ers received the Colts' first-round pick (number 13 overall). The Colts also signed Buckner to an extension that will pay him $21 million per year (second only to Aaron Donald).
Last season, with San Francisco, Buckner had 62 tackles, 7.5 sacks, two forced fumbles and four fumble recoveries (including one for a touchdown).
The Colts are hoping that he can be a game-changer on their defensive line moving forward. For the 49ers, they now have two first-round picks. Earlier in the day, the 49ers had extended defensive end Arik Armstead to a five-year, $85 million deal.
Ravens Trade Tight End Hurst To Falcons
To continue with the trend of trades on Monday, the Baltimore Ravens sent tight end Hayden Hurst and a fourth-round pick to the Atlanta Falcons in exchange for a second-round pick and a fifth-round pick.
Last season, Hurst had 30 receptions for 349 yards and two scores. With Mark Andrews in the fold, the Ravens felt comfortable dealing Hurst and letting Austin Hooper go to the Browns.
Browns Make A Trio Of Signings
Speaking of Austin Hooper, he was one of a trio of signings that the Cleveland Browns made on Monday. Hooper will sign a four-year, $42 million deal with the Browns. Last season, with Baltimore, he hauled in 75 catches for 787 yards and six touchdowns.
It appears that he will now turn in that solid season into a contract that will make him the highest-paid tight end in the league.
In addition to Hooper, the Browns also signed tackle Jack Conklin and backup quarterback Case Keenum. For Conklin, he was one of the best tackles in the league last year with the Tennessee Titans, who had drafted the tackle back in 2016.
In 2018, though, he had surgery on his ACL, and the Titans declined his fifth-year option, a decision they likely regret now. Conklin will be tasked with trying to help what was a very shaky offensive line protect quarterback Baker Mayfield.
Backing up Baker Mayfield will be quarterback Case Keenum, who the Browns also brought in on Monday in a three-year, $18 million deal. Last year, Keenum went just 1-7 in 10 games played, throwing for 1,707 yards, 11 touchdowns and five interceptions.
He had one breakout year with the Vikings back in 2017, where he went 11-3 with 3,547 yards, 22 touchdowns and just seven interceptions. For the Browns, Keenum will probably make for one of the better backups in the entire NFL.
Dolphins Sign Lawson
According to NFL.com, the Miami Dolphins seem prepared to use some of their league-leading $81 million in cap space on defensive end Shaq Lawson. Last season, with the Bills, Lawson had 32 tackles, 6.5 sacks, 18 quarterback hits and one forced fumble.
Despite winning five games, the Dolphins can use help at just about every part of the roster, and the signing of Lawson is a good start as the free agency period begins.
Vikings, Cousins Agree To Extension
The Minnesota Vikings have ensured that they will have their quarterback for at least the next few years after Kirk Cousins signed a two-year extension on Monday. With the new money, he is now under team control for three years and $96 million ($61 million is guaranteed).
Cousins has been solid since landing in Minnesota. Last season, he went 10-5 in 15 regular-season games (he sat out the last one). In that span, he had a .691 passing percentage and threw for 3,603 yards, 26 touchdowns and just six interceptions.
The new deal not only gives security to the Vikings' quarterback but also will help the team create a bit more cap space (something that they had very little to start the day).