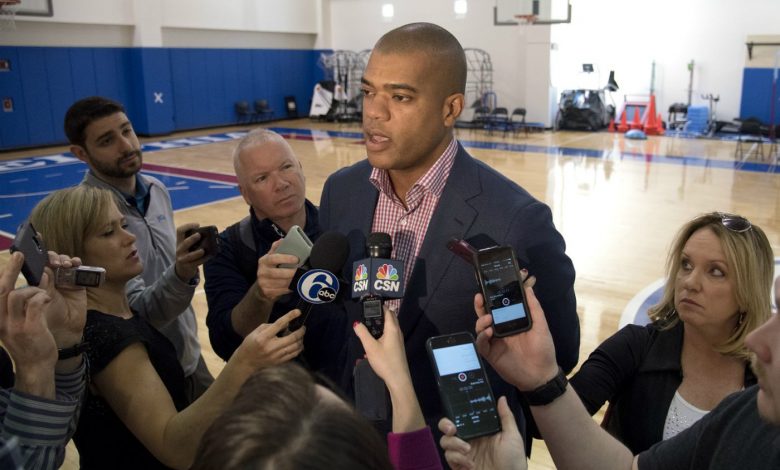 The third and fourth parts of The Last Dance aired on ESPN last night and were an absolute treat for the viewers. How often can you take two hours out of your day to watch something, and after 20 minutes, it's already over? On the note of the Bulls, they hired a new general manager, announced in the early hours of the morning.
That's right. And the man that gets the job is former 76ers President of player personnel, Marc Eversley. He began by working with Nike, before spending seven years from 2006-2013 in several roles with the Toronto Raptors. He spent an additional several years with the Wizards from 2013-2016 as the VP of scouting.
Eversley being hired marks the beginning of a new era. For a long time, it has been the Gar (Forman) Pax (John Paxson) era here, and it hasn't led to the best results. Bulls fans are consistently speaking out on Twitter about how they're hoping for change. And this represents exactly what they were looking for.
It will be an important summer for the Bulls, as we'll see if they can get Otto Porter to opt in to the final year of his deal. If they can get Zach LaVine some help so they can try and contend next year. And they have an important draft decision to make in a pretty talented class. Good luck, Marc.
Dinwiddie's New Team
In other news, Spencer Dinwiddie of the Brooklyn Nets announced his decision to get a Nigerian passport and play for their national team. Due to the lack of an opportunity with the US team, this was his decision so that he can still have the opportunity to partake in the next International Basketball competition.
He will be joining a few other NBA players on the club. Former No. 6 pick Ekpe Udoh, Josh Okogie (Timberwolves), Al-Farouq Aminu (Magic), and Chimezie Metu of the San Antonio Spurs are all playing for the club. This is going to be a great chance for Spencer to be the leader of a team and try and get them rolling.
All of the players they have from the NBA are known more for their length and defensive ability, so a guy like Dinwiddie is going to come in and start giving them buckets immediately. Former Net Andray Blatche is still playing for the Philippines, so Dinwiddie is just the latest Net to make a decision as such.
His current teammate Joe Harris played for Team USA last summer. His ability to defend on the perimeter and hit the three-ball at a high rate likely played a large role there. It is tough being a point guard if you're trying to play for the American team, as they just have such tremendous depth.
Kemba Walker was a key cog for them last summer, and he likely doesn't even sniff the roster if Steph, Dame and Chris Paul were there.
It'll be fun to see how Spencer blends in with his new country and teammates.