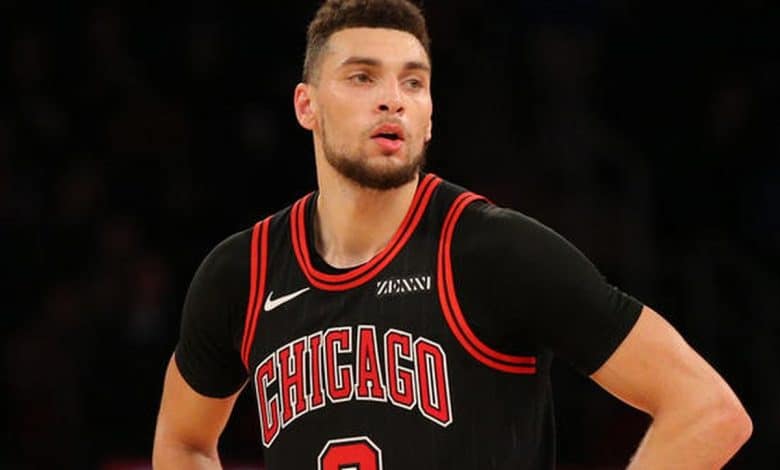 Before we get to what's going on with Zach LaVine, we begin with some sad news from one of his former teammates. Karl-Anthony Towns is known for being a beast on the NBA hardwood. But sadly, COVID-19 has permanently altered his family.
His dad caught the virus, but eventually recovered. His mom tragically passed away yesterday. The two were very close, and to see this happen just breaks your heart. Take a moment out of your day to pay your respects and honor her memory.
Back to LaVine. Though he was an All-Star snub this year, it is already proven that he is a star in this league. He has led the Bulls for the past few years, improving his statistics with every passing season.
And in his matchup with Paul Pierce in ESPN's inaugural H-O-R-S-E competition, he picked up a shutout win. The few shots that his opponent hit from his home court in Los Angeles with the Celtics logo on it were quickly matched by LaVine.
Zach is going to be taking on a fellow Chicagoan in Allie Quigley, an All-Star for the Sky. Quigley had a tough time initially finding minutes in the WNBA but has found her niche over the past couple of years.
Zach is going to have the advantage with finishes around the rim, but Quigley may have a slight edge on the deep jumpers. A win from LaVine, and he is right into the final, which will be played not too long after.
Life Changes
And off the basketball court, LaVine's relationship status has just changed. His girlfriend of eight years, Hunter Mar, who is living with him in Chicago, has now become his fiancée after he proposed last night.
If you follow either of them on Instagram, you'll see several posts from them of each other. And while it is hard to judge from the outside, it does seem they have something very special there.
For LaVine, this could not have come at a better time. It is obviously tough that he isn't finishing up the season with the Bulls right now, but clearly, the time at home, combined with the time off from the NBA, made the decision and timing more clear.
In a world where we see tragedy in the headlines every 30 minutes right now, it is fantastic to see this positive news from LaVine. You can't help but be ecstatic for the two of them. Let's see if any of his current or former teammates end up as groomsmen for the occasion.
Getting back to NBA business, it is truly shocking that his 26-5-4 did not get him to the All-Star Game. And crazier is that he wasn't even the biggest snub in the East. Bradley Beal was posting more assists and scoring 30 points per game.
The All All-Star-Snub first team will feature the two of them starting side-by-side. Here's to LaVine getting his opportunity to play in the game next year. With his statement that he's done with the dunk contest, the best way to see him ball out is in that event.
Because he didn't do too well in the three-point shootout.