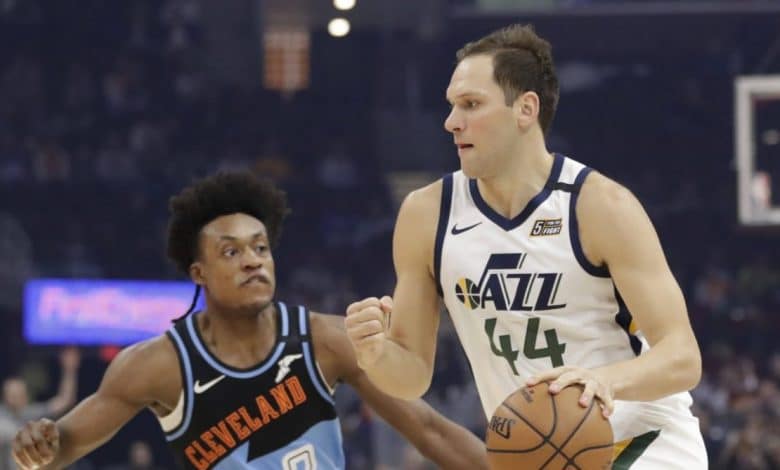 The NBA, like other professional sports leagues, continues to hang in limbo, and as each day passes, there is growing uncertainty that it will truly be able to finalize the 2019-20 season. Still, the league and players try to remain positive that they are progressing towards a return, but the clock is certainly ticking.
While league officials determine whether it is feasible or not to return, there is still plenty of news from around the league. Let's take a look at some of the news from this last week.
Bogdanovic Has Season-Ending Surgery
Sitting in fourth place in the Western Conference, the Utah Jazz would love the opportunity to return to play to see if they can make a run at the NBA Finals. If they do, though, they will be without one of their biggest contributors.
Bojan Bogdanovic will be undergoing season-ending surgery on his right wrist. The injury is believed to have initially occurred sometime in either December or January, but the team has finally decided to shut him down with the hopes he will be ready for next season.
It is certainly unfortunate as Bogdanovic was having a really solid season with the Jazz. In 63 games, he was averaging 20.2 points on 44.7% shooting (including 41.4% from three and 90.3% from the free-throw line). He was also averaging 4.1 rebounds and 2.1 assists per game.
Draft Process To Remain The Same
Whether a season can be finished or not, one question that has come up in NBA circles is how the draft order will be determined, given the lack of finality to the season for some teams. Even if play is resumed, likely not all teams will finish their regular season, meaning some teams will have played more games than others.
According to Tim Bontemps of ESPN, the league is expected to keep the same lottery format for its draft as always. The draft lottery will still be determined by the reverse order of standings.
To account for the discrepancy in games, the league will likely just look at winning percentage as opposed to simply games won (or lost in this case).
If LeBron Has His Way, The Season Will Finish
While there are a lot of uncertainties as to whether the NBA season will be finished or not, one thing is for sure, LeBron James wants to finish. Earlier this week, James told The Uninterrupted, "Not only myself and my teammates, the Lakers organization, we want to play."
It should come as no surprise that James wants the season to finish. The Lakers currently sit atop the Western Conference, 5.5 games ahead of the LA Clippers, and they have the second-best record in the NBA, behind only the Milwaukee Bucks.
Furthermore, the Lakers are not guaranteed to bring the band back together next season as Anthony Davis (26.7 points, 9.4 rebounds, 3.1 assists per game) will be a free agent. The Lakers certainly have a great chance of representing the West in the NBA Finals, so it would make sense that he would be all on board with returning to play.
For his part this season, James has been averaging 25.7 points on 49.8% shooting with 7.9 rebounds and 10.6 assists per game. It remains to be seen if the season can continue or whether all of those stats this season were for naught.