Sports News
A SportsBook Finds A Creative Way To Take Wagers On Trump's Words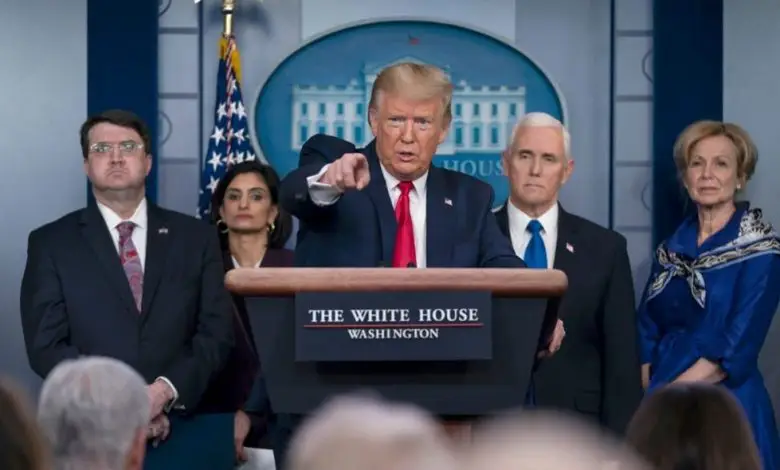 President Donald Trump and the White House coronavirus task force hold daily press conferences on updates regarding the deadly pandemic. With sporting events including the Summer Olympics in Japan coming to an abrupt halt, thinking beyond sports is a survival method for some.
A sports betting site, Sportsbettingdime.com, came up with some rather interesting action to offer their customers. Some people, anxious for something to bet on, have been playing the "Trump Game" on the site.
Trump is known to use certain words like terrific or beautiful or economy on a regular basis. He also uses words or phrases like "Chinese Virus" or amazing or "better than ever." The site is offering players over/under numbers on the words and or phrases uttered by the 45th President of The United States.
An example of how this type of offering is played is the most recent Super Bowl.
Clever Way To Attract Players
The final score of Super Bowl LIV was Kansas City defeating San Francisco, 31-20, for a total of 51 points. Sports betting providers that offered options on the game had 53 and 54 points as the over/under points.
Those that bet under were the winners because the total score was under those numbers. The specific words Sportsbettingdime is offering numbers on are fantastic, incredible, and tremendous when they are said in a group one time.
The odds the site is offering its players are over/under 8.5. There is over/under action on phrases as well, such as "not our fault" and "working very hard" and "doing a great job." The number for these phrases is 2.5 each. Bettors can't bet on them together, only separately.
A spokesperson for the site was asked by a fan how the words are tallied. For instance, is an official White House transcript posted on the site? Or are the words calculated by video? The site said, "The words and phrases are calculated from the daily videos, in real-time."
Sports Betting Will Come Back Strong
After the 2018 Supreme Court ruling that overturned a national ban on sports betting, the industry has exploded into a multi-billion dollar one. Several states were supposed to be up and running in 2020.
A few of the states that were set to launch in 2020 will go ahead as planned, while others will wait until sports are up and running. A major sports betting provider, DraftKings, weighed in on the league cancellations and the virus and the comeback.
The CEO of DraftKings, Jason Robbins, said this week, "With everyone home, it would have been nice to have some sports to watch. But we totally understand these decisions that have been made. Our first concern is for the health and safety of everyone."
Robbins said his team is working on new products, and they are very excited about all the new features they will have to offer when the season comes back.