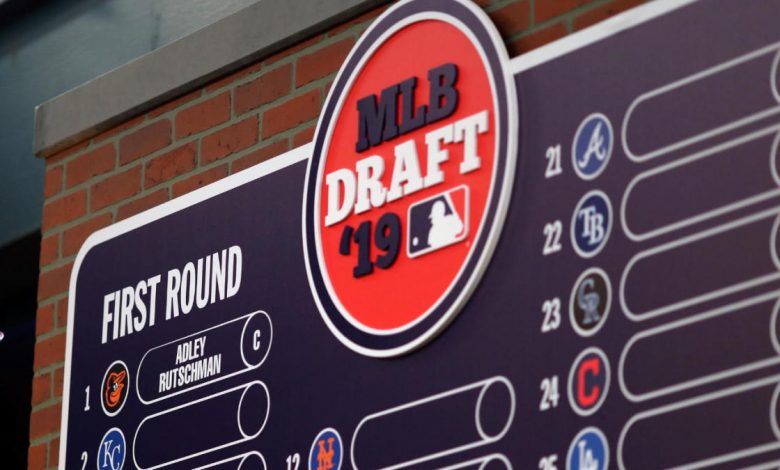 As with all major sports around the country, Major League Baseball has felt the full brunt of the coronavirus. Prior to the outbreak, Opening Day was expected to be in about a week, but it now appears that it may be much later.
In accordance with the CDC's recommendation, MLB has announced that it will be pushing the start of the season even further back. The CDC suggested eight weeks, which would put Opening Day (at the very earliest) on May 11.
However, that does not take into account the need to ramp back up activity as well as any other further delays. As a result, a more realistic date may be sadly in June sometime.
Still, the league and player's association seem to be working together to hopefully bring baseball to fans this year.
Draft May Be Postponed
While the two are working to bring baseball back, one element that the two sides have discussed bypassing is the MLB Draft. The draft is set to take place in June, but there is uncertainty as to whether a draft could effectively occur.
First, with college and high school seasons either being suspended or canceled, teams and their scouts have significantly less knowledge and resources to properly evaluate the talent.
Furthermore, by not having a draft, it could help free up some money to offset a little in what is being lost by games not being played.
There are issues associated with this, though. First, the logistics of high school and college players comes into play. For instance, seniors in college would be left high and dry as they would be unable to return to college to play another season.
Also, would all of the players from this year get paired with the players eligible for next year's draft? If that is the case, there could be players who lose out or go undrafted with the additional players eligible.
One other solution could be allowing these players, or at least the seniors, to simply become free agents, but that takes away from the integrity and purpose of the draft. Regardless, there is no clear and easy solution, but the two sides appear to be discussing it.
Verlander Undergoes Surgery
Getting back to baseball itself, the reigning American League Cy Young Award winner has undergone surgery on his groin and will be out for at least six weeks. Justin Verlander has suffered ailments all spring training between his groin and a lat strain.
While the lat strain was what sidelined him most recently, it appears that the groin issue reemerged in his recovery.
With the season being delayed, Verlander and the Houston Astros opted to have surgery as opposed to simply trying to rest and do physical therapy. For Verlander (as well as other injured players from around the league), the break may be a blessing in disguise.
Last year, for Houston, Verlander went 21-6 with a 2.58 ERA and 0.80 WHIP. He had 300 strikeouts in 223 innings. Verlander has been a workhorse and is set to be at the top of the Astros' rotation again this year.
With that in mind, the Astros likely need him now more than ever after losing Gerrit Cole in free agency. Verlander and Zack Greinke are set to lead the rotation, but there are a lot of uncertainties after those two.
Mancini Has Tumor Removed
Under much scarier circumstances, another MLB star underwent surgery this past week. Trey Mancini of the Baltimore Orioles had surgery to remove a malignant tumor that was found in his colon.
At 28 years old, Mancini is one of the lone stars on a young and rebuilding Baltimore Orioles team. Last year, he hit .291/.364/.535 with 35 home runs, 97 runs batted in and 106 runs scored.
Like Verlander, the delay in the start of the season will help Mancini possibly be ready for Opening Day; however, Mancini has a lot more concerns that he is dealing with at this point than baseball.
Sale Begins Throwing Program
After being diagnosed with a flexor strain earlier in the month, Chris Sale of the Boston Red Sox has started a throwing program. It is still unclear how much time he will need (assuming no setbacks), but he too could benefit from a late start.
For the Red Sox, the health of their star lefty has to be a major concern, particularly after he missed quite a bit of time last season with injuries.
After having traded Mookie Betts and still facing possible punishments from the league's investigation into a cheating scandal, Red Sox fans need all the good news they can get.
Last season, Sale started 25 games but went just 6-11 with a 4.40 ERA and 1.09 WHIP. In 147.1 innings pitched, he had 218 strikeouts. While the K/9 ratio was still strong, it was an uncharacteristically poor season for Sale.
Turning 31 later this month, Sale is hoping for a bounceback season this year but will need to show he can stay healthy first.
Mikolas Starts To Throw Again
Like Sale, Miles Mikolas has also started a throwing program this week. Mikolas had a strained flexor tendon in his arm and received a platelet-rich plasma injection for it. Barring any setbacks, he is hoping to be ready by the beginning of the season, whenever that may be.
Last year, with the St. Louis Cardinals, Mikolas was 9-14 with a 4.16 ERA and 1.22 WHIP. In 184 innings pitched, the righty had 144 strikeouts. He is hoping that the injection helps and that he can help the Cardinals once again this season as they look to win the NL Central.