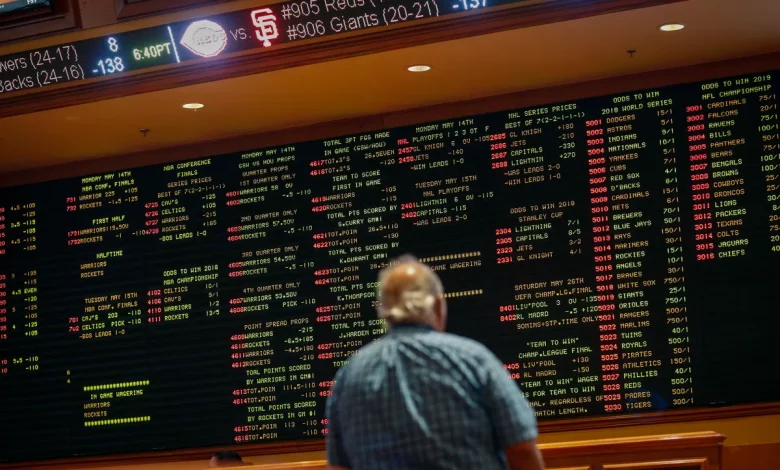 After an underwhelming February, Illinois' sports betting handle rebounded in a big way. The Illinois Gaming Control Board reported a monthly handle of $971.3 million thanks to the NCAA Tournament and the NBA playoffs.
Examining Illinois' March Sports Betting Handle
Sportsbook operators in the Prairie State combined to accept over $971 million in wagers which were behind just three other prominent markets, which included Nevada, New Jersey, and New York, in the post-PASPA era.
March's monthly handle noted an increase of 43 percent from February's $679.4 million. The previous record stood for about two months as March shattered January's record of $867.5 million. Looking at the year-over-year numbers, March 2022's figures signified an increase of 53.3 percent from March 2021's $633.3 million.
Breaking down the numbers just a bit further, the completed events total brought in $954 million. According to the Illinois Gaming Control Board, the men's and women's NCAA Tournaments handled more than 286.2 million dollars, and college wagering for March totaled $350.8 million as approximately five million bets were placed.
Bettors across the state cannot place wagers on in-state collegiate teams unless it is done so at retail sportsbook locations. It is unknown how much was placed on the in-state teams that made it to the tournament.
Sportsbook operators won a total of $79.4 million in gross revenue, which skyrocketed 155.6 percent from February. $31.1 million. March 2022's gross revenue total was also higher by 59.2 percent compared to March 2021's total.
Sportsbook operators combined to have a hold percentage of 6.5 percent. Because of the higher win rate, the state was able to collect $9.8 million in taxes.
Mobile sports betting accounted for $927.5 million, or 95.5 percent of the overall handle. March was the first month following the removal of in-person registration to use mobile sportsbook platforms.
Accessing the Market Share Data for the Month
FanDuel was the first mobile sportsbook operator to surpass the $300 million mark for the monthly handle. FanDuel had an online handle of $310.7 million. DraftKings easily secured the second position with a handle of $284.2 million.
BetRivers was the only other bookmaker that reached the nine-figure mark, bringing in $105.9 million. PointsBet set a new all-time high by accepting $77 million, while Barstool's $66.8 million was second only to its $68.7 million in bets accepted last October.
BetMGM was the newest operator to offer its product and services as it launched on March 5th. BetMGM had a relatively strong start as it had a handle of $43.6 million, which was good enough to edge out Caesars.
Caesars has had a tough time marketing itself in Illinois, but it nearly doubled from its all-time high with a handle of $39.2 million in March. However, Caesars recently became the official sports betting partner of the Chicago White Sox.
What Did People Across the State Bet On?
As usual, parlay wagering dominated once again in the Prairie State. Operators had a win rate of 15.8 percent, which totaled $33.9 million in revenue. The win rate was easily the highest for any category with a handle of at least $5 million.
Despite surpassing $500 million in basketball wagers, bookmakers only had a hold percentage of 3.2 percent which resulted in $17.2 million in revenue. Tennis secured the third position with $3.8 million in revenue.
Soccer came in fourth with $3.3 million in revenue. Hockey rounded out the top five with $2.7 million in that category. Lastly, Boxing and MMA were the last to reach seven figures in revenue with $1 million due to a win rate of 10.6 percent.