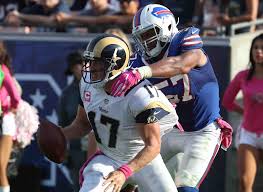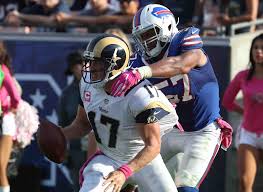 One of the things that we are very aware of after compiling our 2016 NFL Week Six Review of the past week's happenings is that no matter how much you know about this league, there are always surprises. This week we saw some teams come on stronger than we ever thought that they could. There were players who made things happen and other who fell short.
Various teams are seemingly destined to finish out of the money this year. Some of those teams were supposed to be major contenders. There are a few clubs that are breaking down due to injury. Others remain amazingly healthy and resilient. We've got one takeaway for each of the teams that played in week six.
AFC Takeaways from Week 6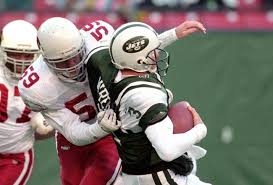 All teams in the AFC were active this past week. Every club in this conference has at least one loss and all clubs, expect the Cleveland Browns, have at least one win. Here's how our 2016 NFL Week Six Review sees the AFC.
Denver Broncos (4-2) QB Trevor Siemian and company can't generate enough offense to win.
San Diego Charges (2-4) actually have a good second half.
Buffalo Bills (4-2) win fourth straight with solid offense and defense.
Cleveland Browns (0-6) fourth quarter comeback falls short by two as they lose to Tennessee.
Tennessee Titan (3-3) QB Marcus Mariota tosses three TD passes for Titan's second straight win.
Baltimore Ravens (3-3) fails to shutdown Giants offense and lose third straight.
Jacksonville Jaguars (2-4) win second game straight 17-16, beating Chicago by scoring all 17 points in the fourth quarter.
Miami Dolphins (2-4) dominate Pittsburgh from start to finish for 30-15 victory.
Pittsburgh Steelers (4-2) QB Ben Roethlisberger tears meniscus and is out for at least two to three weeks.
Miami Dolphins (2-4) RB Jay Ajayi leads Fins over Steelers by averaging 8.2 YPA, rushing for 204 yards and scoring two TDs.
New England (5-1) offense overwhelms Cincinnati as Tom Brady tosses three TD passes.
Cincinnati Bengals (2-4) cannot get their act together against Brady at home.
Kansas City Chiefs (3-2) win with running game anchored by Spencer Ware.
Oakland Raiders (4-2) offense sputters due to miscues by Derek Carr.
Houston Texans (4-2) rallied by QB Brock Osweiler in fourth quarter and beat Indy in OT.
Indianapolis Colts (2-4) D fails, allowing 14 points in final 2:37 minutes and losing in OT.
New York Jets (1-5) lose fourth straight in Arizona as Jets score just three points.
NFC Takeaways from Week 6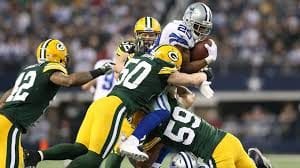 The Tampa Bay Buccaneers and Minnesota Vikings enjoyed a bye this week. The Vikings are the only club that has not yet had a loss. Our 2016 NFL Week Six Review finds that every team in the NFC has at least one win. Three of those teams, Carolina, San Francisco and Chicago, have just that one win.
San Francisco 49ers (1-5) D is porous, allowing Bills 313 rushing yards and three ground-attack TDs.
Washington Redskins (4-2) QB Kirk Cousins hosts Eagles and takes team to fourth straight win.
Philadelphia Eagles (3-2) score TDs on a kick return and an interception as Carson Wentz and company are shut down.
New York Giants (3-3) Eli Manning finds the seam tossing three TD passes and beating the Ravens.
Carolina Panthers (1-5) 38 against Saints D, but still can't win.
New Orleans Saints (2-3) win Jambalaya shootout as Brees passes for 465 yards and 4 TDs.
Chicago Bears (1-5) offense underwhelms throughout game and defense crumbles in fourth quarter as Bears lose to Jacksonville 17-16.
Los Angeles Rams (3-3) lead all the way through to the first eight minutes of the fourth quarter, giving up 10 points to the Lions.
Detroit Lions (3-3) QB Matthew Stafford goes 23/31, throws 4 TDs, and 0 INTs for the win.
Atlanta Falcons (4-2) QB Matt Ryan has a decent game but loses to Seahawks in final two minutes of fourth quarter.
Seattle Seahawks (4-1) win a second time this season by two points with a solid ground game but an underwhelming performance by QB Russell Wilson.
Dallas Cowboys (5-1) prove they are for real as they beat Green Bay 30-16.
Green Bay Packers (3-2) lose three fumbles and allow Cowboys over 400 yards of offense.
Arizona Cardinals (3-3) RB David Johnson runs for 111 yards and three touchdowns.
Last Word: 2016 NFL Week Six Review
To conclude our 2016 NFL Week Six Review, we're offering these five observations. The Buffalo Bills are certainly running on all cylinders and have a good chance to score their fifth straight win when they play Miami this week. Philadelphia is struggling a bit and this week will face their biggest challenge thus far, Minnesota. The Redskins look like they might be contenders. How will they do against the Lions in week seven? Tom Brady looked great last week and is ready to lead the Pats against a Roethlisberger-less Steeler team. Brock Osweiler returns to his old team as Houston Texans (4-2) visit Denver Broncos (4-2) on Monday Night Football.