Sports News
NHL Stanley Cup: Western Conference Round Two Updates
We've offered our update and review of the NHL Eastern Conference Semifinals and now we consider how the 2017 NHL Western Conference Semifinals are proceeding. Unlike in the East, neither series in the West is tied. Also, unlike in the Eastern Conference where the Penguins are running away with their series, neither series is at 3-1. Both stand at 3-2, which means both may be over by Sunday or these contests may go through to Tuesday and Wednesday. With that being noted, be aware that conference title play may commence in a few days, or if these series go to the very end, then the next round will start in about one week. Here's how the 2017 NHL Western Conference Semifinals picture looks.
Anaheim Ducks vs. Edmonton Oilers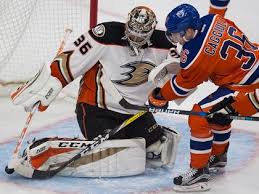 What an odd series this one has been, as the Edmonton Oilers, who are behind in the series two games to three, got a real edge on the Ducks beating them 5-3 and 2-1 in Anaheim. Then the two teams went to Edmonton where the Ducks won two games, 6-3 and 4-3. The second win was in OT. Back in Anaheim, the Ducks won their third straight, as they took down the Oilers 4-3 in a historic double overtime conest.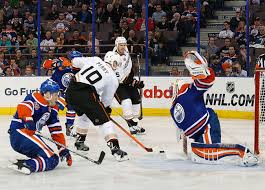 That double OT win was a massive effort, as Anaheim was down big time as they trailed the Oilers 3-0 with less than four minutes to go in the game. Then at 16:44 in the final stanza it all started to come apart for Edmonton. That's when Ryan Getzlaf, assisted by Jakob Silfverberg and Ryan Kesler, scored the Ducks' first goal. Then at 17:19 Cam Fowler, who was assisted by Silfverberg and Corey Perry, scored to make it 3-2. Anaheim tied the game with 15 seconds left as Rickard Rakell, assisted by Perry and Fowler, popped the puck into the net, marking the first time in Stanley Cup history that a team had come back in the third period when down by three goals. The comeback was complete when Perry assisted by Rakell and Getzlaf scored the game-winner in the second OT.
The two teams meet on Sunday in Edmonton. We like the Ducks in this one.
Ducks vs. Oilers Schedule and Results
Game 1: Oilers 5, Ducks 3 (EDM leads series 1-0)
Game 2: Oilers 2, Ducks 1 (EDM leads series 2-0)
Game 3: Ducks 6, Oilers 3 (EDM leads series 2-1)
Game 4: Ducks 4, Oilers 3 (OT) (series tied 2-2)
Game 5: Ducks 4, Oilers 3 (2OT) (ANA leads series 3-2)
Game 6: Ducks at Oilers, Sunday, May 7, 7 p.m.
Game 7: Oilers at Ducks, Wednesday, May 10, TBD*
*If necessary
St. Louis Blues vs. Nashville Predators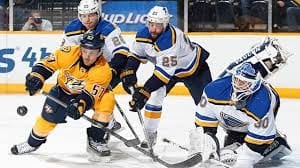 The fact that both of these teams made it to the 2017 NHL Western Conference Semifinals was surprising, but the fact that both are battling mightily to get to the next level is not surprising at all. The fact is the Predators were a wild card that had to play the Chicago Blackhawks, who garnered 109 points in the regular season topping the conference. Nashville took care of the Blackhawks handily. The Blues faced the Minnesota Wild in a series that many thought would go seven games but where St. Louis dispatched their opponent in five.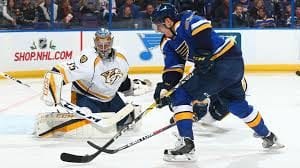 The Blues started with home ice, but Nashville did not seem to care. They took the series lead in game one winning 4-3. But the Blues came back in game two winning at home 3-2. The Predators took the next two, both of which were played in Nashville. The scores were 3-1 and 2-1. Back in St. Louis with the Predators ahead in the series 3-1, St. Louis managed to squeak by 2-1. The Blues' Jaden Schwartz scored the game-winner 25 seconds into the third. He was assisted by Colton Parayko. The top player in that game was St. Louis goalie Jake Allen who made 21 saves and has a save percentage of .955.
Now what? Will this series go seven games? St. Louis has to win in Nashville to force a seventh game back on their home ice. I think the Predators seal the deal on Sunday and move on to the next round.
Blues vs. Predators Schedule and Results
Game 1: Predators 4, Blues 3 (NSH leads series 1-0)
Game 2: Blues 3, Predators 2 (series tied 1-1)
Game 3: Predators 3, Blues 1 (NSH leads series 2-1)
Game 4: Predators 2, Blues 1 (NSH leads series 3-1)
Game 5: Blues 2, Predators 1 (NSH leads series 3-2)
Game 6: Blues at Predators, Sunday, May 7, 3 p.m.
Game 7: Predators at Blues, Tuesday, May 9, TBD*
*If necessary
2017 NHL Western Conference Semifinals Final Word
In the Anaheim and Edmonton series, the Oilers have to stop the Ducks' terrific trio of Perry, Rakell and Getzlaf. They were all involved in the third period comeback in game five, and the three each got a point on the game-winning goal. I don't think that the Oilers can stop them.
In the St. Louis versus Nashville series, we like the Predators and see them winning it at home on Sunday. If they don't take the series there, we think they will do so on Tuesday in St. Louis. This is the Cinderella team of the playoffs and they have at least one more series in them. That how we see these 2017 NHL Western Conference Semifinals series going.