NCAA Previews
#20 Michigan State Spartans Preview 2019
Can the Spartans Compete with the Best in the Big Ten?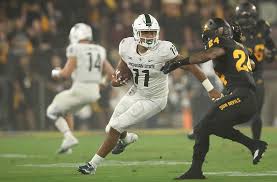 Our Michigan State Spartans Preview 2019 sees this team as making a move. Last season, this Michigan State Spartans preview notes they finished fourth in the Big Ten East with a conference record of 5-4 and an overall mark of 7-6. In 2018 in the Big Ten, the Spartans beat Penn State 21-17, Purdue 23-13, and Maryland 24-3. But they lost major contests to Northwestern 19-29, Michigan 7-21, Ohio State 6-26, and Nebraska 6-9. Their record was good enough to get them a berth in the Redbox Bowl where Oregon beat them 7-6. More is expected from this team in 2019.
The Spartans had a tough time scoring, as they averaged just 18.7 PPG (125th). Their defense often kept them in the game, as they allowed 17.2 PPG (8th). On D, Michigan State was especially tough versus the rush, allowing just 77.9 YPG (1st). Their pass defense, which allowed 225.2 YPG, was ranked 62nd. Overall defensive yards allowed came to 303.1 (10th). The offense was ranked 77th in passing yards (217.2 YPG) and 114th in ground yards (124.8 YPG). Total offensive yards per contest came in at 342.1 (116th). More offense in 2019 should mean more wins.
Michigan State Spartans Preview 2019 – Offense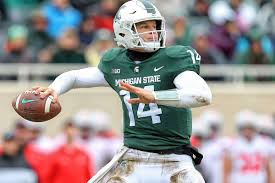 This season, it's hoped that quarterback Brian Lewerke (54.3 COMP%, 8 TDs, 11 INTs), now a senior, can find his stride after dealing with shoulder and consistency issues in 2018. Lewerke, who threw for over 2,000 yards, looks to get back to his 2017 form, when he completed 59% of his passes for over 2,700 yards and 20 TDs. That season, he threw just seven picks. If he is on target, the QB will have plenty of talent to throw to as eight of MSU's top 10 receivers return. Included in that group are junior Cody White (42 REC, 13.2 AVG, 2 TDs) and senior Darrell Stewart (48 REC. 8.6 AVG, 1 TD). Last season, this unit struggled with health issues as well.
There are concerns regarding the running game. Although, we do expect it to improve, there's questions regarding how good it will ultimately be? Early enrolled freshman Anthony Williams looked great in camp and could get the nod. Also ready to go is last year's rushing leader, junior Connor Heyward (529 YDs, 4.5 AVG, 5 TDs). All five starters return to an offensive line that is deep with experience. This unit should provide ample support in 2019.
Defense and Special Teams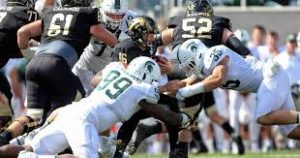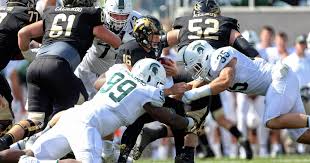 There's great news regarding the Michigan State defense. It is stacked in front and in the middle. Plus, the deep backs are pretty good. The four upfront includes senior DE Kenny Willekes (78 TKLs, 8.5 SCKs, 12 TFL). Along with leading the Spartans in sacks and tackles for a loss, he was tops in QBHs with 12. NT Raequan Williams (53 TKLs, 2 SCKs, 8.5 TFL), also a major contributor, tied for most PBU with five. The linebacking unit includes senior MLB and top tackler Joe Bachie (102 TKLs, 7.5 TFL, 5 PBU). Two-of-four starters return to the secondary. Look for better passing defense. Senior corner Josia Scott (13 TKLs, 7 PBU, 2 INTs) leads this unit.
Our Michigan State Spartans Preview 2019 notes that special teams welcomes back senior punter Jake Hartbarger, who missed most of last season after breaking his leg in the second game. He's solid and back for his sixth season. Junior kicker Matt Coughlin (25-24 XP, 18-22 FG) also returns. His longest last season was 49 yards and he was 0-2 from 50-plus. Both Brandon Sowards (11 RT, 7.4 AVG, 0 TDs) and Heyward (13 RT, 22.1 AVG, 0 TDs) are back for returns. Sowards takes punts, while Heyward brings back kickoffs.
Coaching and Recruitment
As head coach of MSU, Mark Dantonio (107-51 Michigan State, 125-68) has had his ups and downs. In 2016, the team was 3-9 and missed the post season, while the other four seasons resulted in winning record and bowl bids. In 2015, the Spartans were number three in the nation and played second-rank Alabama in the CPS Semifinal, losing 0-38. From 2010-2015, Dantonio was the only FBS coach to lead his team to five-of-six 11-plus win seasons. Brad Salem, who's been with the Spartans in various capacities for the past nine seasons, is the new OC. Mike Tressel, in his 13th year overall at MSU, starts his fifth season as defensive coordinator. The Michigan State recruiting class is ranked seventh in the Big Ten and includes two four-star and 17 three-star players. There are no five-star recruits this season.
Our Michigan State Spartans Preview 2019– Final Word
Our Michigan State Spartans Preview 2019 anticipates better health at quarterback and in the receiving group. Look for more offensive output from this team. The defense should, once again, be stellar. This team has three huge games over four weeks, as they travel to Ohio State on October 5 and Wisconsin on October 12. Then a bi-week, and, after that, Penn State visits on October 26. October will define this team's season. They play archrival Michigan on November 16 at Michigan. The Spartans needs wins against these teams.
Click here to go back to Big Ten East
Click here to go back to NCAAF Hub