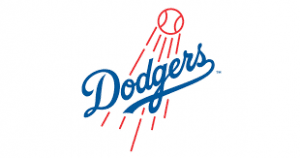 Once again for the fourth straight season, the Los Angeles Dodgers (91-71) won at least 91 games and took the NL West. Unfortunately, also once again for the fourth straight season, the Dodgers did not make it to the World Series. It's been a Dodger tradition to emphasize fine pitching and find enough hitting to get the job done. Our
2017 Los Angeles Dodgers preview finds that the pitching staff is fairly stellar and the hitters include some guys who can make things happen.
Starting Pitching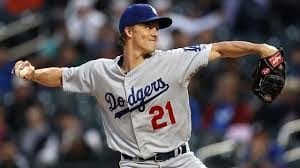 Durability may be a question on this veteran staff that includes ace Clayton Kershaw (L, 12-4 W/L, 1.69 ERA) and number two starter Rich Hill (L, 3-2 W/L, 1.83 ERA). Kershaw missed 10 weeks in 2016 due to a mildly herniated disc and Hill has had health issues, as have many of the other vet hurlers. Rookie Kenta Maeda (R, 16-11 W/L, 3.48 ERA) was tough as his 74.5% batter contact rate was the eighth best in the majors and topped all rookies.
Other young pitchers who look to push out vets like Scott Kazmir (L, 10-6 W/L, 5.46 ERA), Brandon McCarthy (R, 2-3 W/L, 4.95 ERA) and Hyun-Jin Ryu (L, 0-1 W/L, 11.57 ERA) include Julio Urias (L, 5-2 W/L, 3.39 ERA) and Alex Wood (L, 1-4 W/L, 3.73 ERA).
Bullpen
Much to the relief of the Dodgers, closer Kenley Jansen (R, 3-2 W/L, 1.83 ERA, 47 SV) is back. Jansen, who established himself in 2016 as a premiere closer, went out into the free agent market and got great offers from the Miami Marlins and Washington Nationals. He could have gone to either of those teams for more cash, but Jansen elected to stay with LA. The rest of the bullpen is a work-in-progress. Josh Fields (R, 1-0 W/L, 2.79 ERA) may serve well as the setup man. However Grant Dayton (L, 0-1 W/L, 2.05 ERA) also has good stuff. Pedro Baez (R, 3-2 W/L, 3.04 ERA) offers solid middle relief chops.
Hitting and Fielding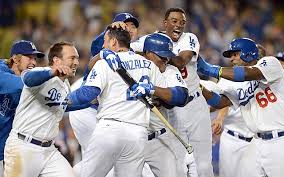 Shortstop Corey Seager (.308 BA, 26 HR, 72 RBI) won NL Rookie of the Year honors as he led all senior circuit shortstops in batting average, hits, OPS, slugging, runs, and total bases. He's part of the Dodger new guard that has come of age. At second, Enrique Hernandez (.190 BA, 7 HR, 18 RBI) looks to be an upgrade against left-handed pitching.
At third base Justin Turner (.275 BA, 27 HR, 90 RBI), a former bench warmer, has proven to be a real find as both a fielder and hitter. At first base, vet Adrian Gonzalez (.285 BA, 18 HR, 90 RBI) can still get the job done, but there are signs that the 34-year-old may be losing a bit of his zip. Catcher Yasmani Grandal (.228 BA, 27 HR, 72 RBI) is one of the best pitch framers around. He was second in Called Strikes Above Average at 2.7%. He's also got some power as a hitter.
The Dodgers have a slew of guys that they will platoon in the outfield. Starters may include Andre Either (.208 BA, 1 HR, 2 RBI) in left, Joc Pederson (.246 BA, 25 HR, 68 RBI) in center, and Andrew Toles (.314 BA, 3 HR, 16 RBI) in right. Former All-Star Yasiel Puig so frustrated management in 2016 that, after failing to trade him, they demoted him to Triple-A. He's back but he'll have to prove himself.
Coaching and Management
Dave Roberts was a long shot for the Dodgers' management gig. But he super-impressed in the interview and got the job that was formerly held by Don Mattingly. Not only was this Roberts first job ever as a manager, but also he became the Dodgers' first minority manager. He proved to be the right choice, as Roberts' optimism and enthusiasm created a great clubhouse atmosphere. He had a major-league high of 70 games started by rookie pitchers, saw 606 pitching changes, and managed to win 91 games. GM Farhan Zaidi has done a good job bringing along the youngsters while finding the right vets to fill out this team.
2017 Los Angeles Dodgers Preview Final Word
The Dodgers will have competition in the West. More than they have had in the past. And there are certainly question marks, especially concerning the health of their starters. But this team is deep in many ways. Our 2017 Los Angeles Dodgers preview sees LA as the top club in the NL West.
2017 Los Angeles Dodgers Preview Projected Finish: 1st NL West