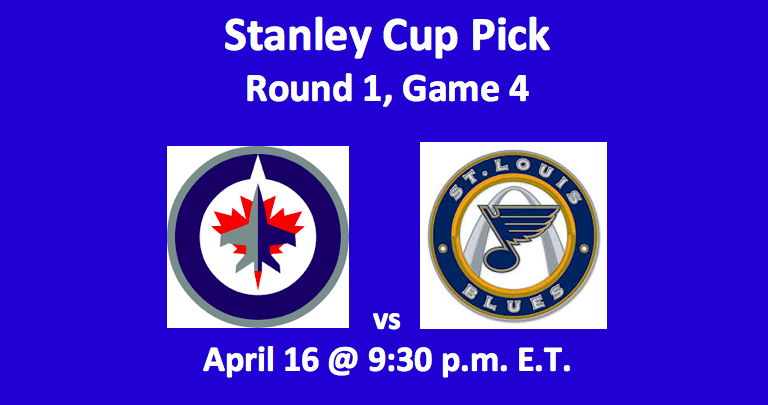 Our Winnipeg Jets vs St Louis Blues pick looks at the potential outcome of a pivotal game four. This fourth game of the Winnipeg Jets vs St Louis Blues series presents a chance for the Jets to tie the series. However, it also offers the Blues an opportunity to come one win closer to a first-round victory. The matchup is set for Tuesday, April 16, 2019 at 9:30 pm ET in St Louis. We think that goaltending and Patrik Laine's reemergence will be important. Plus, we find that the Blues' first line play will be essential in determining the outcome of game four. Here's how we see this Jets vs Blues game four pick going.
Winnipeg Jets vs St Louis Blues Pick: Goaltending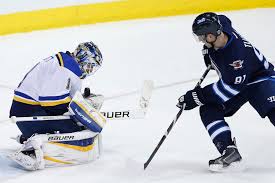 Jordan Binnington was stellar in the first two games of the series but allowed six goals on 29 shots in game three. He has been the cornerstone for the Blues during the second half of the season and shows no lack of confidence. The one down game did hurt his stat line pretty badly. He now has a .880 save percentage and a 3.35 GAA in the postseason. Despite this, we like Binnington's chances of bouncing back on home ice, as that's where he went 14-2-0 during the regular son.
Winnipeg's Connor Hellebuyck hasn't had a great series. While solid in game one, stopping 24 of 26 shots, he's had save percentages of under .900 in the last two games. He allowed four goals on 32 shots in game two and three goals on 29 shots in game three. Hellebuyck has the potential to be elite in this series, but there is no indication that he will reach that level in game four.
Winnipeg Jets: The reemergence of Patrik Laine
According to what's expected of him and his standards, Patrik Laine had a down season. He had 30 goals and 20 assists during the year. Laine's scoring dropped off as the playoffs approached, but he has found his footing in this first round. He has three goals and one assist in the Jets' three games. He's also tied for the team lead in shots as well as shooting percentage. So far, Laine has been Winnipeg's biggest offensive threat, and the Blues will need to focus more on shutting him down. Dustin Byfuglien (1-4-5), Kyle Connor (2-1-3), Blake Wheeler (1-2-3), and Mark Scheifele (1-2-3) are all contributing as well.
Blues' Quiet First Line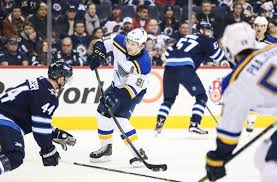 While St Louis' second line has accounted for four of the Blues' nine goals, the top unit has scored just twice. Both Vladimir Tarasenko and Ryan O'Reilly have single goals in the series. Brayden Schenn has been held pointless. All three are also sitting on -2 plus/minus ratings. This line has an abundance of skill and are too good to be held off the board the rest of the series. If the Blues' first line can get going in game four, they should easily take the contest.
Winnipeg Jets vs St Louis Blues Pick: Summary
Our Winnipeg Jets vs St Louis Blues pick sees this game being close. Games one and two were both decided by single goals. Jordan Binnington could have a bounce back game, but at the very least, the netminder just needs to play as well as Hellebuyck to give St Louis a chance. Hellebuyck hasn't exactly been stellar. Thus, this scenario looks likely. We like the Blues chances to bounce back and take a three to one series lead.
Winnipeg Jets vs St Louis Blues Pick
St Louis Blues over the Winnipeg Jets (-150)