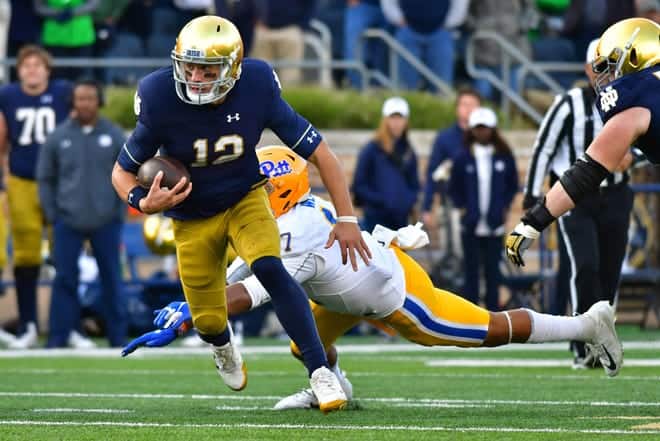 The biggest question ahead of the NCAAF Notre Dame at Pittsburgh betting preview is who is going to be at QB for the Panthers. Senior team captain Kenny Pickett missed last week with an ankle injury, and it showed as Pitt had their poorest offensive outing of the season in a 31-19 loss at Miami.
Make no mistake, the Irish have concerns as well after an ugly 12-7 win over Louisville last week. A win is a win though, and Notre Dame has risen to #3 in the rankings with a 4-0 record. The Irish are -10 road favorites on Saturday, but it's also their first game away from South Bend this season. That number either looks high – or has great value – depending on who Pitt starts at QB.
Question Marks for Irish Offense?
Notre Dame was able to get the win last week to push their record to 4-0, but it wasn't pretty. The Irish beat Louisville 12-7 at home as -15 point favorites. That was a Cardinals defense that had allowed 46 points to Georgia Tech and 47 to Miami in two of their three games prior.
A positive for the Irish last week was that they were able to run for 232 yards, and that followed a 353 rushing yard output in a 42-26 win over Florida State as -21 point favorites. That's an important output because Pitt boasts the nation's #1 rush defense, allowing only 61.5 yards/game on the ground. Can Ian Book pick up the slack if ND can't get it going on the ground though? The Fighting Irish QB threw for just 106 yards vs. Louisville last week.
Some more good news coming out of the tough win last week for Notre Dame was that their defense was once again outstanding. The Cardinals had just 137 yards through the air and 96 on the ground. Only 7 teams in the country have fewer rush yards/game than Pittsburgh, a big advantage for the Irish.
Where Does Pitt Muster Yardage?
By all accounts Kenny Pickett is going to miss another game for PIttsburgh. Why would Pat Narduzzi risk his star player's health in an underdog matchup and with a bye coming next week? That likely puts the ball in Arizona State transfer Joey Yellen's hand once again.
Yellen was just 22 of 46 last week vs. Miami. With no threat of a passing attack, the Hurricanes were able to stuff the box and limit Pittsburgh to an embarrassing 22 yards on 26 carries. Things don't look to get any better for the Panthers as Notre Dame has put together a top 20 defense in yards/game, pass yards/game, rush yards/game, and points against.
NCAAF Notre Dame at Pittsburgh betting could be coming down to a defensive battle, and the betting total reflects that at just 43.5. The Irish have a solid defensive unit, but Pittsburgh is 2nd in the ACC in yards/game allowed behind Clemson. Pitt is a couple of 1-point losses to NC State and Boston College away from being 5-1, but they're still at a huge disadvantage without Pickett.
NCAAF Notre Dame at Pittsburgh Betting Free Pick
The 10 points is a great point spread because it doesn't seem like enough for the #3 team in the country, but it also seems like a lot for a Notre Dame team coming off a 12-7 win over Louisville and playing their first road game of the season.
Ultimately, Pittsburgh's lack of offense without Pickett is going to be their downfall. The Panthers have absolutely no running game, and the ND offense had averaged 47.0 ppg in the two contests prior to the Louisville win. Plus, sometimes going on the road is actually an advantage, and not a downfall. It's time to focus only on football for the Irish.
Notre Dame 37 – Pittsburgh 13
Free Pick: Notre Dame -10