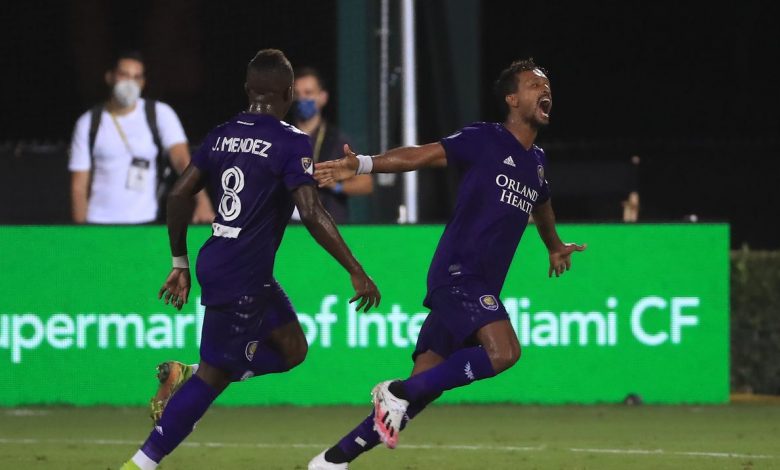 The MLS Is Back Tournament rolls into the second game of group play on Tuesday as Orlando City SC plays NYCFC in Group A play. Orlando City got the tournament rolling with a come-from-behind 2-1 win while NYCFC is looking to bounce back from a 1-0 loss to Philadelphia Union.
A win for either team in this middle game of group play will put them in excellent position to advance to the 16-team knockout round that begins July 24.
These Eastern Conference teams played twice last season with a 2-2 March draw in Orlando and a 1-1 draw six weeks later in New York. NYCFC won all three matchups in 2018 without allowing a goal. Orlando City took two of three in 2017 with a win in each stadium.
Orlando City SC Outlook: Continue Forward
It wasn't always pretty for the Lions in the tournament opener last Wednesday, but when all was said and done, they had a 2-1 win over rival Inter Miami FC. Orlando City was down 1-0 with 20 minutes to play when Christopher Muller tied the game. Last year's leading goal scorer, Nani, put a stamp on his return from suspension with the game-winning goal seven minutes into added time.
Last season, Orlando City struggled to just nine wins as they were outscored 52-44 on the season. Nani led the team with 12 goals while Tesho Akindele had a career-high 10.
Mueller has two goals this season after also scoring at Colorado in March, and Dom Dwyer is also back from injury and featured in the opener against Miami.
NYCFC Outlook: Turn Things Around
The group favorites stumbled in their tournament opener on Thursday with a 1-0 loss to the Philadelphia Union. NYCFC put six shots on goal and led possession with 60% but couldn't get their first goal of the season. Valentin Castellanos led the way with three shots on goal, while Sean Johnson made three saves against the Union attack.
Thursday's setback marks the third 1-0 loss for NYCFC this season as they fell by the same score in March to Columbus Crew and Toronto FC. Last year they had a potent attack with 15 goals from Heber, 12 from Alexandru Mitrita and 11 from Castellanos.
The attack that scored 64 goals and led NYCFC to the top of the Eastern Conference standings has so far not materialized under new coach Ronny Delia.
Orlando City SC/NYCFC Betting Lines
NYCFC -113 to win
Orlando City +281 to win
Draw +264
Over/Under 2.5 goals (O -121, U -108)
Orlando City can clinch a spot in the knockout round with a win in this one and a Union win or draw against Inter Miami on Thursday. Meanwhile, NYCFC is desperate for at least a draw, or they could be heading home much earlier than expected.
Delia's attack needs to get going sooner or later. In this one, they better not leave Nani and company any opportunity as the tournament hosts are looking forward to an upset.
BETTINGBRAIN FREE PICK: Draw (+264)