The Cleveland Cavaliers (51-31) move onto the second round of the NBA playoffs and meet the formidable Toronto Raptors (51-31). Cleveland comes into the series as favorites, having easily handled the Indian Pacers in the initial round. Although the average margin of victory in the series was four points, the Cavs swept the Pacers as James took control of that series. The Raptors come into this series by beating the Milwaukee Bucks four games to two. Toronto was down 2-1 and then took three straight to get to this round. Here's our Cavaliers play Raptors NBA East Semifinals free pick.
Players to Watch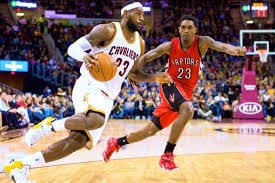 For the Cleveland Cavaliers, it's the big three, SF James, PG Kyrie Irving and PF Kevin Love. In six playoffs games, James is averaging 34.2 PPG, 9.3 RPG, and 7.3 APG. He's also averaging 2.67 SPG and 1.83 BPG. Irving has been good for 24.5 PPG and 5.5 APG, while Love is knocking down 14.8 PPG and taking down 8.8 RPG. Center Tristan Thomas has been massive grabbing 11.2 RPG.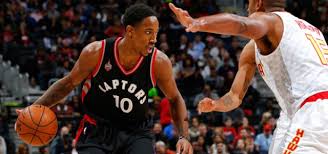 For the Raptors, it all starts with SG DeMar DeRozan, but it does not stop with him. He lead the team in point per game with 20.6 and has been grabbing 5.5 RPG. He can't hit a three to save his life. PG Kyle Lowry will need to set up his teammates while playing solid defense with DeRozan doing the same. In the frontcourt, Serge Ibaka and Jonas Valanciunas, who between them are pulling down 14.4 RPG and scoring 24.1 PPG, will need to be stellar for Toronto to win.
Keys to the Series
Rebounding, as these teams are fairly equal and Toronto can have an advantage if they can control the boards
The big three for the Cavs can simply overwhelm
Raptor D has to play perfectly, can they do so?
Toronto has to reduce the number of fouls they commit
Cavs will play more up-tempo than Raptors; if they do so, they control the outcome
Series Schedule
Game 1 Mon., 5/1 TOR @ CLE (7 p.m. TNT)
Game 2 Wed., 5/3 TOR @ CLE (7 p.m. TNT)
Game 3 Fri., 5/5 CLE @ TOR (7 p.m., ESPN)
Game 4 Sun., 5/7 CLE @ TOR (3:30 p.m., ABC)
Game 5 Tue., 5/9 TOR @ CLE (TBD, TNT)*
Game 6 Thu., 5/11 CLE @ TOR (TBD, ESPN)*
Game 7 Sun., 5/14 TOR @ CLE (TBD, TNT)*
* If necessary
Cavaliers Play Raptors NBA East Semifinals Free Pick
Cleveland is averaging 115.3 PPG, while Toronto has been good for just 96.4 PPG. Plus, the Cavs are hitting 49% of their shots from the field and 43% from the three-point arc. The Raptors have been hitting 44% of their shots and 35% of their threes. Our Cavaliers play Raptors NBA East Semifinals free pick is the Cavs in five
Cavaliers Play Raptors NBA East Semifinals Free Pick: Cleveland in five