Free Expert Sports Picks
Wednesday July 15th Main Event UFC Fight Night 172 Betting
Kattar vs. Ige Headlines 5-Bout Main Card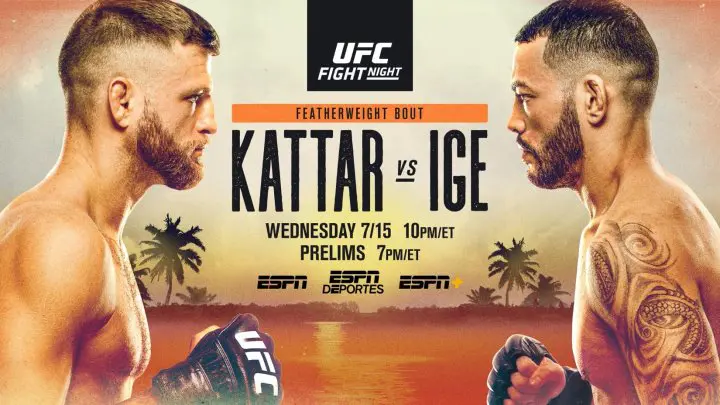 Fight Island once again plays host heading into UFC fight night 172 betting from Abu Dhabi. For the most part the main event card looks pretty even with the favorites in three bouts listed at -160 or less. Oddsmakers do like Calvin Kattar a lot in the main event, but Dan Ige has just two losses in his career. It should be another great night for mixed martial arts action.
Abdul Razak Alhassan (-360) vs. Mounir Lazzez (+270)
Welterweight
Abdul Razak Alhassan (10-1) is one of the hottest fighters in the UFC coming into Abu Dhabi on a 3-bout win streak, all by first round KOs. It turns out Alhassan didn't take well to his first career loss back in May of 2017 as he has since pushed his UFC record to 4-1.
None of these things intimidate Mounir Lazzez (9-1) however as 8 of his 9 career wins have come via the KO as well. This is an interesting bout for UFC fight night 172 betting because it's Lazzez' debut in the octagon but also Alhassan's 1st fight since September of 2018. The odds on the fight not even complete one round are an astonishing -140. With Alhassan being rusty and Lazzez not wanting to get in trouble early in his debut this should at least go slightly into the 2nd.
Pick: Fight completes 1 full round +110
Molly McCann (-155) vs. Talia Santos (+125)
Women Flyweight
Molly McCann (10-2) is an oddsmaker favorite on Wednesday after winning three straight DEC fights. That has pushed McCann's mark in the UFC to 3-1 after she submitted in the 2nd round in her debut. Talia Santos (15-1) gets another go of it after losing a DEC fight in her UFC debut in February of 2019, albeit the only loss of her career.
This bout seems destined to go to the judges (Yes, -310) even though an impressive 10 of Santos' 15 wins have come via KO. McCann can throw too though, landing 6.5 strikes/min to 4.2 for Santos. McCann doesn't want to get into that kind of battle with Santos though.
Pick: Santos +125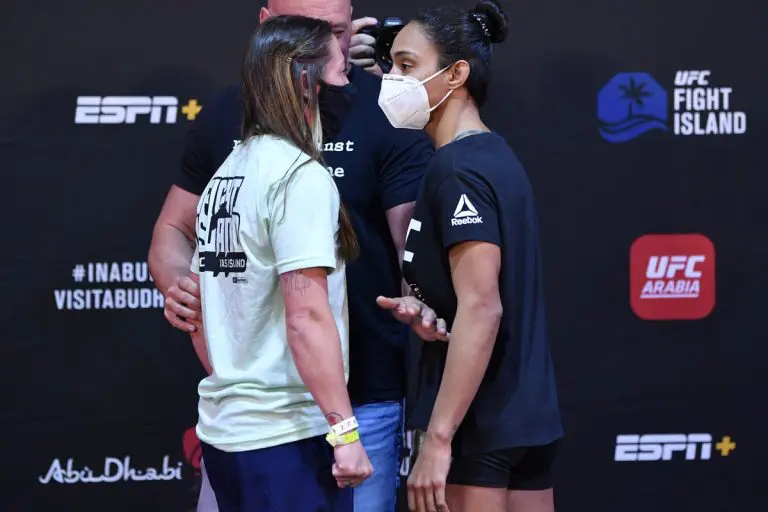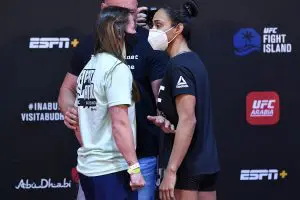 Jimmie Rivera (-130) vs. Cody Stamann (Even)
Featherweight
Jimmie Rivera (22-4) seems a long ways away from his impressive 5-0 start in the UFC. Since then, 'El Terror' has dropped 3 of his last 4. 7 of Rivera's last 8 fights have gone to the judges and it's a whopping -335 that the trend will continue Wednesday.
Is there any value to be found on Cody Stamann (19-2-1) at even money betting? 'The Spartan' has flip-flopped wins and losses in his last four fight – the latest of which was a DEC win at UFC 250. That was just last month and Stamann definitely has the ring rust advantage as Rivera hasn't fought since June 2019. Stamann also holds the edge in striking and takedowns which is why the line seems like it is on the wrong side.
Pick: Stamann (Even)
Tim Elliott (-155) vs. Ryan Benoit (+125)
Flyweight Co-Main Event
Two experienced fighters meet up in the co-main event when Tim Elliott (16-11-1) squares off with Ryan Benoit (10-6). Elliott is a strange favorite in this one coming off three straight losses, two by submission. Overall Elliott has dropped 8 of his last 10 in the UFC.
Benoit has been only slightly better with a 3-4 record in 7 UFC bouts. How this fight is considered a co-main event is a bit confusing as it just comes down to who will lose…less.
Pick: Fight goes the distance -145
Calvin Kattar (-300) vs. Dan Ige (+230)
Featherweight Main Event
Calvin Kattar (21-4) is getting a lot of love from the oddsmakers ahead of his bout with Dan Ige (14-2). Kattar has gone 5-2 since joining the UFC but Ige is on a roll with a 6-bout winning streak. 4 of the last 5 wins for Ige have come via DEC but Kattar's last 4 wins have come by KO.
Kattar has the ending potential but Ige has momentum right now. Ige is the better grappler and Kattar takes a lot of blows (6.5 / min). That's going to hurt later if Ige can get him off his feet. Either way -300 is ridiculous for this match.
Pick: Ige +230