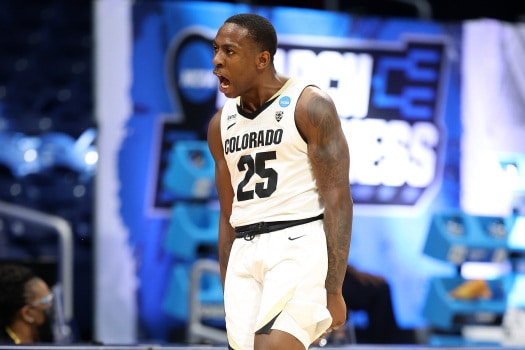 We could have an offensive showdown heading into the NCAA tournament Colorado vs Florida State matchup. Oddsmakers have set Monday's betting total at 141 for the #1 scoring offense in the ACC against a Colorado team that shot 61% from the floor in their round of 64 game.
The Seminoles are a -1.5, which could be warranted as being the higher seed. Both teams played a similar strength of schedule (42nd, 49th) and made it to their conference championship game. This is looking like your classic toss-up contest.
Buffs Want a Similar Shooting Performance
Colorado has a good offense – but that good? The Buffaloes ranked 11th in the country in adjusted offensive efficiency, but were unconscious in a 96-73 win over Georgetown as -6 favorites on Saturday. The Buffaloes were 34-56 from the floor (61%) and 16-25 (64%) from three. That was against a Georgetown team that won the Big East tournament.
Colorado got a huge game from Jabari Walker off the bench vs. the Hoyas, as he hit all five three-pointers en route to 24 points. It will be McKinley Wright that helps decide the NCAA tournament Colorado vs Florida State pick. Colorado's leading scorer only had 12 points vs. the Hoyas, but he dished out 13 assists.
The Buffaloes have been pretty hot lately. They won their last four of the regular season, including three against tournament teams Oregon State, USC, and UCLA. They took two in the Pac-12 tournament before losing to the Beavers in the championship game, and dominated a red hot Georgetown team.
FSU a Very Deep Team
With how well Colorado has been playing lately, Florida State must be doing something right to be favored in this matchup. Not a whole lot that Florida State has done lately inspires much confidence though, including losses to North Carolina and Notre Dame over the last three of the regular season.
Tournament play has been very iffy for FSU as well. That goes back to the ACC tournament in which the Seminoles beat UNC 69-66, then lost to Georgia Tech 75-80. Leonard Hamilton's team also looked very flat in the round of 64, and were only up by a point against UNC-Greensboro with a little over five minutes left on Saturday.
One player who has been consistent as of late is Balsa Koprivica, the 7'1 center who is averaging 13.7 points and 10 rebounds so far in three postseason games. Scottie Barnes had 21 in the ACC championship game vs. Georgia Tech, while RaiQuan Gray helped lead the win over UNCG with 17 points and 7 rebounds. The 'Noles have gotten such diverse contributions that their leading scorer MJ Walker (13.1) has averaged just 9.3 in the postseason.
Free NCAA Tournament Colorado vs Florida State Pick
There must be a reason FSU is favored on Monday night, because they haven't looked the greatest lately. Colorado on the other hand has been on fire, shooting the ball just as good as anybody in the country. What gets overlooked about the Buffs though is their defense, which was 25th in the nation in adjusted defensive efficiency That D will be the x-factor in this one.
Colorado 74 – Florida State 69
Free Pick: Colorado +1.5