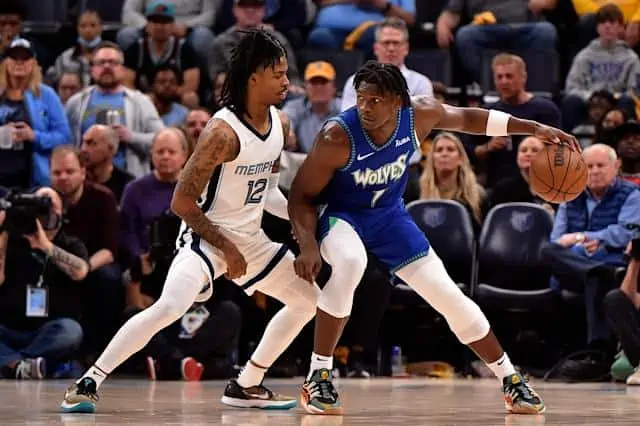 Most people would expect Memphis to tie things up heading into the April 19th Timberwolves at Grizzlies betting matchup. Minnesota pulled off a somewhat stunning 130-117 road win on Saturday as +6.5 underdogs.
The Grizzlies are -6.5 favorites for Tuesday night's Game 2, but the T'Wolves still have some value in this spot. Minnesota has won three of the last four in this head to head series, and were dominant in the paint in Saturday's contest. A slight 53% of the betting public like Memphis giving the points in this contest.
Minnesota With Momentum
Some basketball fans (and players) made fun of the Timberwolves for celebrating their 109-104 win over the Clippers in the play-in tournament a little too  excessively, but Minnesota had the last laugh in taking a 1-0 series lead over the #2 Grizzlies. This T'Wolves squad might be for real.
It's early in the series, but Minnesota looks like they have a real advantage on the interior with Karl-Anthony Towns scoring 29 points and grabbing 13 rebounds in Game 1. Towns rendered Grizzlies big man Steven Adams almost nonexistent, as he had a mere 3 rebounds to go along with 0 points – not even taking a single shot.
For as good as Towns was for Minnesota, it was Anthony Edwards that stole the show in his playoff debut. The second year player scored 36 points on 12-23 shooting, and had some help from Malik Beasley (23) and Jaden McDaniels (15) off the bench. All of those contributions made up for an off night from D'Angelo Russell (2-11, 10 points) and with Patrick Beverley fighting through foul trouble.
Grizzlies Try for the Split
It's extremely early in the series but Memphis has to have some concerns after their 13-point home loss on Saturday as -6.5 favorites. The Grizzlies were 30-11 at home this season so that gives them an edge on Tuesday, but Taylor Jenkins' squad has a lot of work to do ahead of Game 2.
The biggest issue Memphis faces on Tuesday is playing better on the interior. Brandon Clarke was solid with 12 rebounds off the bench, but Adams was a non-factor and Jaren Jackson, Jr. had just 4 rebounds while playing through his usual foul trouble. Take Russell's 2-11 out of the equation and the rest of the Timberwolves shot 54% from the field in Game 1.
The Grizzlies lost by double digits on Saturday despite Ja Morant getting to the free throw line 20 times and finishing with 32 points. Can they expect much more from him in the April 19th Timberwolves at Grizzlies matchup? Five different Memphis players had at least a dozen points so they had balance too – is it possible the Timberwolves are the better team?
Free April 19th Timberwolves at Grizzlies Betting Pick
Memphis has a lot to prove in Game 2, but Minnesota looks like a team on a mission. Towns might just be too much for this Grizzlies squad to handle, as the T'Wolves big man has scored 20+ in 11 straight games vs. Memphis and has double digit rebounds in 14 of the last 17.
Edwards may come down to Earth a bit for the Grizzlies, but Russell should also be better in Game 2. All that gives Minnesota very distinct possibility of winning this one outright.
Free Pick: Timberwolves +6.5