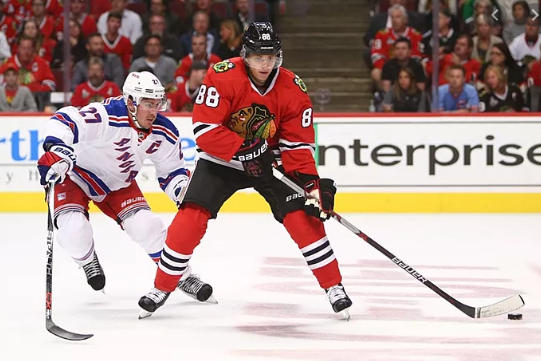 The February 19th Rangers at Blackhawks betting pick is essentially a must-win game for both teams. Each squad is 8 points back from the 2nd wild card spot in their respective conference and both have 2-3 teams to leap frog to get to the playoffs.
Chicago would seemingly have the edge Wednesday because they are at home. The Blackhawks are just 2-6 in the 8 games since returning from the all-star break though while New York is 7-3 since their layoff. The 'Hawks are a -130 favorite, but the Rangers also look tempting at +115 considering their strong recent play.
Rangers Defense Set to Step Up Wednesday?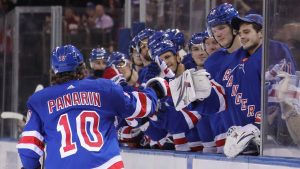 New York is absolutely stacked at goaltender which is something to keep in mind with trade deadline less than a week away. New York has been getting great production in net and from their defense in allowing a goal or less in 3 of the last 5 games.
Alexandar Georgiev has been in net the last three games, going 2-1 while allowing just 6 goals total. New York has had 2 nights off heading into the February 19th Rangers at Blackhawks betting pick, and it's likely that Igor Shesterkin (ankle) is back between the pipes vs. Chicago. The rookie has won 6 of his 7 NHL starts and has just a 2.18 GAA on the year.
Make no mistake, the Rangers offense has also been holding up their end of the bargain as of late. New York has netted at least 4 goals in 4 of the last 7 games while riding a 6-game point streak from former Blackhawk Artemi Panarin. Mika Zibanejad also has 13 points in his last 10 games and has netted 5 goals in 9 games vs. Chicago.
Getting Back Home the Key for Chicago?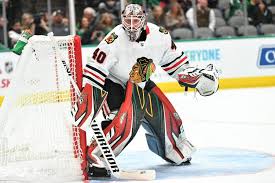 The Blackhawks have had a rough go of it lately with losses in 4 of the last 5 games. Each of those tilts were on the road however and the Blackhawks are back home on Wednesday for the first time in two weeks. In fact, Chicago has played just one of their 8 games since the all-star break at the United Center. That was a 1-2 OT loss to Boston, the top point scoring team in the league.
Can Chicago get back to their pre all-star break level of play where they had won 5 of 6 before the layoff? Chicago went 0-14 on the PP during their road trip and have once again claimed the league's worst percentage of conversions with a man advantage at just 14%. Patrick Kane has scored in back-to-back games and Jonathan Toews has 6 points in his last 5 games so there is hope for the Hawks offense on Wednesday.
Robin Lehner is expected to start vs. New York. Lehner has struggled a bit as of late though with 4+ goals allowed in 3 of the last 4.
February 19th Rangers at Blackhawks Betting Pick
New York has great value in this play considering the way they've been playing as of late. With Shesterkin back in net for NYR (likely) and Lehner wavering a bit in his confidence over the last 4 starts the visitors look like the play here.
Pick: New York Rangers +115