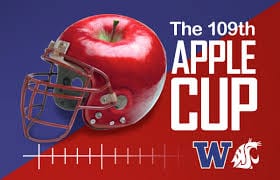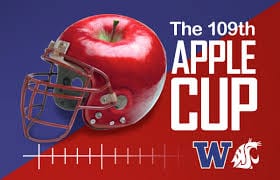 Our Washington plays Washington State free pick offers a preview of two nationally ranked teams with both coming from the PAC-12 North. In fact, the #5 Washington Huskies (10-1 Overall, 7-1 PAC-12) and the #23 Washington State Cougars (8-3 Overall, 7-1 PAC-12) are one and two respectively in the PAC-12 North. That means this game is for the top spot in the division. It could also have national title implications. In addition, the winner of the game receives the Apple Cup. This is one of the biggest games of this week in college football.
Over their last five games, the Huskies are 4-1. They easily beat Oregon State 41-17 (Oct 22) and then took on and took down #17 Utah 24-17. They exploded against California 66-17 (Nov 5). Then Washington ran into #20 USC and lost to the Trojans 26-13 (Nov 12). Last week, they won again, 44-18 against Arizona State.
The Cougars had won eight straight, including beating #15 Stanford 42-16, when they ran into #10 Colorado last week. They lost to the Buffaloes 38-24. In their four wins prior, Washington State was victorious over Arizona State 37-32, Oregon State 35-31, Arizona 69-7, and California 56- 21.
Washington Huskies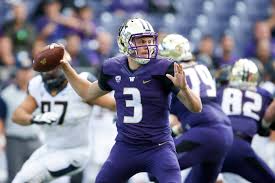 The Huskies have a potent offense that is passing for 273.9 YPG and rushing for another 208.9. They're scoring on average 44.7 PPG. QB Jake Browning (64.3 COMP%, 37 TDs, 7 INTs, 18 Sacks) has for the most part been very accurate. However, over his past two games he's tossed four of his seven picks. Still, he's a dependable, solid pocket quarterback.
WRs John Ross (64 REC, 991YDs, 15.5 AVG, 15 TDs) and Dante Pettis (46 REC, 701 YDs, 15.2 AVG, 12 TDs) are his top targets. Ross has caught a 70-yard TD pass this season. This QB and his dual wideouts can really change a game quickly. In addition, Washington has RB Myles Gaskin (182 ATT, 1130 YDs, 6.2 AVG, 9 TDs). Along with being able at piling up yards on the ground, he's a reliable outlet on short passes. The Husky frontline is solid, as rushers have gotten to Browning just 18 times.
The Huskies put a very able defense on the field. They're holding opponents to an average of 17.9 PPG. Air yardage is low, at 195.8 per game and rushing yardage is respectable at 132.6 per game. The team has made 34 sacks. They also have 69 TFL and 13 interceptions. This is a tough defense to beat.
Washington State Cougars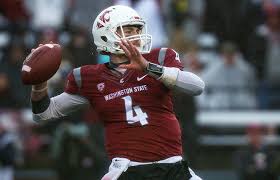 The Cougars, who are scoring 42.5 PPG, are primarily a passing team. Of their 512.5 YPG of offense, 380.0 has been gained in the air. That leaves 132.5 YPG of offense on the ground. QB Luke Falk (71.4 COMP%, 36 TDs, 7 INTs, 25 Sacks) is extremely accurate. In nine of 11 games, he's thrown three or more TD passes. Like Browning, he's a passing quarterback.
Falk has a fine array of talent to throw to including WRs Gabe Marks (74 REC, 755 YDs, 10.2 AVG, 12 TDs), River Cracraft (53 REC, 701 YDs, 13.2 AVG, 5 TDs), and Tavares Martin Jr. (57 REC, 671 YDs, 11.8 AVG, 7 TDs). Also, running back Jamal Morrow (82 ATT, 543 YDs. 6.6 AVG, 4 TDs) serves as a fourth receiver averaging 10.6 YPC over the course of 44 receptions. He has five scores as a pass catcher.
The place where Washington State has real difficulty is on defense. They are giving up a total of 408.0 YPG of offense with 278.3 yards occurring in the air. On average, they've allowed 25.5 PPG. They have just 17 sacks, which means that Browning should have a lot of time to connect with his receivers. Tackles for a loss stand at 64 ands interceptions at 12.
Washington Plays Washington State Free Pick
A few other stats to consider in our Washington plays Washington State free pick. The Huskies have been penalized 58 times for 508 yards while the Cougars have seen the yellow flag come out 91 times for 798 yards. Also, Washington's turnover margin is plus 15 and Washington State's is plus 9. The first stat has immense meaning in terms of the final outcome of this game, while the second is less important.
Washington is at -6.5. We think they will beat the spread in this huge game. If they do win, Washington could be one of the teams that gets to battle for the National Championship. The game will be played at 3:30 on Friday, November 25.
Washington Plays Washington State Free Pick: Washington Huskies at -6.5