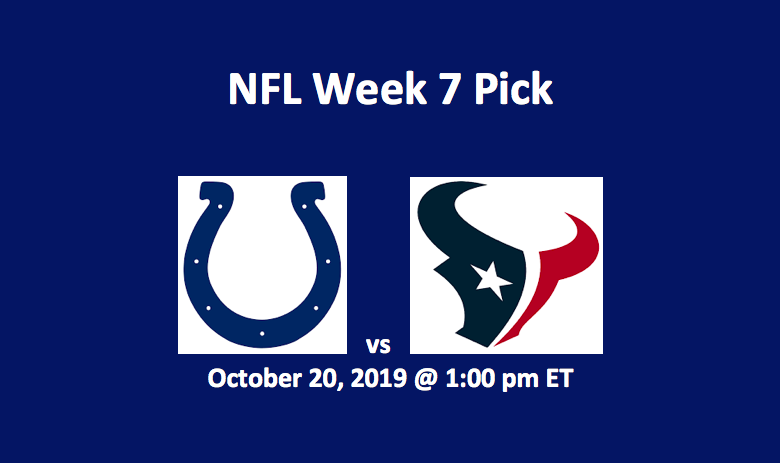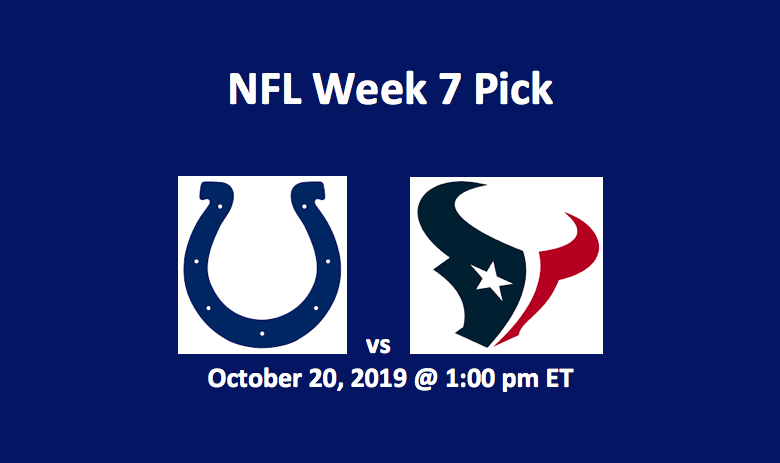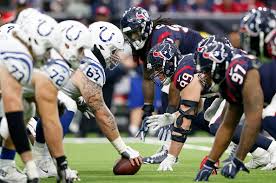 This Indianapolis Colts vs Houston Texans pick features the number two and one teams in the AFC South. Our Indianapolis Colts vs Houston Texans pick for Sunday, October 20, 2019 notes that the Colts bring a surprisingly tough defense to this game while the Texans are noted for their newly-discovered ability to generated a generous amount of points. In their last game, the 3 – 2 Colts held the Kansas City Chiefs to 13 points, beating them by three. In their past two contests, Houston, which is 4-2, has scored a total of 84 points. In their October 6 meeting with Atlanta, they beat the Falcons 53 – 32, while last week it was the Texans 31 and the Chiefs 24.
Today's game, which is scheduled for a 1 pm ET kickoff, will be played in Indianapolis. The odds give the Colts a slight advantage. Indy is at -1.0. That's not your standard three-point home field advantage. Here's how we see this NFL Week 7 pick going.
Indianapolis Colts vs Houston Texans Pick – Quarterbacks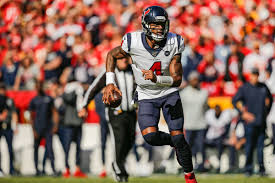 Although the rush attacks of each team are similar in terms of stats, the passing games are not. Houston is averaging 274.0 YPG through the air, while the Colts have been good for 212.4 YPG. Texan QB Deshaun Watson is completing 69.7% of his passing for 1,644 yards. He's tossed 12 TD passes and three picks. For the Colts, Jacoby Brissett has performed better than expected. However, his QBR of 48.4 is considerably lower than Watson's, which stands at 76.3. Brissett has completed 64.7% of his passing, tossing 10 TDs and three INTs. Thus far this season, he's passed for 1,062 yards.
Against the Chiefs, Brissett did not throw a TD pass nor a pick, while Watson threw one score against KC and was picked three times. However, in that game, the Texans scored three rushing scores with Watson running for two TDs. Thus far this season, Watson has scored five rushing touchdowns, while Brissett has crossed the goal line just once.
Colts Defense vs Texans Attack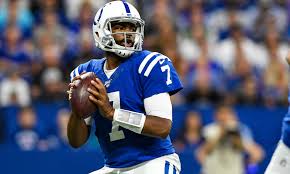 Thus far this season, Indy has allowed opponents just 115 points. That's 19.1 PPG. That's second-best in the AFC South and places them fourth in the conference. At, the same time, over the first six games of the 2019 -2020 season, the Texans have scored 162 points. That stat is first in the AFC South and fourth in the conference. Houston is averaging 27 PPG. If the Colt D can control what has been a tough to control offense, they will have a chance to win this game. But they must shutdown what has as of late been an explosive Texan offense.
Taking into consideration the Indianapolis offensive and the Houston defensive stats, the possibility of a Colts win seems to diminish. The Colts have scored a total of 113 points, leaving them with a PF/PA differential of -2. Their 18.8 PPG is 8.2 PPG less than Houston's average. On the other hand, the Texans have allowed opponents 134 PPG or 22.2 PPG. And although that's 3.1 PPG more than today's opponent, the Texans still have a better PF/PA differential (+4.8). Combining the differentials of the two teams, Houston ends up with a +6.8 advantage.
Indianapolis vs Houston – Five Keys
Colts must stop Watson in the air and on the ground – tough to do
Brissett needs to open up the passing game – this is possible
Colts defense must come to play – they will but for how long?
Colts 72.7 FG% and 75% XP% and Texans 66.7 FG% and 80 XP% – slight advantage Indy
Lately, Houston's offense has been powerful – if they open game up early, Texans win
Our Indianapolis Colts vs Houston Texans Pick
Our Indianapolis Colts vs Houston Texans pick expects this contest to be close. After all, the Colts controlled one of the best offenses in the NFL winning a game that no one thought they would. However, the next week, Houston took down that same team, the Chiefs. It's true that the Texans gave up 11 more points than the Colts did to the Chiefs, but they also scored 16 more points. Our Indianapolis Colts vs Houston Texans pick is the visiting Texans at +1.0.
Summary: Indianapolis Colts vs Houston Texans Pick – October 20, 2019
Houston Texans at +1.0