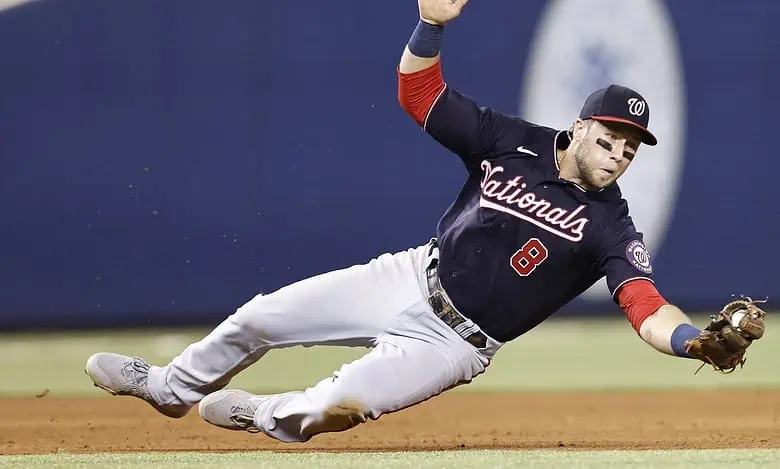 The Washington Nationals and Chicago Cubs will continue their three-game series on Tuesday night at Wrigley Field. Washington was able to come away with a win in the series opener, and the Cubs have to find a way to bounce back.
It hasn't been a good season for the Nationals, but this team has now gone 2-2 since the All-Star Break. Washington is a team that is full of young players, and they are looking to finish off the season strong.
The Cubs are starting to fall out of the race in the NL Central Division, and they might end up selling at the Trade Deadline. Chicago has gone just 1-3 in the second half of the season, and they are 43-50 on the year.
Chicago is the moneyline betting favorite at -170 over Washington in Game 2 of the series on Tuesday night.
Nationals Can Hit
The Washington Nationals are headed for another last-place finish in the NL East Division, but that doesn't mean they are a terrible team. Washington hasn't shown a ton of power this season, but they have a team batting average over .260.
Jeimer Candelario is leading the team with 14 home runs, and one of those was hit in the game on Monday night. Washington was able to score seven runs in that game, and that's good enough to get the job done.
Patrick Corbin is set to make the start for Washington on Tuesday night, and he is just 6-10 with a 4.89 ERA this season. Corbin has pitched better of late, but he is still a pitcher that is capable of getting hit hard.
Cubs Need More Pitching
The Cubs have given up at least seven runs in their three losses since the All-Star Break, and that's just not going to be good enough to get this done. Chicago does have a team ERA of 4.15 on the year, but they need their pitchers to get things turned around.
Jameson Taillon completely shut down the Yankees in his last start before the All-Star Break, and he needs more of that. Taillon is just 3-6 with a 6.15 ERA this season, and he has really struggled for the Cubs.
Patrick Wisdom hit his 16th homer of the season for the Cubs on Monday night, and that mark leads the team. Chicago is playing without Dansby Swanson due to injury, and they aren't swinging the bats well of late.
Cubs Bounce Back With Win
Game 1 of the series did not go well for the Chicago Cubs, but there are reasons to believe this team will bounce back in Game 2. The Cubs are the better overall team in this matchup, and they also appear to have an edge in the starting pitching matchup.
Even though it's been a rough season for Taillon, he was dominant in his final start before the All-Star Break. Washington is a team that doesn't hit a ton of home runs, and they will struggle to score in this game.
Bet the Chicago Cubs -170 as they are able to pick up a win on Tuesday night to even the series.