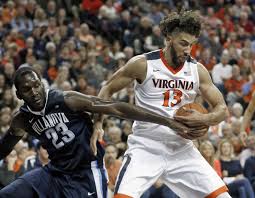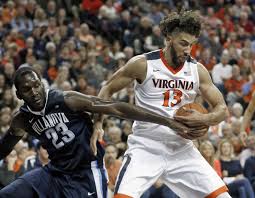 It's a big game for both the #12 Virginia Cavaliers and the #1 Villanova Wildcats. The Cavs have won five straight games with their last win being a very convincing 74-51 victory on Tuesday, Jan. 24 against #14 Notre Dame. The Wildcats are coming off a surprise 74-72 loss on Monday night to Marquette. Although they seemed in total control of that game, at the end it got away from them. Our Virginia plays Villanova college basketball free pick has the Wildcats at minus 5.0 and the over/under at 123.5.
The Cavs are five of their last five. Along with the win against the Fighting Irish, Virginia took down Wake Forest, Clemson, Boston College, and Georgia Tech. A few weeks before they string of wins started, they beat #6 Louisville 61-53 and lost a close one to #20 Florida State 60-58.
Until a few days ago, the Wildcats were certainly playing like a number one team. Until their Monday night loss to Marquette, their one other loss was 66-58 to #18 Butler. A few weeks prior to their Marquette meltdown Villanova beat Marquette 93-81. Recent wins include 79-54 against #15 Xavier on Jan. 10 and 70-57 versus St. John's on Jan. 14. They also took down Seton Hall 76-46 on Jan. 16 and Providence 78-68 on Jan. 21.
Virginia Cavaliers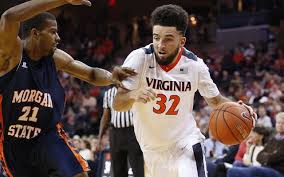 The Cavaliers have a sound group in the backcourt. Guard London Parrantes (12.3 PPG, 3.7 APG, 46 FG%) is hitting 43% of his threes. Also in the backcourt, Austin Nicholas (11.0 PPG, 3.0 RPG, 57 FG%) and Marial Shayok (10.0 PPG, 47 FG%, 34 3PT%) are both scoring in double digits. Forward Isaiah Wilkins (6.8 PPG, 5.7 RPG, 57 FG%) is the main man in the paint, while center Jack Salt (4.2 PPG, 3.8 RPG, 58 FG%) offers solid support. Guard Devon Hall (8.2 PG, 4.2 RPG, 45 FG%) is a good inside/outside player.
Villanova Wildcats
Nova has a group of four guys who are scoring double-digits on a daily basis. Senior forward Kris Jenkins (13.7 PPG, 4.0 RPG, 41 FG%) is the top scorer upfront, while senior guard Josh Hart (19.0 PPG, 6.6 RPG, 3.5 APG) leads all Nova shooters in scoring and is also tops in rebounding.
Guard Jalen Brunson (14.1 PPG, 4.2 APG, 54 FG%) is a playmaker. Guard Mikal Bridges (10.2 PPG, 4.9 RPG, 55 FG%) is another fine shooter. Senior forward Darryl Reynolds (5.8 PPG, 5.7 RPG, 71 FG%) is tough to stop in the paint.
Virginia Plays Villanova College Basketball Free Pick
In terms of stats, these two teams match up relatively closely. The biggest differences are in points scored and points allowed. Although Nova is scoring an average of 78.3 PPG and Virginia 69.6 PPG, the Cavs are allowing just 53.3 PPG while the Wildcats are giving up 62.2. That gives Nova a PF/PA mark of +16.1 and the Cavaliers a differential of +16.3.
Two other stats stick out. Nova is hitting 37% of their threes and Virginia 40%. That gives the Cavs an edge. However, the area where the Cats top Virginia is at the free throw line where Nova is hitting 79% and the Cavaliers are good 70% of the time. However, the Cavaliers are a disciplined team and don't commit many fouls. The result for the foul shots may yield one or two more points for the Cats, while the threes could actually offer Villanova more of an edge even though the hit fewer of their downtown shots. That's because they take about 60% more threes than Virginia.
For our Virginia plays Villanova college basketball free pick, we're going to take Nova at -5.0. We think the threes could be a difference maker. We're also going with the over at 123.5. Tipoff is at 1 p.m. ET.
Virginia Plays Villanova College Basketball Free Pick: Villanova at -5.0 and over 123.5