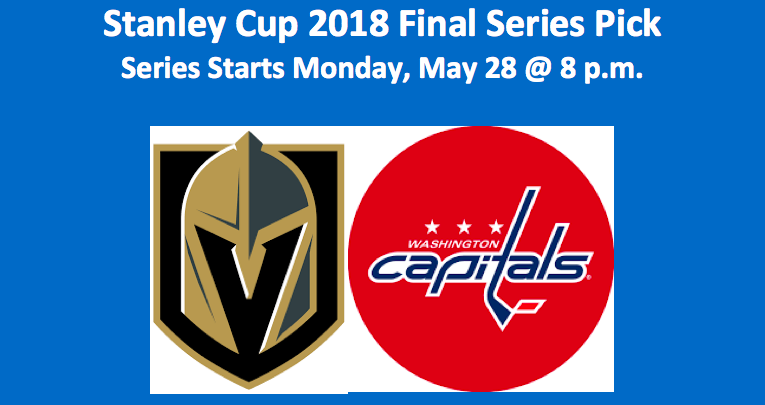 The Vegas Golden Knights continue their improbable run in their inaugural season, becoming just the second team to make the Stanley Cup Final in their first year. Their opponent will be the Washington Capitals. The Caps are looking to win their first cup in franchise history. Our Vegas plays Washington 2018 NHL Stanley Cup Final pick examines which team will hoist the Cup and win their franchises' first ever title.
Vegas' Resiliency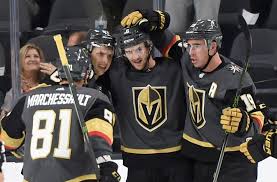 The Golden Knights biggest strengths are their resilience and constant flow of high-energy play. This was seen in the Conference Final where four times they scored within two minutes after a Winnipeg goal. This sucked the life out of the high scoring Jets. When a team lets up a goal and then answers back almost immediately, it is very difficult for an opponent to build any kind of momentum. As deep as the Capitals are, no team has had success in shutting down Vegas who is able to roll four high-energy lines.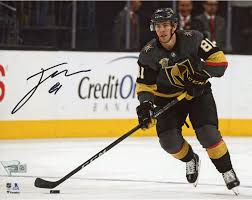 Offensively Vegas has got balanced contributions from their bottom three lines, while their first line of Jonathan Marchessault (8-10-18), Reilly Smith (2-14-16), and William Karlsson (6-7-13) have combined for 47 points in the playoffs. Any line has the possibility to be dangerous against the Caps. For a Washington team that is coming off of a game seven and has had to play 19 games out of a possible 21 to advance to the Final, this could be problematic. The Golden Knights on the other hand have only had to play 15 games in the playoffs. In addition, they have had limited injury trouble. Together, these factors indicate they are likely to have little problem continuing their high-energy play.
Fleury for Conn Smythe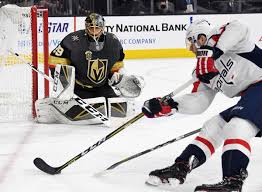 Marc-Andre Fleury has been the star of these playoffs. Currently sporting a league-leading .947 save percentage and 1.68 GAA, Fleury has been the backbone of Vegas. His play has been on par with Tim Thomas' when the Bruins won the Cup in 2011 and Jonathan Quick's when the Kings won in 2012. Both of these netminders were named the playoff MVP.
He has been unbeatable, making impossible looking saves throughout the playoffs. With these big saves, Fleury has shown that he can stop an opponent's momentum and get in the head of opposing shooters. He has had plenty of experience in the Stanley Cup Final, winning the Cup three times in his career. Plus, he knows exactly what it will take to win it a fourth time.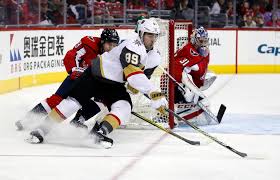 At the other end of the ice, Braden Holtby is coming off of two straight shutouts of the Tampa Bay Lightning. Holtby looked confident in these games after losing his previous three in the Eastern conference Final. His postseason stats currently include a 2.04 GAA and a .923 save percentage in 18 games played. Unlike Fleury, Holtby has no prior experience playing in the Stanley Cup Final. For Washington to win their first Cup, Holtby will have to continue his strong play, as it will be tough for the Caps to crack Fleury.
Caps' Offense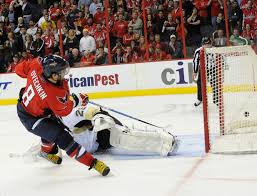 The two top scorers in the postseason are on Washington's roster. Evgeny Kuznetsov is the total points leader with 24 in 19 games. Alex Ovechkin is second in points with 22, while also having scored the most goals of any player in the Final with 12. These contribution have helped the Capitals average 3.47 goals for per game, which is 0.6 more than the Golden Knights' 2.87.
Washington did this even while Nicklas Backstrom (4-12-16) was out for a few games in the Conference Final due to a hand injury. He was productive after returning with a goal and two assists in the final two games against Tampa. Winger TJ Oshie has also looked good in the postseason. He currently has 15 points in 19 games. Oshie played very well against Tampa averaging a point per game in the series while finishing with a +4 plus-minus rating.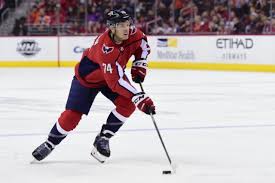 The Caps have received solid offensive contributions from their defensemen as well. John Carlson (3-13-16) is currently tied for third on the team in points, while Dmitry Orlov (2-6-8) and Matt Niskanen (1-7-8) both have eight points in the playoffs. Orlov has also fired the sixth-most shots for a team in the playoffs with 41. This is a defense that can hustle down the ice, hassle goaltenders, and score.
Vegas Plays Washington 2018 Stanley Cup Final Pick
Both Washington and Vegas have a shot to win their first Stanley Cup ever. Vegas has proven each series that they can deal with any team's biggest strengths. Combined with their high-energy play, and Marc-Andre Fleury's stellar playoff run, the Golden Knights have made it hard for any opponent to gain momentum against their lineup.
Despite Washington's offensive success these playoffs, Fleury's play combined with the Golden Knight's ability to shut down an opponent's momentum will make it difficult for the Caps to have a sustained offensive presence. Our Vegas plays Washington 2018 NHL Stanley Cup pick sees the Vegas Golden Knights becoming the first team in history to capture Lord Stanley's Cup in their inaugural season. For an overview of each team's playoff history thus far, follow this link.
Vegas plays Washington 2018 NHL Stanley Cup Final Pick: The Vegas Golden Knights (-135) over the Washington Capitals (+115) in 7 games