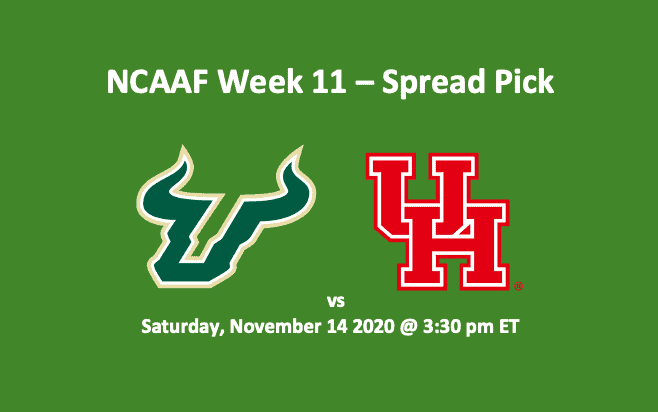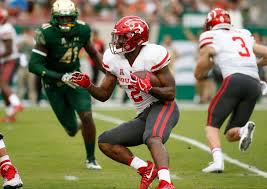 Our USF vs Houston pick has the Cougars favored. Houston is listed at -14.0 (-105), while USF is the underdog at +14.0 (-105). The Houston Cougars are seventh in the AAC with a 2-2 conference mark. They are 2-3 overall. They've lost their last two games. On October 31, the UCF Knights annihilated Houston 44-21. Then. Last week, the #6 Cincinnati Bearcats took down the Cougars 38-10.
The USF Bulls, who are last in the AAC, have an 0-5 conference mark and are 1-6 overall. The Bulls are currently on a six-game losing streak. Their last loss, which was on November 7, was a close one as Memphis edged them 34-33.
The weather at game time will be cloudy and 82 degrees. There's a 19% chance of precipitation. Winds will be out of the south at 14mph. That means that at some point each team will be going against the wind. The game will take place at TDECU Stadium in Houston, Texas. Kickoff will be at 3:30 pm ET.
USF vs Houston Pick – Stats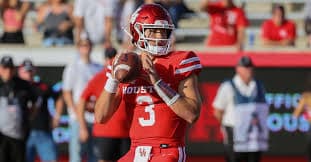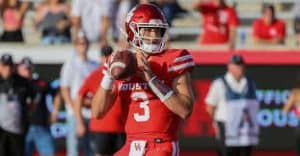 The South Florida Bulls are averaging 20.1 PPG, while the Cougars are putting 28.6 PPG on the scoreboard. Although Houston is outscoring USF by 8.5 PPG, these two teams are very close when it comes to defensive points. The Bulls are allowing opponents 35.0 PPG, while the Cougars are giving up 35.4 PPG.
When it comes to offensive yards, Houston tops out with 410.0 YPG, while USF is gaining 326.1 YPG. Both teams are relatively close when it comes to ground yards, with averages ranging from 125 to 137 YPG. The Cougars dominate, 284.2 to 188.9 YPG, when it comes to passing yards per game. On defense, USF is allowing 413.0 YPG. The Cougars are giving up 450.4 YPG. The Bulls are a bit better on passing yards, 220 to 248.6 YPG, and a tad better when it comes to rushing yards, 193.0 to 201.8 YPG.
Bulls vs Cougars Spread Pick – Key Players
In many ways, these teams are closely matched. The Bulls need to determine who will be in the pocket. Houston will look to exploit their pass attack. South Florida brings some solid defensive players to the field. The secondary is solid.
</3>USF Offense
Our USF vs Houston pick notes that QB Jordan McCloud has started the majority of Bulls' games this season. But last week, Noah Johnson got the call. Both quarterbacks are completing 62% of their passes. McCloud has tossed four TD passes and two picks and Johnson has three TD tosses and one interception. What distinguished Johnson from McCloud is the former's three rushing touchdowns. McCloud has not crossed the goal line as a runner. The top-two pass catchers for the Bulls are wideout Omarion Dollison and safety DeVontres Dukes. Dollison's made 16 receptions for 220 yards, while Dukes has 18 catches for 214 yards and two scores. Sophomore RB Johnny Ford leads the ground charge with 285 yards on 55 carries. He's crossed the goal line three times.
Bulls Defense
Don't expect the Bull D to put much pressure on the Houston quarterback today. The Bulls come to the game with just five sacks. However, they have recorded eight INTs and six FF with three recovered. The D has one pick six. Top performers include DB Mekhi LaPointe with two picks and two PD and LB Antonio Grier with 47 tackles, three sacks, and two forced fumbles.
</3>Houston Offense
QB Clayton Tune leads the Cougar offense. Along with passing for eight scores, Tune has rushed for two TDs. Tune's been sacked a dozen times and has tossed five picks. He's completing 61.3% of his passes. His primary target is WR Marquez Stevenson. Stevenson has 16 receptions for 278 yards and three scores. Plus, wideout Nathaniel Dell has grabbed 14 passes and scored two TDs. RB Kyle Porter has made 81 carries for 324 yards and four scores. He's averaging 4.0 YPA.
Cougars Defense
Houston's defense ably pressures QBs. DL Payton Turner has four of the Cougars' 16 sacks. LB Grant Stuard leads the team with 20 tackles and 21 assists. The issue on defense is the secondary, which has recorded just two picks. The group does have 14 PD. Safety Thabo Mwaniki has grabbed one interception and defended two passes and corner Damarion Williams has recorded four PD.
USF vs Houston Pick – Final Word
Our USF vs Houston pick likes the Cougars when it comes to the money line. But against a 14-point spread, we're taking the Bulls. This season against the spread, the Bulls are 4-3 while the Cougars have a mark of 2-3. Take USF at +14.0 (-105).
Looking for another wagering opportunity? Make sure you see our #10 Indiana versus Michigan State spread pick.
USF Bulls vs Houston Cougars Summary
USF Bulls at +14.0 (-105)