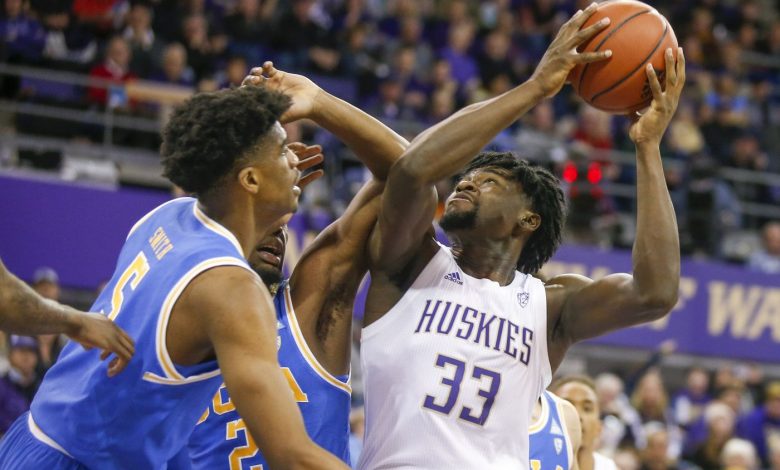 The Sunday night college basketball schedule is highlighted by a Pac-12 showdown between the USC Trojans and Washington Huskies. At home, Washington is a five-point favorite with an over/under of 143.5 points.
The Trojans extended their winning streak to six games with a win over Washington State in their Pac-12 opener Thursday night. That was also USC's third win over a power-conference opponent during that stretch, adding to wins over TCU and LSU.
After finishing last season with a losing record and out of the postseason, Andy Enfield's team is 12-2 to start the season.
Meanwhile, Washington is hoping to bounce back from losses in its last two games. The Huskies lost the final of the Diamond Head Classic on Christmas Day to Houston, knocking them out of the Top 25.
That was followed by a stunning 66-64 home loss to UCLA on Thursday. With a 10-4 record and a limited number of quality wins during the non-conference season, Mike Hopkins needs to get his team back on track as soon as possible.
Show Me The Green
Kentucky transfer Quade Green has helped pace the Huskies early in the season, averaging better than five assists per game. While he's also a proven scorer, averaging 11 points per game, Green has excelled as a distributor, with Washington having three players averaging at least 13 points per game.
That group is led by freshman big man Isaiah Stewart, who has scored at least 21 points in five of his last six games. Not only does the big man get to the free-throw line, but he's making 75 percent of his attempts at the charity stripe, serving as a great inside complement for Green, Nahziah Carter, and Jaden McDaniels.
However, the Huskies are not without their flaws, which is why they've lost two in a row. Washington's zone defense hasn't gotten the job done in recent games.
The Huskies are vulnerable on the boards, giving their opponents too many second-chance opportunities. If the Huskies aren't active enough defensively, they also become vulnerable against good perimeter shooting teams.
Slow and Steady
The Trojans aren't blowing many teams out of the water, but they are grinding out wins with strong defense and a lot of size on the inside. While Washington has Stewart, USC also has a freshman big man in Onyeka Okongwu, who is making an immediate impact. Okongwu is averaging over 18 points and nine rebounds per game.
Fellow freshman Isaiah Mobley and senior Nick Rakocevic also provide muscle inside, as both are 6-10 or taller and combine for 20 points and 15 rebounds per game.
On the perimeter, the Trojans are reliant on senior Jonah Mathews, who gives them an all-around playmaker. However, Mathews tends to be hot and cold as an outside shooter, going just 2-of-10 from three-point range in his last two games.
Outside of Mathews, USC is lacking proven outside shooters, which could be an issue against the Washington zone.
Trojan Men
Despite some shooting troubles, USC's height is likely to be problematic against the Washington zone. The Trojans should get second-chance points, allowing them to stay in the game and perhaps pull off the upset. Bet on USC against the spread when it takes on Washington.