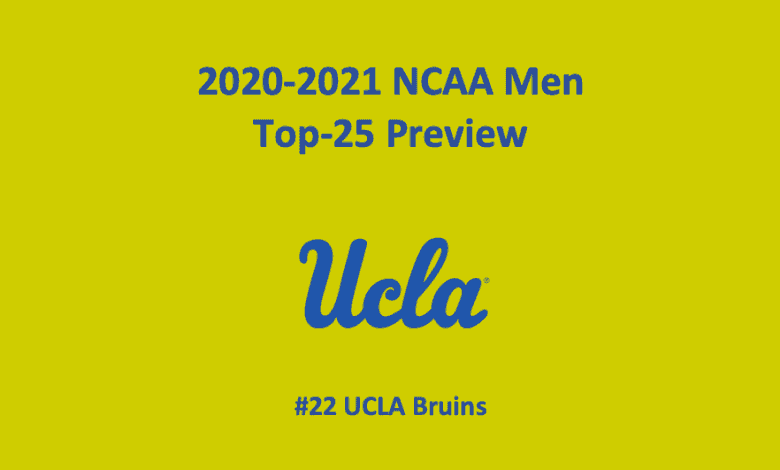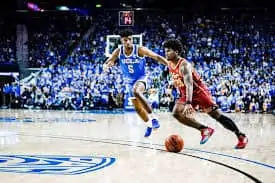 Our UCLA basketball preview 2020 – 2021 observes that there's a lot of buzz about this team for various reasons. The thing that people are talking about is last season, which was coach Mick Cronin's first at the Bruins' helm. In 2019 – 2020, UCLA had what many consider to be the season's biggest pivot. The team started out 8-9. At that point, the Bruins had a 1-6 Pac-12 record. Still, they managed to finish the season at 19-12 overall and with a 12-6 conference mark, which meant they finished second in the Pac-12 and just one game behind first-place Oregon. They did that by going 11-3 over their final 14 games. One of those three final losses was to the Oregon Ducks. If UCLA had won that game, which they lost handily 96-75, they would have tied the Ducks for the Pac-12 crown.
Stats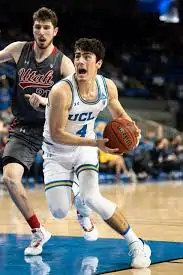 Throughout the season, UCLA excelled in one aspect. That was rebound margin where they led the Pac-12 and were 31st nationally with a 5.6 average. All other stats for the season were below average for the conference, which makes their late-season comeback even more amazing. When it came to scoring offense, the Bruins were 11th in the Pac-12 and 227th in the nation (69.7 PPG), while on scoring defense they were 116th and seventh (67.1 PPG). Those two stats gave them a PF/PA differential of +2.8, which is minimal. Oddly, they were 178th in the nation and eighth in the conference in both field-goal percentage (43.4%) and field-goal defense (42.9%). The team's three-point conversion percentage of 32.2 was 229th in the nation and 10th in the Pac-12. They were 190th and eighth in both assists per game (12.9) and turnovers (13.3).
UCLA Basketball Preview 2020 – 2021 – Players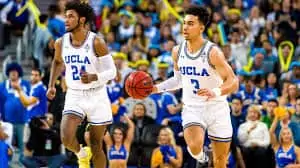 UCLA sees its top five scorers from last season return, including Chris Smith. Smith had declared for the NBA Draft but then withdrew, which means that the Bruins benefit greatly. The frontcourt will include Smith, a senior, and junior Jalen Hill. Smith and Hill bring experience, skill, and scoring and rebounding chops to the paint. We expect Johnny Juzang, a sophomore transfer from Kentucky, to float at the guard/forward spot. At 6-10, junior Cody Riley comes off the bench, bringing with him top-notch inside scoring skills. At 7-0, sophomore Kenneth Nwuba could provide some relief around the rim. He did not play last season.
The point will be the purview of sophomore Tyler Campbell. Either junior David Singleton or sophomore Jaimie Jaquez will start at the other guard spot. Jaquez saw more minutes last season and is the more accurate shooter on field goals, while Singleton is about six percentage points better from the arc. Coming off the bench will be junior Jules Bernard and sophomore
Jake Kyman. True freshman Jaylen Clark may see little to no playing time. One manner in which Clark could secure some minutes would be by focusing on defense.
Frontcourt
Smith, who last year was the Pac-12's Most Improved Player, returns as the leading scorer. Last season, the versatile Smith hit 45.8% of his field goals, 34.1% of his threes, and 84.0% of his free throws. Averaging 13.1 PPG, he grabbed 5.6 RPG and made 1.0 SPG. A future premium NBA prospect, Smith is a player who has consistently shown improvement. Consequently, this season, we expect that he will be the best player in the Pac-12. Last year, Hill's 9.0 PPG made him the second-highest scorer on this team. At 6-10, he's both a fine shooter in the paint and defender. In 2019 -2020, the forward completed 53.5% of his shots. He also took down 6.9 RPG while blocking 1.1 shots per game.
Riley, a 51.8% field-goal shooter, hit for 8.8 PPG while making 4.5 RPG. Last season, he averaged 20.4 MPG. Sophomore Juzang, who saw limited action with Kentucky last season, is likely to work his way into the starting lineup early on. He'll play the swing role of guard/forward. We anticipate junior Jules Bernard (5.5 PPG) and sophomore Jake Kyman (5.3 PPG) will see action.
Backcourt
Our UCLA basketball preview 2020 – 2021 notes that last season Campbell made 5.0 APG and scored 8.8 PPG. He is a fine playmaker and court general, but his 26.7% three-point success-rate leaves a lot to be desired. Jaquez averaged 8.9 PPG and 4.8 RPG. He also made 1.4 SPG. Singleton scored 4.5 PPG and recorded 1.8 RPG. In terms of playing time, Campbell averaged 26.6 MPG while Singleton played 20.1 MPG. Kyman converted 45.1% of his field goals last year. That is 6.1 percentage-points better than Bernard.
Bruins – Make or Break for 2020-2021
Coach Cronin needs to make sure that this UCLA basketball team continues to play sound defense and improves its shooting. Last season, three-point production was especially sketchy. Our UCLA basketball preview 2020 – 2021 observes that this team showed a lot of character in the last part of the season, taking what could have been a disastrous season to a successful one. The Pac-12 will throw a lot at this team. The good news is that they are experienced and skilled. Smith's decision to return really improved this team's chances of being highly competitive within and outside of the Pac-12. Last year rebounding was a strength, and we expect that to be the case again in 2020 – 2021.
UCLA Basketball Preview 2020- 2021- Final Word
Our UCLA basketball preview 2020 – 2021 anticipates that the Bruins will be quite competitive. The fact that the UCLA's top five scorers from last season return should really give this basketball team a boost. We expect that the Bruins will show improvement, as not only individuals step up, but, also, the entire group moves to a next level. Smith will lead this team not only when it comes to scoring stats, but also as the heart and soul of this team. At the same time, Campbell will ably run UCLA's offense. This is a team that has the potential to exceed last season's accomplishments and go deep into the Big Dance.
UCLA Bruins – 2020-2021 NCAA Projection
Pac-12 Finish – Second
NCAA Tournament Result – Final Four