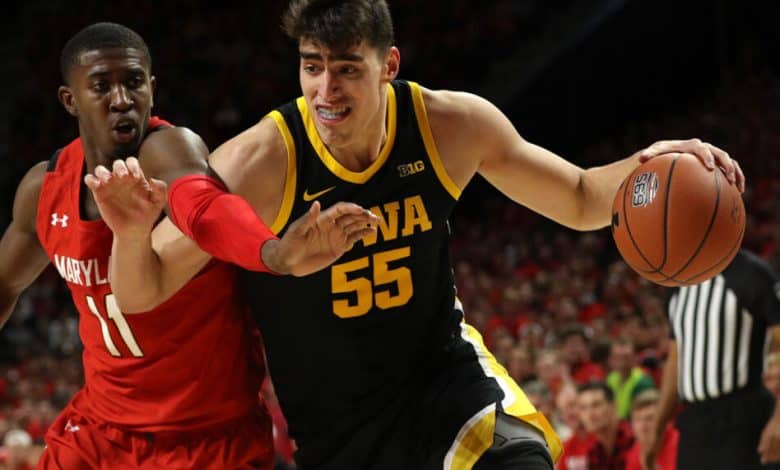 The 9-2 Hawkeyes are on a great run this season, but Thursday night's NCAAB Iowa at Maryland pick just has the feeling of being a slip-up game. Fran McCaffrey's team is #5 in the AP Top 25, but is also just 1-1 in true road games. Iowa did squeak out a tough win at Rutgers on Saturday, but have also been beaten 102-95 in a visit to Minnesota.
Maryland comes into Thursday's tilt 5-2 at home on the season, but also in the midst of a bit of a rut in dropping three of their last four. The Terrapins do have a win at Wisconsin as +10 point underdogs during that stretch, so they can turn things on when they have to. Nothing riles up the troops like a win over a top 5 team.
The Garza Show Continues
Wagering against Iowa, who is a -6 point road favorite on Thursday, automatically puts one behind the 8-ball as superstar Luka Garza is a near lock to get his 25-30 points night in and night out. Garza had 25 in the win over Rutgers, 32 and 17 in the OT loss to Minnesota, and 30/10 in Iowa's 99-88 loss to #1 Gonzaga a couple weeks ago.
Garza is the leading scorer in the Big Ten at 27.5 ppg, which is 2nd in the country while Maryland doesn't have anybody averaging over 15 ppg. The player of the year candidate has helped Iowa produce the #1 scoring offense in the conference (92.7), which is also the 4th best mark in the nation.
While the Hawkeyes look like a powerhouse in the NCAAB Iowa at Maryland pick, they are in a true road game for just the 3rd time this season. Three players scored over 18 points in the Golden Gophers upset win as +6.5 home underdogs on Christmas night, a line very similar to Thursday's tilt.
Maryland Ready for a Bounce Back
The losses of Jalen Smith to the NBA and Anthony Cowan to graduation are very evident for Maryland this season. The Terps lacked the star power to hold on to a 27-21 halftime lead at Indiana on Monday, and were outscored 42-28 in the second half of a 63-55 loss at the Hoosiers as +5 underdogs. 
The Terrapins also have an 84-73 loss at home to #10 Michigan as +3 underdogs on New Year's Eve fresh in their minds. That's a lot of points allowed to the Wolverines for the Big Ten's #4 defense, which gives Iowa and the betting total of 154.5 some hope on Thursday.
The reason Maryland isn't a brush off in this tilt is because they've also gone on the road to Madison and handed the Badgers a 70-64 defeat as +10 point underdogs on December 28th. The Terps are still averaging just 65 ppg in conference play, and their hopes are to keep this one close in a low scoring affair. That might not be possible against a deep Iowa team that also hits 10.4 three pointers per game, tops in the conference.
Free NCAAB Iowa at Maryland Pick
The Terrapins will get their best perimeter defender Darryl Morsell back after he missed the IU game with a facial laceration – but will it be enough? Garza heads back to his native D.C. area for the last time in the regular season and is almost guaranteed a 25/12 performance or better. The Terps simply don't have the offense to keep up in this one.
Iowa 82 – Maryland 71
Free Pick: Iowa -6