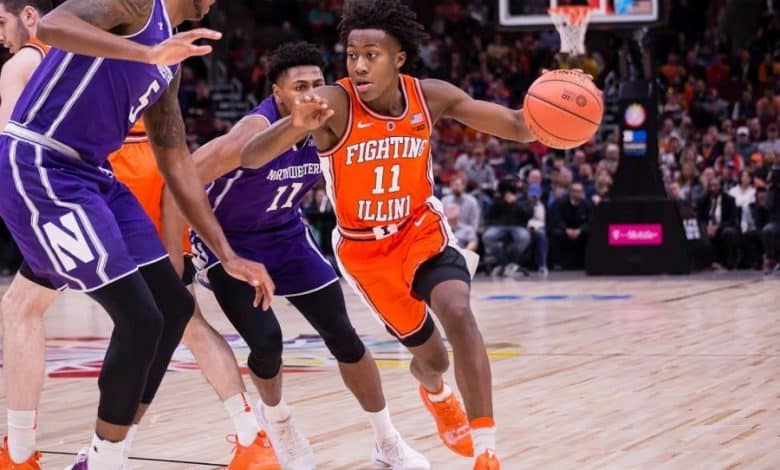 The Fighting Illini are -6.5 favorites on the road in the NCAAB Illinois at Northwestern pick, but many aren't expecting the scrappy Wildcats to go down easy in this spot. Northwestern had creeped into the top 25, but have had to run the gauntlet in an 87-72 loss at #5 Iowa (+11.5) and an 85-66 defeat at #10 Michigan (+9.5).
The Wildcats are back home at the Welsh-Ryan Arena where they are 5-1 on the season, but things don't get any easier with the #12 Fighting Illini coming to town. Illinois has a three game win streak going, but the good thing for Northwestern is that Brad Underwood's high powered offense has been held in check by both Indiana and Purdue the last two contests. Thursday's betting total is 148.
Illini Try to Find Their Scoring
Illinois has the #2 scoring offense in the Big Ten, but that attack has been quieted a bit in a 69-60 win over Indiana as -6.5 favorites and in defeating Purdue 66-58 last week as -8 favorites, both in Champaign. Those are the #2 and #6 defenses in the conference respectively however.
The Illini had put up 88+ points in their three games prior, including a 98-81 stomping of Penn State on December 23rd. One thing to note is that Underwood's squad is not in a slump coming into the NCAAB Illinois at Indiana pick. Ayo Dosunmu has scored 30+ in two of the last three and Kofi Cockburn had his fourth double-double in the last five games on Saturday. The Fighting Illini have just chosen to slow the pace, which does play into Northwestern's hands.
The Fighting Illini have a lot of intangibles going there way ahead of Thursday's matchup. Dosunmu is the 2nd leading scorer in the Big Ten and Cockburn the #1 rebounder. The Illini are tops in the country in rebound rate (Northwestern 181st) and are a top 10 shooting team in the nation as well (Northwestern 72nd)
Wildcats Low on Confidence?
Northwestern will easily shoot back into the top 25 with a win in this tilt, but what are the effects of a third straight loss, albeit to a quality opponent? The Wildcats started conference play off strong, beating Michigan State 79-65 as +7.5 underdogs, at Indiana 74-67 at +9, and vs. Ohio State 71-70 at +2.5. The last two games have been a different story however.
Iowa had three players go for 18+ in their 15 point win over Northwestern on December 29th and Michigan followed that up by taking a 14 point lead into half in their 19 point victory over the Wildcats last Sunday.
Both of those big defeats were on the road, but will home court be enough to topple a top 12 team in the nation? The Wildcats don't have a player that averages over 15 ppg, but have balance as four players put up at least 11 ppg.
Free NCAAB Illinois at Northwestern Pick
The Fighting Illini have won four straight in this series, but last February's 74-66 win in Evanston was the largest margin of victory over that span. Dosunmu had 21 and Cockburn grabbed 14 boards, but the Fighting Illini needed 24 points off the bench from Alan Griffin to preserve the win.
Illinois did hold a 42-29 rebounding edge in the game last season, but also shot an abysmal 40% from the FT line (9-22) last week against Purdue. The Illini may pull this one out, but it feels like a struggle is about to ensue.
Illinois 70 – Northwestern 65
Free Pick: Northwestern +6.5