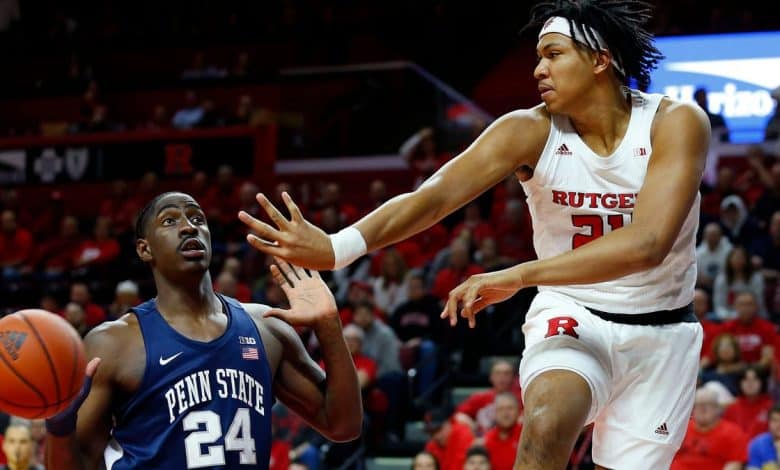 Nobody can blame the  Nittany Lions for dropping two straight coming into the NCAAB Rutgers at Penn State pick. Well, technically Jim Ferry's team has lost their last five games, but an 80-72 loss at Purdue and a 79-65 defeat at Illinois have come after an 18-day layoff due to COVID contact tracing. PSU has been a bit rusty.
The Scarlet Knights say save your sympathy, because they are in a bit of a free-fall themselves having lost their last four. Rutgers isn't particularly deep, and they're also just 1-2 on the road this season. Despite these teams being in the bottom half of the Big Ten, there's potential for a good game with Rutgers a -1 point favorite on the road.
Can Rutgers Stop the Bleeding
The Scarlet Knights were 6-0 at one point this season, but are just 1-5 since that red hot start. The Big Ten is a gauntlet and Rutgers has faced a lot of quality teams during their current down stretch, but eventually that starts messing with a team's psyche.
The Scarlet Knights have dropped four straight heading into the NCAAB Rutgers at Penn State pick, but they've all come against ranked teams. That includes a 77-75 defeat against #4 Iowa and a 60-54 loss vs. #10 Wisconsin. Both close games, but each also came in New Jersey. Rutgers has lost by 23 at Michigan State and 12 at Ohio State in their last two road games.
It's a lot to ask of Ron Harper, Jr. to get back on track in a road game. Rutgers' leading scorer has been held to 15 points or less in four straight, and had just 4 points in Friday night's loss to Wisconsin. Rutgers has the 5th worst offense in the Big Ten, but will be facing Penn State's #14 defense.
Penn State Likes the Matchup
Penn State isn't the tallest team in the Big Ten, which is a big reason they've allowed a 13/11 night to Trevion Williams of Purdue and gave up 21/12 to Kofi Cockburn the last two games. The good news is that Rutgers doesn't have that dominant big man as 6'11" Myles Johnson has been held in single digit scoring in six of the last seven. Penn State's John Harrar has grabbed at least 9 boards in three straight, including 14 vs. Purdue.
Thursday's tilt is going to be a battle of the back courts, and while many accept Harper, Jr. to be the best player on the court, Myreon Jones would like to have a word with them. The Penn State guard has now eclipsed the 20+ point mark in his last four games,
Free NCAAB Rutgers at Penn State Pick
It's hard to gauge just how good or bad either team is because the Big Ten is just so good this season. Penn State definitely has their issues on defense, but right now the Rutgers offense doesn't scare anybody.
The way Jones is playing for the Nittany Lions and the fact that they have at least a capable big man in Harrar – not to mention the home team won both games in last year's series – gives PSU the edge.
Penn State 66 – Rutgers 62
Free Pick: Penn State -1