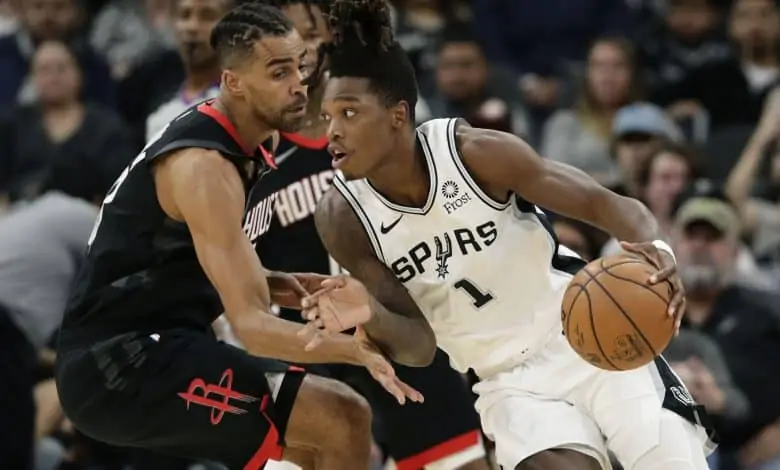 Is San Antonio about to run away with one heading into the January 14th Rockets at Spurs pick? Houston begins life after James Harden on Thursday night, but is also missing John Wall, Danuel House, and possibly Eric Gordon.
San Antonio may be playing shorthanded as well as DeMar DeRozan has sat out the last two games to care for his ailing father. The Spurs still beat OKC by 12 on Tuesday, and are -7 favorites hosting the Rockets in this tilt. Still just 54% of the public likes San Antonio here.
Who Goes for Rockets?
Houston has gone 0-3 on the road this season, and a fourth straight defeat seems almost inevitable with a shorthanded lineup. The Rockets lose Harden, don't get Victor Oladipo yet, and face injuries to Wall, House, and Gordon.
So who goes for Stephen Silas' team in the January 14th Rockets at Spurs pick? Christian Wood is sure to be the focal point for Houston, and he's gone for 20+ in 7 of the last 8. Even if Gordon does play he's scored 5 points or less in two of the last three, so can the Rockets rely on a strong performance from Demarcus Cousins, who had his first double-double of the season last time out?
The Rockets are hoping the loss of Harden is addition by subtraction, because whatever they have wasn't working in 18 and 17 point losses to the Lakers the last two games. The Rockets have dropped 4 of 5, slipping to 18th in defensive efficiency and 19th on the offensive end.
Spurs Head Back Home
It's very possible the Rockets get better without the Harden distractions, but San Antonio is still in a great spot to pick up a win on Thursday. The Spurs return home after a very successful 4-1 road trip. The only loss during that stretch came on a back-to-back at Minnesota, and the Spurs bounced back with a 112-102 win at OKC as -2 favorites.
San Antonio beat the Thunder on Tuesday without DeMar DeRozan, but he's set to return with the Spurs back at home. As Houston loses players, San Antonio gets their leading scorer and assist man back. San Antonio found depth in their stars absence, with Lonnie Walker IV going for 24 and six players scoring at least a dozen vs. the Thunder.
San Antonio is just 1-3 at home this season, but that's still better than the Rockets' 0-3 record away from Houston. The home team has also won 8 of the last 9 in this series, with the Spurs scoring 123+ in their last two head to head bouts held at the AT&T Center.
Free January 14th Rockets at Spurs Pick
It's been an emotional 24 hours for Rockets players, and the franchise will be better moving forward after getting rid of the disgruntled Harden and bringing in a haul of draft picks in the process. Tonight is not one of those nights though. The fact that the Rockets are shorthanded while the Spurs get DeRozan back gives San Antonio a huge edge.
Spurs 126 – Rockets 108
Free Pick: Spurs -7