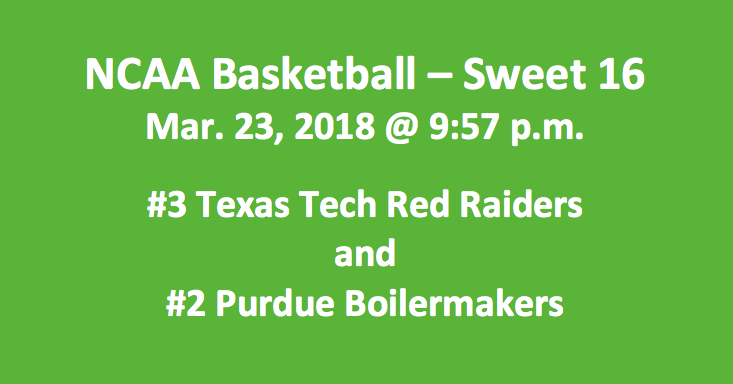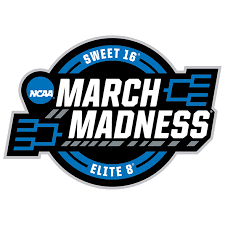 The second East Region game for today and final Sweet 16 contest has the #3 Texas Tech Red Raiders (26-9) at the #2 Purdue Boilermakers (30-6). The game will be played at 9:57 p.m. E.T. at the TD Bank Garden in Boston, MA . Our Texas Tech plays Purdue 2018 Sweet 16 free pick offers the Boilermakers at -2.0. The Over/under comes in at between 137.5.
Once this game is done, we'll be moving into the Elite Eight with two games tomorrow and two more games on Sunday. Knowing the Final Four is just two days away.
Recent History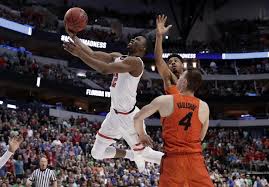 Texas Tech finished two games behind Kansas and in second place in the Big 12. In the tournament, they lost to WVU 66-63. In the NCAA Tournament, they beat the #14 Stephen F. Austin Lumberjacks 70-60. In round two, they took down the #6 Florida Gators 69-66.
The Boilermakers finished second in the Big Ten just one game behind Michigan State. They lost to Michigan in the conference tournament 75-66. In the ACC Tournament, they first beat the #15 CS Fullerton Titans 74-48. In the second round, they played the #10 Butler Bulldogs and beat them 76-73.
Basic Stats and Facts
Texas Tech is averaging 74.9 PPG, while Purdue is putting up 80.8 PPG. Both teams are holding opponents to around 61 PPG, while Purdue is hitting 49% of their field goals and Texas Tech 46%. The Boilermakers have the edge in threes 42% to 36% and frees 74% to 70%.
Players to Watch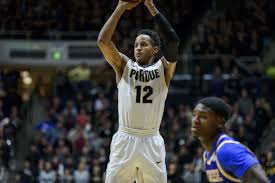 Senior guard Keenan Evans leads all Tech scorers, averaging 17.8 PPG. Two other players are good for 11.5 PPG and 4.9 RPG. Both are freshman guards, Jarrett Culver and Zhaire Smith. The Boilermakers include four scorers who are good for 14 or more points per game and together just over 20 RPG. Sophomore guard Carsen Edwards leads all scorers with 18.2 PPG. Senior center Isaac Haas, who is 7-2, is averaging 14.7 PPG and 5.7 RPG. The top rebounder on the team is Vincent Edwards who is bringing down 7.2 RPG. Both Edwards and Haas are good for 14.7 PPG.
Our Texas Tech Plays Purdue 2018 Sweet 16 Free Pick
Our Texas Tech plays Purdue 2018 Sweet 16 free pick is the Boildermakers at -2.0. We are also taking the over at 137.5. That wraps up our Sweet 16 picks for 2018.
Red Raiders and Boliermakers Pick Summary: Purdue at -2.0 and over 137.5