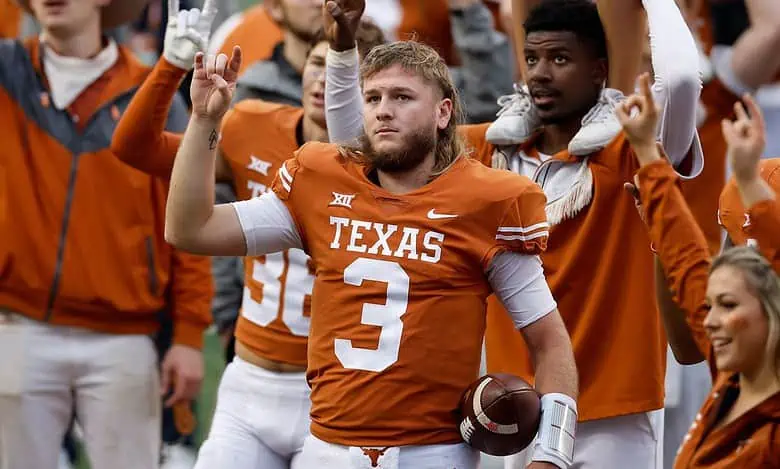 After a thrilling Week 1 of the 2023 college football season, you are going to see plenty of great games to watch and bet on in Week 2 as well. One of the best games this weekend will feature the Texas Longhorns visiting the Alabama Crimson Tide in a Top 15 showdown.
Texas is the clear favorite to win the Big 12 Conference this season, and they are hoping to go on to win the College Football Playoff this season. The Longhorns got their season started by picking up a 37-10 win over Rice in Week 1.
Alabama comes into this game as the third-ranked team in the country, and the Crimson Tide are no strangers to being a highly-ranked team. The Crimson Tide blew out Middle Tennessee State in the season opener, picking up a 56-7 win.
The Alabama Crimson Tide are seven-point betting favorites over the Texas Longhorns on Saturday night in this massive showdown.
Texas Wants to Throw
Texas has a superstar quarterback in Quinn Ewers, and they are going to be trying to throw their way to a win in this game. Ewers threw for 260 yards and three touchdowns in the season opener, and he is going to be trying to hit on some deep passes in this one.
The Longhorns are also going to need to find a way to run the football on Saturday night, as they need to burn some clock. Alabama is a great defensive team, and they will put pressure on Ewers throughout the game.
Texas held Rice to just 27 rushing yards in Week 1, and that defensive front is going to be tested in a big way in this one. The Longhorns will win games in the Big 12 Conference, but that isn't going to work in this game.
Tide Can Roll With Rushing Attack
Alabama is always a team that loves to run the football, and they are going to try to keep the ball on the ground a ton in this game. Quarterback Jalen Milroe had 48 rushing yards in Week 1 to go along with 194 passing yards in the win.
Not only can the quarterback run the football for Alabama, but they have a long list of running backs that will rack up some yards as well. The Crimson Tide can strike fast through the air, but they will be trying to wear down the Texas defense.
Alabama gave up just 211 total yards against MTSU, but that unit struggled against some great teams last season. Head coach Nick Saban will be dialing up pressure in this game in an attempt to create some turnovers.
No Stopping Alabama
Texas nearly upset Alabama a season ago, but they were playing that game on their home turf. Things are going to be much more difficult on the road against the Crimson Tide, and Texas is going to make some costly mistakes in this one.
The rushing attack of Alabama is going to be the difference in this game, as they will be able to salt away a win by racking up yards on the ground. It's going to be a great battle from Texas, but they are going to fall short in this attempt at an upset.
Bet the Crimson Tide -7.0 as they are going to pull away from Texas late and come up with a double-digit win in this one.