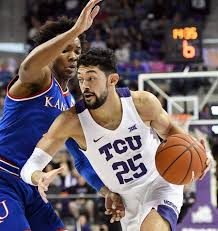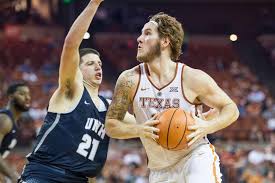 When the #16 TCU Horned Frogs (13-2 Overall, 1-2 Big 12) play the Texas Longhorns (10-5 Overall, 1-2 Big 12) at 9 p.m. E.T. tonight there is already a lot on the line. That's despite the fact that each team has only played three conference games. Our TCU plays Texas 2018 NCAA basketball Big 12 pick has the Horned Frogs even and the over/under at anywhere from 141.5 to 142.5.
Recent History
TCU had not lost a game until they met the #12 Oklahoma Sooners. The Sooners beat the Horned Frogs 90-89. Then TCU managed their first Big 12 win, beating Baylor in OT 81-78. Then, on Jan 6, the Horned Frogs lost to the #10 Kansas Jayhawks 88-84. Going into Big 12 play, Texas had won five of six. Then they lost their first conference contest to #11 Kansas 92-86. Next, they beat Iowa State 74-70 in OT. On Jan 6, the Longhorns lost to Baylor 69-60.
Matchup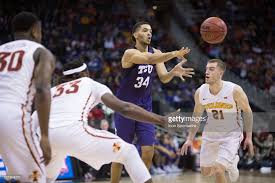 TCU emphasizes ball movement and offense. They're putting up 86.9 PPG and hitting 50.5% of their shots. At the same time, they are holding teams to 75.1 PPG. The Longhorns are a tough defense team, keeping opponents to 63.7 PPG and averaging 6.3 BPG. They are putting in just 43.9% of their field goals and averaging 72.4 PPG. On frees, TCU is outshooting Texas 72% to 64%, while the Frogs are good on 40% of their threes and the Longhorns just 29%.
Players to Watch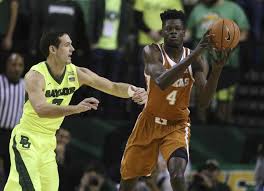 Guard Kenrich Williams and forward Vladimir Brodziansky are two of this team's top performers, which include five double-digit scorers. Williams is good for 14.6 PPG, 9.4 RPG, and 3.9 APG. Brodziansky is hitting 62% from the floor and a 78% free throw shooter.
With forwards Dylan Osetkowski and Mohamed Bamba, the Longhorns will look to exploit their inside game. Osetkowski is putting in 15.1 PPG and grabbing 7.9 RPG, while Bamba is taking down 10.6 RPG and scoring, on average, 11.9 PPG.
Our TCU Plays Texas 2018 NCAA Basketball Big 12 Pick
Our TCU plays Texas 2018 NCAA basketball Big 12 pick likes the Horned Frogs, who are even, to win. We also like the over at 141.5.
Summary Horned Frogs at Longhorns Picks- TCU even and over 141.5