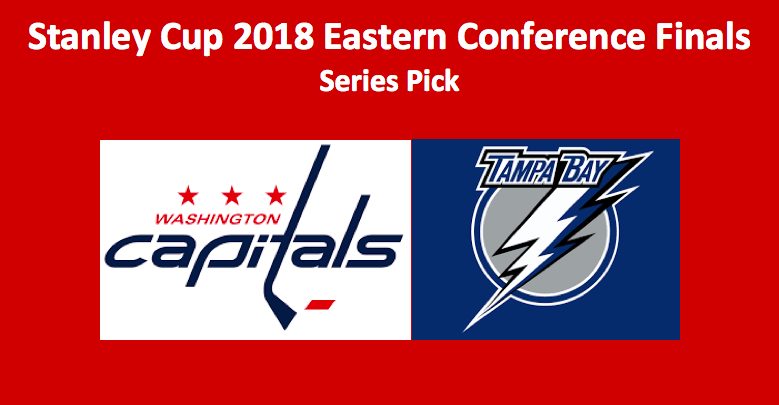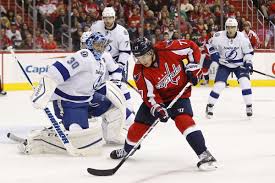 Both teams playing in the Eastern Conference Final finished first within their respective divisions. Tampa Bay bested the Boston Bruins in 5 games while the Capitals finally were able to win a second-round playoff series. They did do by dispatching the defending Stanley Cup Champion Pittsburgh Penguins in 6 games. The Bolts own a 2-1 record against the Caps during their regular season matchups. Our Tampa Bay plays Washington 2018 NHL Eastern Conference Final pick examines how this series will play out.
Goaltending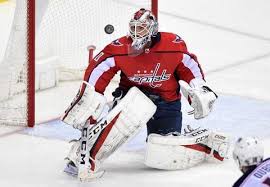 Both teams have had stellar goaltending throughout the first two rounds of the playoffs. Braden Holtby continued his playoff dominance against the Penguins after having a subpar season where he lost his position as the team's starter. Holtby has posted a .926 save percentage and 2.04 GAA through two rounds including a 0.921 save percentage and 2.15 GAA against Pittsburgh. Holbty will have to play extremely well and likely steal a game for the Capitals to advance to the Final.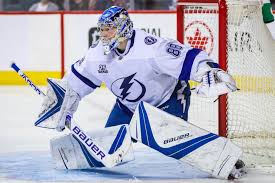 Andrei Vasilevskiy has had similar success. Vasilevskiy has maintained a .927 save percentage and a 2.20 GAA in 10 post-season games. He played very well in the second round. making some big saves against Boston. Although his stat line against the Bruins (.909 SV%, 2.38 GAA) would suggest that he'd been less than successful, he generally looked sharp in round two. Expert a solid performance from him in this series.
The Bolts' Stellar Defense Will Meet the Caps' High Powered Offense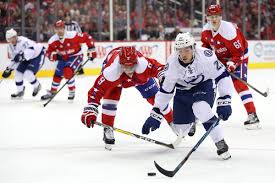 The team in front of Vasilevskiy played very well against the Bruins. While the Lightning may have been the beneficiaries of some disputable calls in the series, they outplayed Boston in most games. Tampa allowed the lowest rate of scoring chances against during the second round at 19.85 per 60 minutes. Comparatively in round one Boston averaged the most scoring chances per game with 31.03. Tampa's depth was able to shut down the Bruin's secondary scoring and for the most part, held their top line of Brad Marchand, Patrice Bergeron, and David Pastrnak in check.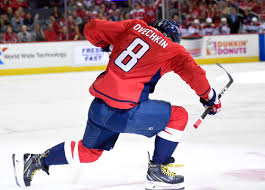 This bodes well for Tampa as they will need a similar effort to keep the highest scoring offense in the playoffs in check. The Caps have scored 3.58 goals per game, with Alex Ovechkin (8-7-15) leading the team in points and totals. Evgeny Kusnetzonv (7-7-14), who scored the series-clinching overtime goal against Pittsburgh, has looked great throughout the playoffs as well. Tampa does luck out with center Nicklas Backstrom (3-10-13) being listed as day-to-day, possibly not being ready for the start of the series. If he returns, he is likely to have his injury linger.
Tampa's Secondary Scoring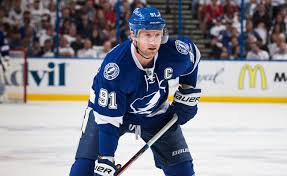 Tampa's scoring depth has been on display in the post-season. Nikita Kucherov finished third in scoring during the regular season but is sitting 13th in playoff scoring with 12 points. Top center Steven Stamkos (3-7-10) put up 86 points this year and is currently 26th in post-season scoring. Despite their leading scorers pulling less of the scoring load than earlier this year, Tampa has averaged 3.50 goals per game in the playoffs. They have 10 skaters who have averaged at least 0.50-point-per-game thus far. Comparatively only eight players have a point per game average of at least 0.50 on the Capitals.
Tampa Bay's fourth line of Chris Kunitz, Cedric Paquette, and Ryan Callahan has looked good. They were tough for both Boston and New Jersey to play against. Collectively the three forwards are a +5 on the post-season, with all three having an above even plus-minus. With four lines that have been contributing, there will be no shifts off for Washington's defense.
Defensive Corps
On paper Tampa owns an advantage in defensive depth. Victor Hedman, Anton Stralman, and Ryan McDonagh have all looked very good. Mikhail Sergachev (2-2-4) has been contributing offensively and even Dan Girardi the has looked strong in these playoffs, leading the team in plus-minus and scoring an overtime winning goal in game four against the Bruins. There is no easy defensive pair for Washington to match up against, and the Caps will need a lot of sustained pressure to generate their scoring.
Washington's blueline has been fairly impressive as well, but it is not nearly as deep as Tampa's. The Caps are led by John Carlson who has been outstanding this postseason. He has topped his team in points by defensemen (3-8-11), as well as being second on the team in time on ice (26:44). Matt Niskanen (26:52 minutes per game), Dimtry Orlov (1-5-6), and Brooks Orpik (+9 plus-minus rating) have played well too, contributing exceptionally in their own defensive zone.
Tampa Bay Plays Washington 2018 NHL Eastern Conference Final Pick: Overview
On paper Tampa Bay clearly looks like the deeper team. They arguably have the best group of defensemen left in the tournament, and four lines that can contribute at both ends of the rink. For Washington to make the Final they will have to get another stellar effort out of Braden Holtby. Because of their forward depth and superior blueline, our Tampa Bay plays Washington 2018 Eastern Conference Pick sees the Bolts pulling themselves into the Stanley Cup Final.
Tampa Bay Plays Washington 2018 Eastern Conference Final Pick:
Tampa Bay Lightning (-190) over the Washington Capitals (+165) in 6 games.