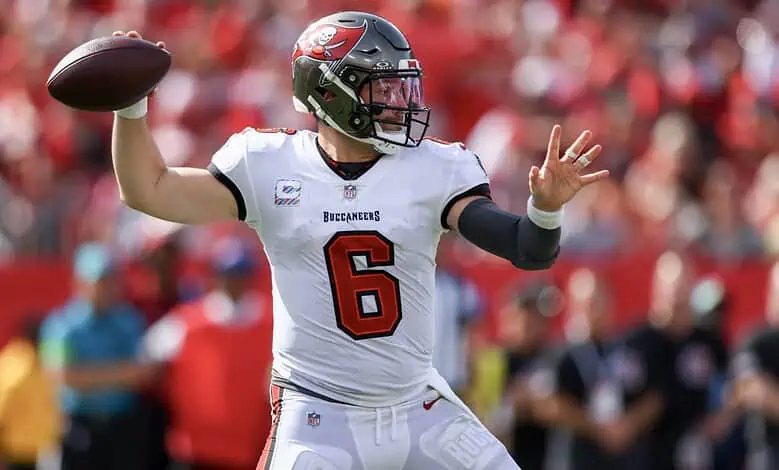 Week 8 of the NFL season will begin with an interesting matchup on Thursday Night Football as the Tampa Bay Buccaneers will visit the Buffalo Bills. These teams are both near the top of their respective divisions, and that should lead to a very important matchup in this one.
Tampa Bay got off to a great start to the 2023 season, but they have fallen on tough times over the last four weeks. The Buccaneers are coming into this game at 3-3 on the year, and they are in a tight battle in the NFC South Division.
Buffalo is coming into this game with a record of 4-3, and the Bills need to start winning games to remain a contender in the AFC East Division. Buffalo was upset in a Week 7 loss to the New England Patriots, and they need to bounce back in this game.
The Buffalo Bills are 8.5-point betting favorites over the Tampa Bay Buccaneers on Thursday Night Football.
Buccaneers Have to Score
The Tampa Bay Buccaneers are scoring just 17.2 points per game this season, and that's not good enough to win on most nights. Tampa Bay has also given up just 17.3 points per game, but they need the offense to create some separation.
Quarterback Baker Mayfield has been wildly inconsistent this season as he has thrown just eight touchdowns and also four interceptions. Mike Evans continues to make big plays in the passing game, but Tampa Bay has to find some rushing yards as well.
This defense is going to need to use a spy to slow down Josh Allen, and the secondary needs to have a monster game as well. Tampa Bay is good enough to win this game, but it's going to take one of their best efforts to get that done.
Bills Need to Defend
The Bills just went to New England and gave up 29 points in a Week 7 loss, and that defense has to bounce back in a big way. Buffalo had no answer for the Patriots in that game, and New England isn't even a great offensive team this season.
Quarterback Josh Allen needs to do his part as well, as he has thrown seven interceptions this season, and that puts the defense in bad spots. Allen does have 15 touchdown passes, and he continues to get the ball to Stefon Diggs.
Diggs is going to need to shine in this game, and he is leading the team with 55 receptions and 678 yards this season. Look for the Bills to try and find some room in the passing game in an effort to find some offensive success.
Bills Blow Out Bucs
Tampa Bay has not been a good offensive team this season, and that's going to keep them from really being a challenger in this matchup. The Buccaneers do have a defense that can keep this game close for a while, but at some point, they need the offense to show up.
Josh Allen and the Buffalo Bills simply have to start showing up in a big way and playing at home on Thursday Night Football should give them a big boost. Look for this team to have a great performance on offense in this matchup, and that is going to end up being the difference.
Bet the Buffalo Bills -8.5 as they are going to roll to a blowout win over the Tampa Bay Buccaneers on Thursday Night Football.