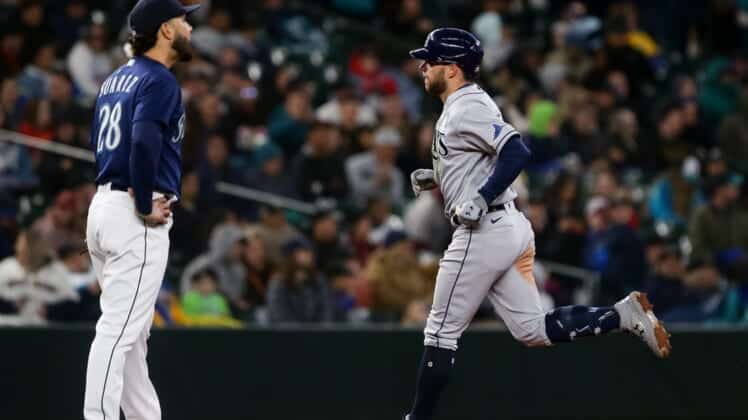 Two teams headed in opposite directions wrap up their series in the May 8th Rays at Mariners betting matchup. Tampa Bay is shooting for the 4-game sweep and their 7th straight victory, while a loss by Seattle would put their losing streak to 7 games.
Despite everything seemingly favoring Tampa Bay on Sunday afternoon, the Mariners are still the -125 favorite here, up from a -104 open. The Rays are starting a pitcher with a 19.29 ERA through one outing, but Seattle has a guy making his first career start on the hill. Just over half the betting public is taking Tampa Bay.
Tampa Bay Zoned In
The Rays are 8-2 over their last 10 which still hasn't allowed them to make up ground on the Yankees who are 9-1 over that span. That leaves Tampa Bay 1.5 back in the AL East. The Rays have won six straight on their current West Coast road trip, but could be looking ahead to a tough three game series at the Angels upcoming starting Monday.
Tampa Bay's offense obvious has no familiarity with Seattle pitcher George Kirby making his MLB debut, but that shouldn't be a problem the way the Rays are scoring lately. The Rays are averaging 6.5 runs/game during their current six game win streak led by Manuel Margot and Brandon Lowe who both have an OBP over .500 during that span.
One major question in the May 8th Mariners at Rays betting matchup is just how many runs Tampa Bay will need here? Ryan Yarbrough (0-0, 19.29 ERA) makes his second start of the season trying to improve on 5ER allowed over just 3.1 IP last Tuesday against Oakland.
Mariners Try to Stop Their Skid
The Mariners have lost six straight, but at least they are scoring in this series compared to the margin of 14-2 over three games against Houston that started this skid. Seattle has dropped 4-3, 8-7, and 8-2 contests over the previous three games so that's a little more offense than you want to be giving up.
Kirby (0-0) makes his MLB debut on Sunday, trying to show he was worth the #20 overall pick in the 2018 draft. He's got a fastball that averaged 97.3 over the 2021 season and excellent command that has some in Seattle management referring to him as "Robopitcher." Kirby is the #11 prospect in MLB according to Baseball America. Kirby also has big time potential, but he's also making the jump from Double A.
Eugenio Suarez hit a couple HRs on Friday night for Seattle – but they still didn't win and he followed that up by going 0-4 with 3 K's on Saturday. That is one of the problems with backing the Mariners here, their offensive inconsistency that ranks 15th in the majors scoring 4.14 runs/game.
Free May 8th Rays at Mariners Betting Pick
Is Kirby as good as Seattle hopes he is? That's the big question ahead of Sunday's contest and whether the Mariners are justified at a -125 play despite losing six straight – against a team that has won their last six. The Mariners were a -126 favorite on Friday which looked like a trap, but the Rays ended up with the 8-7 victory.
Ultimately it does look like this is the spot where the Rays six game streak does trip up. Yarbrough is a huge question mark and Tampa Bay may actually be looking ahead to a series at the 1st place Angels.
Free Pick: Mariners -125