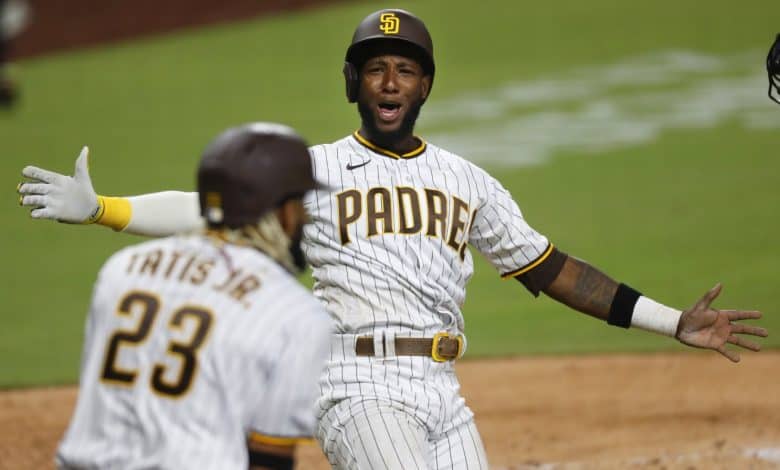 The April 22nd Padres at Dodgers matchup kicks off another series between NL West foes. L.A took two of three at Petco last weekend, but each game had some sort of excitement. San Diego comes into Thursday night's tilt after being swept by Milwaukee the last three games.
L.A is up to a -714 favorite to win the NL West, as their 14-4 record is 3 games better than the Giants. The Dodgers also just split a two game series with Seattle though, barely squeaking out a 1-0 win on Tuesday night as -184 favorites. LAD is a big favorite again on Thursday, listed at -170.
Do Padres Get This Series?
L.A and San Diego will battle for four games this weekend, and the Padres were definitely looking forward to the trip to Chavez Ravine. So much so that they didn't show up vs. the Brewers, losing three straight games by a combined score of 13-3.
This is a pitching rematch of last Friday's game that the Dodgers won 11-6. That would look like both Ryan Weathers (1-0, 0.93) and Walker Buehler(1-0, 2.00) had rough outings but there was actually 14 runs scored in the 6th inning or later of that 12-inning tilt. Weathers was making his first MLB start after three relief appearances, but he allowed just one hit over 3.2 IP.
Can San Diego give Weathers any run support? Manny Machado (.316) is the only Padres batter hitting above .250 over the past week. Fernando Tatis, Jr. has hit Buehler well, going 3-10 with 2 HR in his career. Trent Grisham is also 2-5 with a long ball vs. the LAD starter.
Dodgers Offense Down a Bit
This is definitely not a time for panic as the Dodgers have won 8 of their last 10 games. A 5-2 series wrap-up loss to the Padres on Sunday, and two less than stellar efforts against the Mariners have LAD fans a little weary of this offense right now though.
Tuesday's 1-0 win over Seattle featured just 3 total hits. L.A got a Corey Seager RBI in the 3rd and then held on the rest of the way behind 7.0 IP of 1-hit ball from Julio Urias. L.A. did manage just 1 hit over 3.2 IP against Weathers last week, but the San Diego starter may be on a pitch count again after coming out of the bullpen the first few times of the season.
Buehler was also great in last Friday's start vs. the Padres. The right-hander allowed just 2 ER over 6.0 IP including a home run to Tatis, Jr. Buehler has now thrown 6.0 IP in all three of his starts, allowing just 4 ER across 18.0 IP. Buehler's strikeouts over that span (12) are down a bit however.
Free April 22nd Padres at Dodgers Pick
This should be another emotionally charged series, starting right off the bat on Thursday night. L.A will have the pitching edge, and their offense has now seen the 21-year-old Weathers' once. The betting total of 7.5 would suggest another pitcher's duel, but (despite their play lately) both offenses are better than that number.
Dodgers 6 – Padres 4
Free Pick: Over 7.5