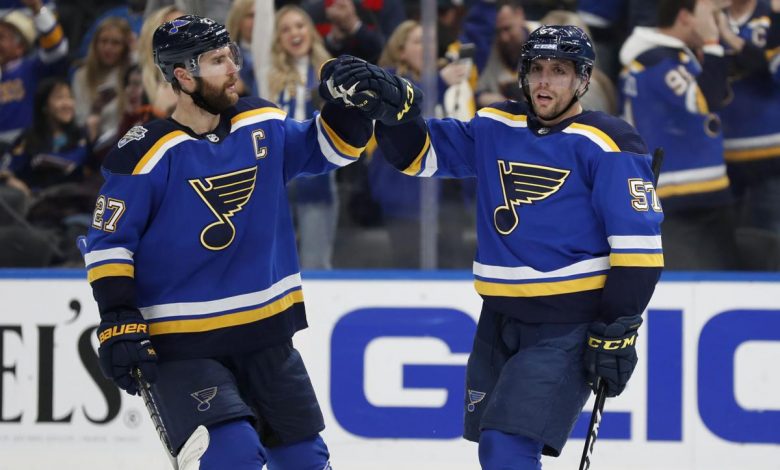 In a rematch of last season's Western Conference Final, the St. Louis Blues (22-8-6) travel to Northern California to face the San Jose Sharks (16-18-2) on Saturday. The Blues have rolled to four straight victories, while the Sharks have dropped seven of their last eight contests.
Here is a preview of Saturday night's matchup, along with odds and a free pick.
By the Numbers
The Blues are starting to find their goal-scoring touch, scoring four or more goals in three of their four recent wins. As a whole, St. Louis ranks 16th in goals per game with 3.03, while sitting just 23rd in shots with 30.2.
Still, coach Craig Berube's bunch has been finding a lot of success on the power play, ranking eighth in the NHL with a 21.8 percent conversion rate.
In terms of defending their own net, few teams have been better and more consistent than St. Louis. The Blues are a strong sixth in goals allowed with 2.58, facing an average of 31.1 shots per game. Their penalty kill is even stronger, coming in at the fourth-best rate of 84.6 percent.
The Sharks are a team struggling to turn things around, even after relieving coach Peter DeBoer of his duties on Dec. 11. Interim coach Bob Boughner inherited a squad that is 24th in goals per game with 2.67 and 28th in shots with 28.7.
Furthermore, San Jose has only one power-play goal in its last 15 games, and its overall percentage of 14.8 is 27th in the league.
Goaltending has been a huge issue for a Sharks defense that is actually decent. Despite allowing the seventh-fewest shots per game with 30.1, San Jose has the third-highest goals allowed per game at 3.44.
Even more surprising, the Sharks surprisingly boast the league's best penalty-kill unit, which is successful 88.4 percent of the time, despite being penalized more than all but one team in the league.
Who To Watch
St. Louis is a team built on defense, which is led by captain Alex Pietrangelo. The veteran defenseman not only is an excellent defender but can also get things done offensively, as evidenced by his seven goals and 17 assists this season.
Among the forwards, David Perron has been the Blues' best player. Perron is tied with Brayden Schenn for the team lead in goals with 15 and is second behind Ryan O'Reilly in assists with 19. These players have all played huge roles in St. Louis having the strong season it is having.
San Jose is looking for scoring, and lately, Tomas Hertl has been the only one helping out. Hertl has 14 goals, including tallies in the last three games, to tie for the team lead with winger Evander Kane.
Those two, along with center and captain Logan Couture, are the main forwards the Sharks will need Saturday night against a tough Blues defense. That group also includes star defensemen Brent Burns or Erik Karlsson. Burns has just five goals this year, while Karlsson has managed only three.
Goalies
St. Louis will trust Jordan Binnington to defend its net Saturday night. Binnington, who just earned his 40th career win in only 56 decisions, is 16-6-4 with a 2.44 GAA and a .920 save percentage.
San Jose will likely counter with Martin Jones, who's desperate for a bounce-back after allowing five goals last week against the Rangers. He is 12-13-1 with a 3.30 GAA and a .888 save percentage.
Odds and Pick
The Blues are a first-place team that comes in on a nice winning streak, which explains why they're the road favorites Saturday night at -120. The Sharks have a lot of talent, and I could see them pulling off the upset.
However, if and when their offensive mojo does come back, I don't think it'll happen against one of the best defensive teams in the league. So give me the Blues -120 to win their fifth straight game.