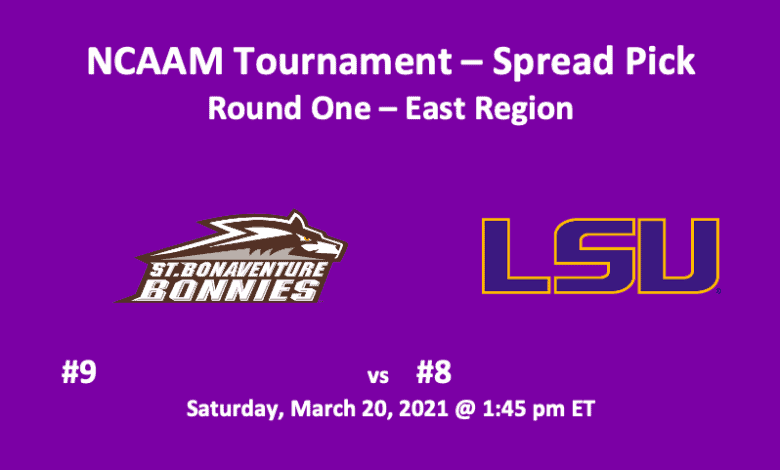 This St Bonaventure vs LSU pick features two teams that have gone 4-1 over their last five contests. This game is part of the 2021 NCAA Tournament East Region's first round. In this game, the Bonnies are slight underdogs at +1.5 (-110), while the Tigers are -1.5 (-110). St Bonaventure finished first in the Atlantic 10 Conference and beat VCU 74-65 in the conference tourney's final game. The LSU Tigers, ended up third in the Southeastern Conference. In the SEC Tournament Final, the Tigers lost to the Alabama Crimson Tide 79-80. The Bonnies and Tigers will meet on Saturday, March 20 at 1:45 pm ET. The game will take place at Simon Skjodt Assembly Hall in Bloomington, IN. We have picked all 32 Round One games, including the Eastern Washington vs Kansas West Region matchup.
St Bonaventure vs LSU Pick – Stats
In many ways, these two teams match up very closely. However, one statistical area that the Tigers dominate is in average points per game. LSU is recording 82.1 PPG, while St Bonaventure is putting 70.5 PPG on the scoreboard. Despite the huge point differential between these two teams, they are actually very close in every other statistical category. Shooting stats for the Bonnies come in at 44.9 FG%, 35.4 3PT%, and 73.4 FT%, while the Tigers are at 46.3%/35.0%/74.6%. At 38.3 RPG, LSU is one better than the Bonnies, while at 14.8 APG, St Bonaventure is 2.5 better than the Tigers. LSU is plus-two on steals and minus-one on blocks.
Key Players
St Bonnies brings five players to the court who are averaging double-digits in scoring, including guard Kyle Lofton who's leading the team with 14.6 PPG and 5.5 APG. He's also grabbing 3.6 RPG. Three other guards, Jaren Holmes, Jalen Adaway, and Dominick Welch, are major point makers and rebounders. Holmes is scoring 13.6 PPG and grabbing 5.4 RPG. Adaway, who's hitting 51.3% of his shots, is averaging 12.3 PPG and 6.1 RPG. Welch, a 40-plus percent shooter from anywhere on the court, is scoring 11.7 PPG and grabbing 6.1 RPG. In the paint, forward Osun Osunniyi, a 56.4% shooter, is a double-double threat. He's putting up 10.5 PPG while bringing down 9.5 RPG.
Cameron Thomas is a heavy-duty shooter who's averaging 22.6 PPG. In front, forward Trendon Watford and in the backcourt, guard Ja'Vonte Smart are averaging 16.7 PPG and 15.9 PPG respectively. Together, they combine for 11 RPG and seven APG. Both are 45-percent plus field-goal shooters. In the paint, Darius Days is completing 52.5% of his attempts. He's averaging 11.7 PPG and 7.9 RPG.
St Bonaventure vs LSU Pick – Final Thoughts
In our St Bonaventure vs LSU pick, we're heavily weighing the offensive point differential of 11.6 that tilts in the Tigers' favor. Although, it is true that these two teams are very close in all other statistical categories. However, if Cameron Thomas has a big game, LSU wins easily. We like the Tigers at -1.5 (-110).
#9 St Bonaventure Bonnies vs #8 LSU Tigers
LSU Tigers at -1.5 (-110)