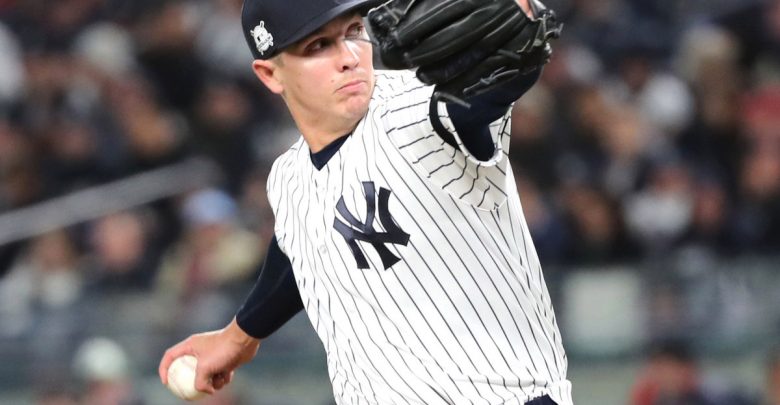 The first-place Yankees head to Kansas City for a three-game weekend series. Wait…. FIRST PLACE? That's right — even with Aaron Judge, Luis Severino, Didi Gregorius, Giancarlo Stanton, and Dellin Betances on the IL for a vast majority (if not all) of the 2019 season, the New York Yankees are still 2.5 games above the Rays for the AL East lead.
Whereas the Yankees are 32-17 this season, it is literally the opposite for the Kansas City Royals at 17-32. A rough start for a team that had it's over/under on wins set at 69.5. Meaning, after the start they have had, they would need to play near .500 baseball the rest of the season to hit the over.
Yankees Deploying "The Opener" Again
Just when you think that the Yankees can't possibly suffer any more injuries (I mean, seriously, when does the strength and conditioning guy get canned?), CC Sabathia gets thrown on the 10-Day IL. With Severino and James Paxton already out, the Yankees are going to turn to Chad Green to open the game for the second turn in a row.
The first time out didn't go so well. He pitched 1 2/3 innings and gave up two home runs. It's been a far fall from grace for Green, who was one of the best relievers in baseball just a season ago. In 2018, he had a 2.50 ERA in 63 appearances.
In 2019, he has given up a run in four of his last six appearances. His ERA currently sits somewhere north of TWELVE. He's striking out less per nine while walking more. His BABIP is astronomically high, so obviously these numbers will come back down to league average most likely. But, until they do, there can't be much trust there from skipper Aaron Boone.
Not Much Going Right For Royals
It is only May 24, but the Royals' chances at making the playoffs are already at a measly 0.3%. Their offense is somewhat respectable, right around league average in runs scored, average, on-base percentage as well as slugging percentage. The pitching has really let them down in 2019 so far. They're in the bottom five of the league in ERA, batting average against, walks, strikeouts, saves and WHIP. Pretty miserable across the board.
On Friday, the ball goes to Jakob Junis. Unsurprisingly, Junis hasn't done much to help the team's pitching stats. In his 10 starts this year, he's given up three or more earned runs in eight of them.
His last start against the Angels was his longest outing of the season at seven innings, and even then he gave up five earned. You just can't be asking your offense to put up six runs a game and expect to win many, which makes sense since Junis has only three wins this season. Even with the good seasons that Whit Merrifield, Jorge Soler, Hunter Dozier, Adalberto Mondesi, and Alex Gordon are all having, it's not enough.
The Pick
When Nicky Lopez got called up for the Royals, he moved Merrifield to the outfield as he took over second base. Merrifield, at the time, said he was okay with it. They thought it was best for the team because Lopez would help them win games. That hasn't happened yet, as they're 3-7 in their last 10 and 10-20 in their last 30.
Junis won't do much to help that on Friday, either. Seven Yankees are batting over .333 against Junis in their careers. While Chad Green in the opener role is still a question mark, the rest of the Yankees' bullpen is not. Take the New York Yankees to top the Kansas City Royals in the series opener.